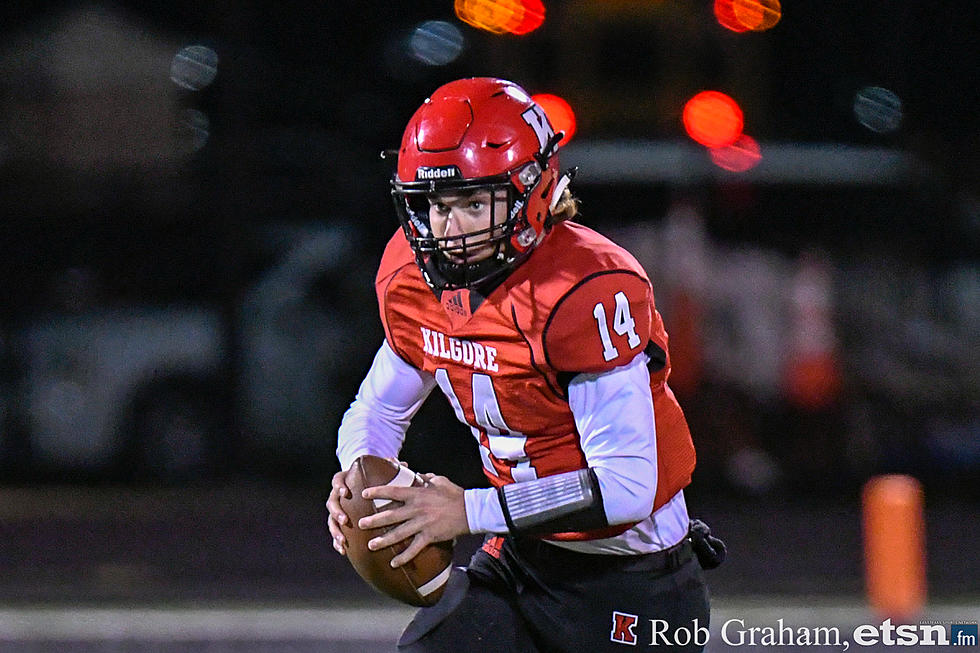 Kilgore Bows Out in First Round to Midlothian Heritage, 42-21
Kilgores's Guss Witt. Taken November 16, 2018 during a game between Kilgore and Midlothian Heritage High Schools at City Bank Stadium in Forney, Texas. Heritage won the game 42-21.
FORNEY -- It had been four years since the Kilgore Bulldogs had a first round exit, but it happened Friday night.
Midlothian Heritage got four touchdown passes from Landon Ledbetter, and big performances by receiver Jay Wilkerson and running back Dre Washington, to take down Kilgore, 42-21.
Heritage (10-1) moves on to face Navasota in round two. Kilgore ends its season with a 3-8 record, the worst since the Bulldogs' last first-round exit, a loss to Jasper back in 2014.
Kilgore scored first on a 9-yard run by Kenneth Lacy. Lacy also delivered the play that put the Bulldogs there to begin with: a 49-yard run two plays earlier.
Heritage tied the score on a 9-yard run by Washington, set up by a 53-yard run by Ledbetter.
The Jaguars went up 14-7 as a result of a blocked punt by Langston Anderson -- Cade Sumbler recovered the loose ball at Kilgore's 33-yard-line, and Ledbetter threw his first touchdown pass of the night four plays later, an 18-yarder to Wilkerson.
Heritage wouldn't trail again, but Kilgore wouldn't go away, either.
Kilgore was forced to punt on its next possession, and the Ledbetter-Wilkerson duo hooked up again, this time on a 40-yard scoring pass.
But inexplicably, the Jaguars faked a punt from inside their own 40 on their next drive, and the ball wound up on the ground. Kilgore took over on downs at Heritage's 36, and scored on the very next play, a 36-yard run by A.J. Smith. That got Kilgore within a touchdown, 21-14, with 6:51 left in the first half.
Deiontrae Wheat got the ball back for Kilgore on an interception on Heritage's next turn with the ball, but the Jaguars would get one more score before the break, a 36-yard run by Washington. They almost had another score before the half, but Donovan Adkins picked off Ledbetter in the end zone. Kilgore trailed 28-14 at halftime.
Heritage went up three touchdowns, 35-14, on a 35-yard pass from Ledbetter to Wilkerson, and then 42-14 on a 31-yard pass to Anderson in the fourth quarter.
Kilgore only scored once more in the game, a fourth-quarter touchdown run by quarterback Gus Witt for 85 yards.
Kilgore recovered an onside kick after Witt's touchdown, but couldn't get back on the scoreboard.
Ledbetter finished 18-of-27 for 265 yards, four touchdowns, and the two interceptions. Wilkerson caught six passes for 161 yards and three touchdowns, and Washington had 135 yards and the scores on 17 carries.
For Kilgore, Witt had 53 yards passing to seven different receivers, and Witt finished with 135 yards rushing and the long TD. Lacy finished with 100 yards, even, and the touchdown on 11 carries, and A.J. Smith had the 36-yard score and finished with 49 rushing yards.
More From East Texas Sports Network