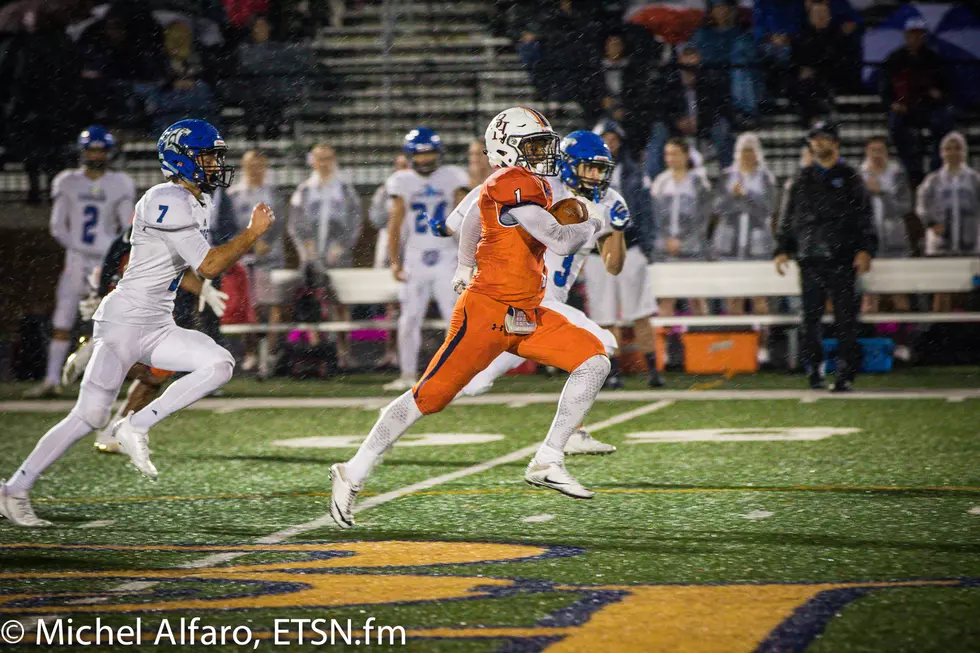 Late Interception Helps Brook Hill Hold Off Grace, 31-28
(© ETSN.fm)
BULLARD -- The Bullard Brook Hill Guard hung on in the final minute of play to take a 31-28 win over Tyler Grace Community in a TAPPS Division II, District 2 battle at Herrington Stadium on a cold and rainy Friday night.
Trailing 31-0, early in the second half, the Cougars reeled off 28-straight points to make for an exciting final three minutes.
Brook Hill junior defensive back Seth Moss tipped a Grace pass in the end zone, and teammate Jake Shaffer made the big play of the night with an interception with 1:10 remaining in the game to thwart the Grace comeback effort.
Brook Hill took advantage of a bad snap on a punt, and started its first drive at the Grace 2-yard line. Two plays later, junior quarterback Khalan Griffin found Moss from four yards for an early 7-0 lead.
Another Guard touchdown came quick as Kirk Jean-Baptiste blasted up the middle from 66 yards, making it 14-0 just a little more than two minutes into the game.
Shaffer tacked on a 23-yard field goal as the first quarter concluded, and another Jean-Baptiste touchdown gave Brook Hill a 24-0 lead at halftime.
The Guard got their final score on the first drive of the second half. Austrian transfer Konstantine Krasser bulled in from 10 yards.
Grace then kicked the offense in gear.
Cougars quarterback Braydon Stone ran untouched down the left sideline from 46 yards to get the Cougars rolling.
A 13-yard scoring toss from Stone to Luke Smith was sandwiched by Cougars running back Uchenna Uduma scoring on runs of seven and four yards, for the 31-28 score.
The ensuing kickoff was fumbled and recovered by Josh Murray at the Brook Hill 16-yard line.
Six plays later, Grace threw to the end zone for the lead, as Moss made the tip for Shaffer with the big defensive interception to cap the victory.
Jean-Baptiste led all rushers in the game with 111 yards on 14 carries and two scores.
Griffin was good for 80 yards in 25 carries, and threw for another 44 yards and the TD toss to Moss.
Stone ran for 95 yards on 14 tries, and one TD. Stone also threw for 88 yards, going 6-of-14 with a score and two interceptions.
Brook Hill had 203 yards on the ground to finish with 253 total yards on the night. Shaffer and Fisher Bass had interceptions for Brook Hill in the win.
The Cougars ran for 188 yards, and had 88 yards through the air for 276 total yards. Brooks Bay, Jacob Pena, John Moore, and Murray all had fumble recoveries for the Cougars.
The Guard (5-2, 1-1) will travel to play McKinney Christian next Friday, while Grace (4-3, 1-1) will entertain Tyler Bishop Gorman.
More From East Texas Sports Network