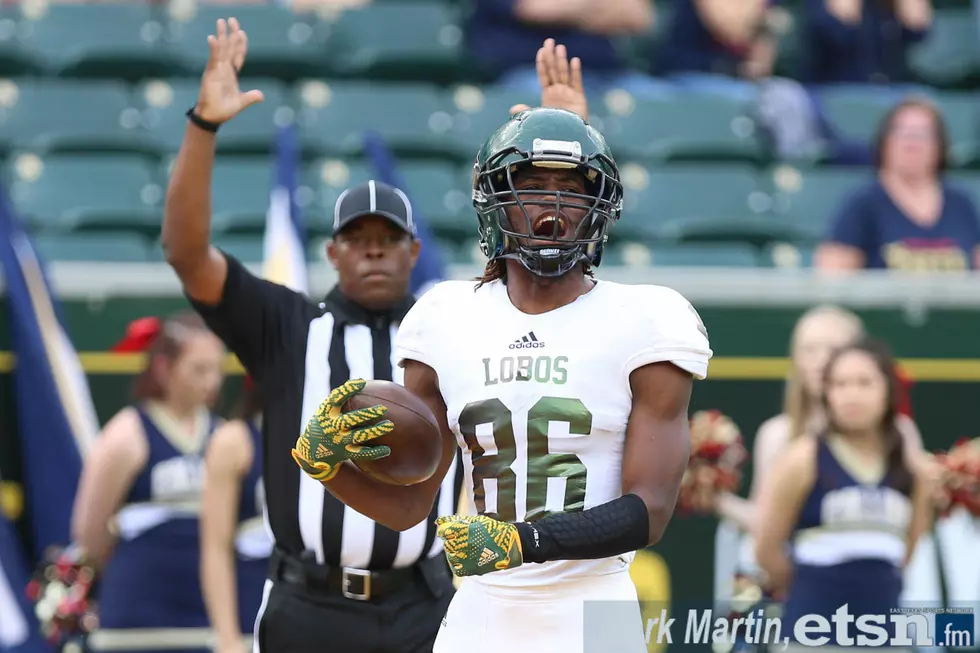 Longview Knocks Off Klein Collins to Set Up Showdown With Lufkin For Regional Title
Longview's Jaylin Brown celebrates one of his three touchdown receptions in the Lobos' 30-24 win over Klein Collins in their Class 6A Division II regional semifinal Dec. 2, 2017, in Waco. (© ETSN.fm)
WACO -- Longview wasn't supposed to be here. Yet, there it was Saturday evening celebrating a trip to the regional championship with one of the state's biggest upsets of the playoffs.
Lobos sophomore quarterback Haynes King, who didn't start until Week 5 of the season, threw four touchdown passes leading the Lobos to a 30-24 win over previously unbeaten Klein Collins in their Class 6A Division II regional semifinal at McLane Stadium.
The win set up a classic East Texas grudge match in the Region II final between Longview (12-1) and Lufkin (11-2). Kickoff is scheduled for 2 p.m. Saturday from Stephen F. Austin's Homer Bryce Stadium in Nacogdoches.
Lufkin took care of its own business by knocking out an undefeated Spring Westfield team, 14-11, earlier in the day.
"That's the way football is supposed to be: East Texas meeting in the fourth round," said Longview coach John King. "I'm proud of our kids and what they've been able to accomplish, and I'm proud for Lufkin as well. We've met many times, so it'll be an East Texas shootout."
Longview defeated Lufkin, 35-16, in the season opener Sept. 1.
The Lobos fell behind 14-0 before rattling off 23 consecutive points to take a 23-14 lead into the fourth quarter. Longview increased it to 30-17 midway through the fourth, and survived a Collins (11-1) rally at the end.
"We beat a really good football team today, and our kids understood that," Coach King said. "But we're pretty good, too. Maybe some people sell us short at times, but our kids … they've got it. I don't know what it is, but I can tell you they're together."
Haynes King completed 14 of 24 attempts for 160 yards, throwing all four of his touchdowns to tight ends. Jaylin Brown had three of them, finishing with 77 yards on four receptions.
The success through the air was needed as Longview was limited to a season-low 88 rushing yards.
"We felt like we were gonna have to throw it some and take some shots and win some 50-50 balls, which we did," Coach King said. "I thought the receivers did a good job of catching the football, either big scores or first downs.
"I wish we had been able to run it a little better, but we knew it was gonna be tough. We weren't gonna be able to just line up in two tight ends and ram it at them. They're too big and too physical."
Collins got within six points on a beautiful 55-yard touchdown pass from Carter Rhyne to Jackson Loftin with 3:57 to play.
The Lobos were able to take up all but 33 seconds of the remaining clock, and stopped Collins at midfield as time expired.
Momentum swung Longview's direction just before halftime when Braelon Bridges fumbled an option pitch, and Lobos linebacker Ja'Vontae Writt pounced on the loose ball at the Collins 25-yard line.
Chris Kessler drilled a 42-yard field goal to cut Longview's deficit to 14-10 with 2:12 remaining in the half.
Following a Tigers three-and-out, Longview got the ball back at midfield with 1:05 to play. Collins was penalized for pass interference on first down, then Haynes King hooked up with Brown for a 35-yard touchdown to give Longview its first lead, 16-14.
Longview got a couple of big plays on its opening drive of the third quarter, a 31-yard run from Jaquan Edwards on the first play, and then a 30-yard jump ball Brown came down with at the 3-yard line.
"It's one of those 50-50 balls," Coach King said of Brown's catch. "He went up and got it on a flag route. He's covered, but he's the best option when they're all covered. We just threw it up to him, and he does a great job of body position and going up and high-pointing the ball. He's a great blocker and he can catch the football."
Brown's 2-yard touchdown catch on third down gave Longview a 23-14 lead three minutes into the third.
Collins answered with an 19-play drive that took almost 11 minutes off the clock, but had to settle for a 20-yard field goal that cut Longview's lead to 23-17 with 10:06 remaining in the fourth.
But the Lobos responded. A roughing the passer penalty on third-and-long prolonged the Longview series, and Haynes King finished off the 63-yard drive on the seventh play with a 6-yard touchdown pass to Daquavion Randall and a 30-17 lead with 6:08 to play.
Klein Collins junior running back Isaiah Spiller, who is committed to Oklahoma, ran for 131 yards and two touchdowns on 24 carries. However, he managed only 37 yards after the first quarter.
"The big thing was adjusting to the formation, the motion and maintaining leverage," Coach King said of his first-half defense. "We weren't doing that early on, and they were running load option, and the safeties weren't attacking and the corners weren't aligned properly. And they got the edge, so we got it adjusted."
Spiller staked Collins to a 14-0 lead with a pair of touchdowns in the first 13:30 of the game. Longview got on the board with Haynes King's 10-yard scoring strike to Brown with 6:29 remaining in the second quarter.
It was the beginning of a memorable performance for Coach King's son, Haynes.
"He did OK," Coach King said. "He made some bonehead plays, but he made some great ones, too. Like I made a couple of bonehead calls. I guess we'll talk about that at home."
Longview 30, Klein Collins 24
Class 6A Division II
Region II Semifinal
At McLane Stadium, Waco
Longview                 0    16      7      7    --    30
Klein Collins             7      7      0    10    --    24
First Quarter
KC--Isaiah Spiller 2 run (Landon Powers kick), 8:54.
Second Quarter
KC--Spiller 13 run (Powers kick), 10:30.
LON--Jaylin Brown 10 pass from Haynes King (Chris Kessler kick), 6:29.
LON--FG Kessler 42, 2:12.
LON--Brown 35 pass from King (kick failed), :50.
Third Quarter
LON--Brown 2 pass from King (Kessler kick), 9:05.
Fourth Quarter
KC--FG Powers 20, 10:06.
LON--Daquavion Randall 6 pass from King (Kessler kick), 6:08.
KC--Jackson Loftin 55 pass from Carter Rhyne (Powers kick), 3:57.
                                            LON                      KC
First Downs                              12                      20
Total Yards                              248                    399
Rushes-Yards                      23-88               46-156
Passing Yards                         160                    243
Comp.-Att.-Int.                 14-24-0              12-20-1
Punts-Avg.                          6-38.3                5-32.4
Fumbles-Lost                           0-0                     2-1
Penalties-Yards                     11-96               11-105
INDIVIDUAL STATISTICS
RUSHING--Longview, Keilyn Williams 10-45, Jaquan Edwards 10-42, A'Darius Carter 1-2, Paul Hutchins 1-1, Haynes King 1-(-2). Klein Collins, Isaiah Spiller 24-131, Josh Powell 7-23, Braelon Bridges 7-3, Frank Hickerson 1-2, Carter Rhyne 6-2, Jackson Loftin 1-(-5).
PASSING--Longview, King 14-24-0--160. Klein Collins, Rhyne 12-20-1--243.
RECEIVING--Longview, Kamden Perry 7-65, Jaylin Brown 4-77, Kendle Johnson 1-9, Daquavion Randall 1-6, Williams 1-3. Klein Collins, AJ Bennett 6-123, Loftin 5-104, Powell 1-7.
More From East Texas Sports Network