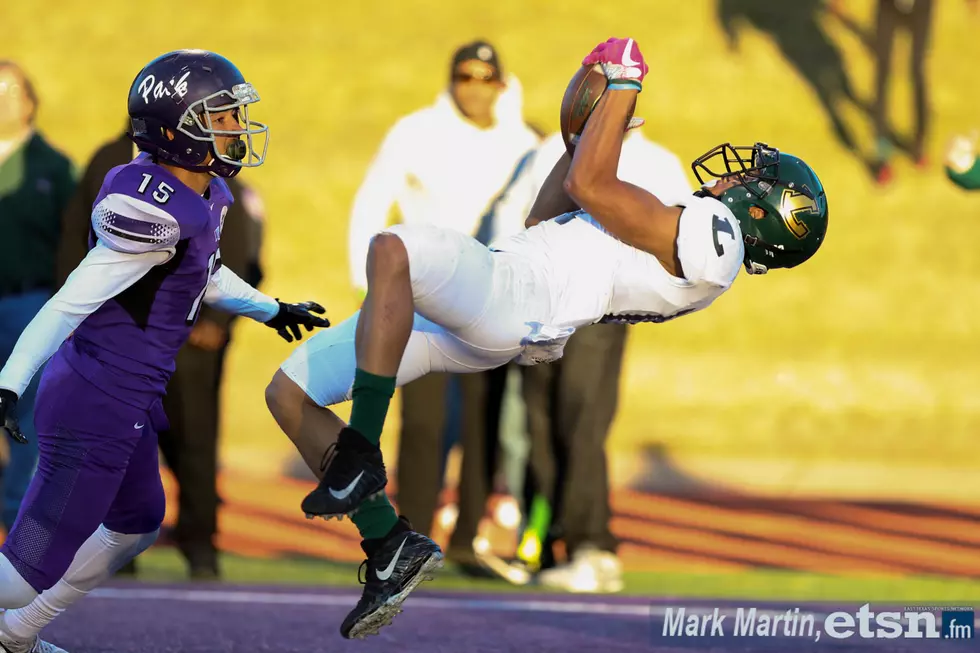 Longview + Lufkin Reflect on Rivalry Ahead of Season Opener
Longview's Kamden Perry makes the game-winning, 28-yard touchdown catch with 54 seconds remaining in the Lobos' 33-32 defeat of Lufkin in their Class 6A Division II, Region II final Saturday in Nacogdoches. (© ETSN.fm)
LONGVIEW -- John King grabs a photo from his desk.
His son, Haynes, is decked out in a full football uniform, but this is years before he will star at quarterback for Longview. He has his arm around his sister, who is wearing a cheerleading outfit.
The photo is from a 2004 playoff game against Lufkin during King's first season as head coach. Longview was undefeated entering the game, but lost to Panthers, 31-21. King's daughter, used to seeing nothing but the faces of winners after games, looked on at the crying players.
"Daddy, what's wrong with the Lobos?" she asked.
"We lost," King said. "I didn't coach very good."
"You need to coach better next time," she replied.
King, now entering his 15th season as Longview's coach, laughs at the memory now. Although he calls it his worst, it was the first of many he would form against Lufkin.
It would be three years later, in 2007 that King would achieve his first victory as head coach against the Panthers, snapping an 11-game losing streak in the rivalry.
The Lobos are preparing to face the Panthers on Friday in the latest edition of one of East Texas' most storied rivalries. Anticipation is heightened following this past season's 6A regional final game, which Longview won, 33-32 on Kamden Perry's acrobatic catch in the back of the end zone.
King, like most in East Texas, expects another close, gritty match.
"You'll get a barometer of where you're at for dang sure," he said. "You're gonna have to have everything covered. They're athletic. They're going to get after your ass just like we want to get after them. You better have your big boy pants on because when those teams hook it up, it's played the right way."
Last year's epic clash was no anomaly.
Longview holds a narrow 40-37-4 lead in the series. The outcome when these schools meet has never been predictable.
Aaron Johnson, a quarterback at Longview from 2008-09, said it was the biggest game of the season when he played.
"It was like a Super Bowl every year," he said. "No matter what the record was, when that game came around it was going to be an all-out, everybody leaves everything on the field game. It was like no other game besides the state championship, but it was comparable to it."
Although the consensus is that last season's game was the best in the series thus far, Johnson played in a game that may rival it in 2008.
Longview entered halftime trailing 20-7. Johnson fueled a second-half comeback with a touchdown pass to Carey Fortson and later gave the Lobos the lead after keeping the ball on an option play for a 38-yard touchdown run.
After Lufkin tied the game to end regulation, it took three overtimes before Longview won, 45-37. Johnson said he got flashbacks of the game when watching the Lobos in Homer Bryce Stadium this past December.
"It was almost a déjà vu of when we played them 10 years ago," he said.
Johnson isn't the only former Lobo with fond memories from the rivalry.
Hardy Elkins, an offensive lineman in from 2001-04, was never able to defeat the Panthers. However, he still looks back on the games he participated in with pride.
"As a little kid, I was running around on the home side at Lobo Stadium," he said. "That's the way a lot of kids in Longview grow up. Lufkin is the same way. The similarities between the programs are probably a lot more than what people realize. The coaching staff down to the players and fanbases. I think that's why it's so special."
Elkins was at the 2004 game in Homer Bryce Stadium, the first major playoff game the teams played there.
"I just remember the hype around the game," he said. "We knew going through walkthrough there was going to be a lot of people there, but going out an hour before game time, there wasn't any empty seat at SFA. You just realize how important it is to so many people. Not even necessarily just people from Longview or Lufkin. It attracts everybody from (East Texas)."
Elkins played baseball at Stephen F. Austin after he graduated. He went to the athletic department for the first team meeting, and as he walked in came across a photo that looked oddly familiar on the wall. The photo was of a purple-clad crowd in Homer Bryce Stadium only, upon closer inspection, he realized they weren't Lumberjack fans. It was an aerial photo of the Lufkin crowd from the 2004 game.
"That was the biggest crowd they had there to that point," he said.
In a dorm in Manhattan, Kansas, Boom Massie throws his phone.
Massie is streaming the 2017 playoff game on his computer. Perry has just made the catch and Massie is livid. A defensive lineman for the Panthers from 2013-16, Massie has bets on the game with a few of his teammates at Kansas State. He'll end up losing.
Massie echoes the sentiments of the Lobos. There is, he said, no other game that compares.
"The rivalry to me is crazy," he said. "It's one of the best in the state. Ain't nothing too much more exciting than Lufkin and Longview. It's so close and so competitive."
Massie grew up on Panther football. As a kid, he was a part of Lufkin's Big Panther/Little Panther program, where he was paired with Dez Bryant. He remembers having to sit in the grass to watch Bryant during a playoff game at SFA because there were no seats left in the stands.
"Your pride is so big," Massie said. "Both of them are dominant programs. You've got to have pride to come from Lufkin."
Jon Writt can attest to both.
Writt, the receivers coach at Longview and a former defensive back for the Lobos, got his coaching start in Lufkin. He was working at Enterprise when a friend from college who worked with the Panthers called him. He met with coach Todd Quick and became an assistant in 2014.
"It was a little weird at first coaching for your rival school, but coach Quick was great to work for and Lufkin is a great town," Writt said. "I really grew to love it. A lot of people from Longview gave me the side eye, but it was big for getting my foot in the door in the coaching game."
Lufkin and Longview met twice that season, once in the regular season and once in the playoffs. Both meetings were surreal for Writt, but the first one sticks out to him.
"I remember the first game the first thing I see is coach King.," he said. "It was definitely a little weird shaking his hand and being on the other side of your former high school."
Writt left Lufkin after one year to take his current job with Longview. Having played and coached in several games and on both sides, he said nothing compares to last year.
"That game ranks No. 1 for me," he said. "To have a guy like Kamden Perry, who is a guy that I personally coached, the hype that game had and all the fans that showed up, for it to come down to the end like that on a great catch, it was one of the best feelings I've ever felt as a player or a coach."
Haynes King sits in his father's office, remembering the play that secured him a spot in Lobo lore.
He grew up here. The photo King pulled from his desk is one of many around the office preserving memories from his childhood. The rivalry and Longview football are second nature to him.
"It's the talk of that week," Haynes said. "It's always a big game against Lufkin. Fans talk here and fans talk there. It makes the atmosphere just rise. It's a pretty fun game to be in. (A victory against Lufkin) gives you more confidence."
The Lobos know Lufkin will be hungry for revenge, though.
"I know they're gonna come twice as hard because of how it ended for them," Perry said. "There's gonna be more pressure on beating them this year."
Jerrin Thompson confirms that.
Thompson, a defensive back for Lufkin, went down with cramps near the end of the first half of the last meeting and never returned to the game. He watched from the sidelines as Perry made the catch and Longview celebrated.
"It hurt bad," he said. "We worked so hard to get where we was at and lost by one point. We were devastated. That's all we talk about."
Ja'Lynn Polk, who plays receiver for the Panthers, echoes his teammate.
"That was an amazing play," he said. "I give it to him. But, you know, it hurt. I wanted to get that ring and move on to the next round."
Players from both teams have rewatched the game several times. Lobo defensive back Jephaniah Lister claims to have watched it in its entirety more than 100 times.
"No exaggeration," he said.
Both teams have high expectations entering 2018. After dropping to 5A Division I, Lufkin is a favorite to win state. Longview is also among the top picks in 6A.
"We both have more weight on our shoulders this year," Lister said.
Players are reluctant to say much more than that the game means a little bit more. They don't profess hatred for each other or put the rivalry on the grand scale most everyone else does. But, as a former player, Elkins knows what they're thinking.
"When you're inside the program, you're kind of focused on yourself," he said. "I know the message is, 'Focus on what you can control.' But it's kind of hard to avoid the fact that everybody outside that locker room is going to be talking about that game."
The next chapter is but a day away.
More From East Texas Sports Network