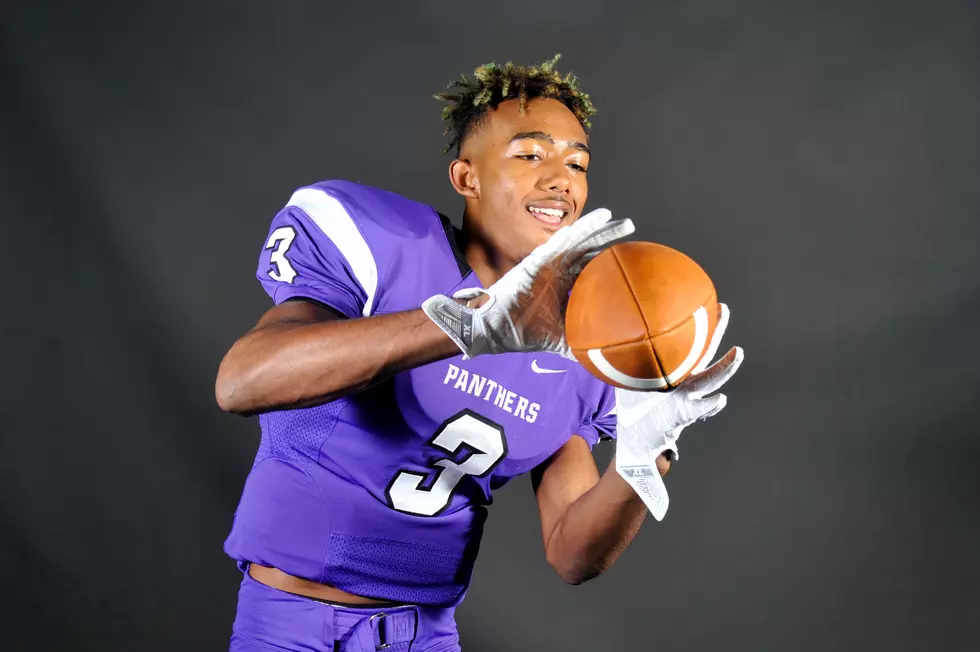 Lufkin Secures Home Playoff Game Following 49-28 Rout of Conroe
Rob Graham, ETSN.fm
[By Josh Havard, Special to ETSN.fm]
CONROE -- With the heavy lifting in the rearview mirror, the Lufkin Panthers hit the road to face the Conroe Tigers looking to lock up a home playoff game in two weeks.
Thanks to a 500-yard night from the offense and another strong night from the defense, they did that in emphatic fashion in rolling to a 49-28 win over the Conroe Tigers at Moorhead Stadium on Friday night.
With the win, Lufkin clinched the top seed in the Class 6A Division II playoffs where it will face Rockwall-Heath in two weeks at John Outlaw Memorial Stadium.
Lufkin was able to do that on a night they dominated a game despite not quite clicking on all cylinders.
"We have to play better than that," Lufkin head coach Todd Quick said. "It's a mental thing and we can't let that happen. That's not us and we have to get that fixed."
The Panthers got a balanced offensive effort with Kewone Thomas, Isaiah Phillips and Ja'Lynn Polk all racking up big numbers.
Thomas completed 15-of-22 passes for 270 yards and three touchdowns with no interceptions. His top target was Polk, who made seven catches for 137 yards and a pair of touchdowns.
Malik Jackson was held to one catch before leaving the game in the first half.
"When (Jackson) comes off the field, someone has to pick up the slack," Quick said of Polk. "I was proud of him. He made plays all over the field and that's better than he's played this year."
Phillips also had a nice night on the ground with 161 yards and two scores on 19 carries.
On the defensive side, Lufkin gave up 389 total yards, although it never trailed.
Donaven Lloyd finished with 111 rushing yards for Conroe, although 61 of those came on a single run in the final minute. Jordan Black threw for 259 yards and three touchdowns but only completed 12-of-34 passes to go along with an interception.
In the opening half, Lufkin appeared to be ready to run away and hide with another blowout win before Conroe was able to stay within striking distance.
After the Tigers failed to recover an onside kick to start the game, the Lufkin offense immediately went to work, needing only three plays to score when Phillips ran up the middle for a 26-yard touchdown and a 7-0 lead in the opening minute.
After a shanked Lufkin punt on its second possession, the defense stepped up with Jeremiah Davis intercepting a pass at the Panthers' 25. Lufkin's offense capitalized with an 11-play, 75-yard drive that was capped by a one-yard touchdown run from Tre Grant for a 14-0 lead with two minutes left in the opening quarter.
But after Lufkin missed a field goal that would have made it a 17-point game, Conroe was able to turn the tide in its favor just enough to stay within range of the Panthers.
The Tigers used the trick play to get on the board as Jalen Allen took a handoff before hitting a wide open Travis Null for a 36-yard touchdown that narrowed the gap to 14-7 with 7:32 left in the first half.
The Pack only took a little more than a minute to put the lead back at 14 as Kewone Thomas hit Malik Jackson, who was in single coverage, for a 51-yard touchdown and a 21-7 advantage.
This time it didn't take Conroe long to find an answer with Brandon Schnautz hauling in a juggling 32-yard touchown pass from Jordan Black, cutting the margin to 21-14 with 5:17 left in the second quarter.
Lufkin had an even quicker answer this time as Thomas hit Ja'Lynn Polk with a pass over the middle before he left the Conroe defenders in the dust for a 56-yard score and a 28-14 lead at the break.
In the opening half, Phillips led the way with 104 yards and a touchdown on 11 carries. Kewone Thomas completed 7-of-13 passes for 162 yards and a pair of scores, and Jackson and Polk combined for six receptions for 160 yards and a pair of touchdowns.
Allen was Conroe's top weapon with three catches for 68-yards to go along with his 36-yard touchdown pass.
The Panthers' offense was able to more than double Conroe's yardage total outgaining them by a total of 300-147.
On Lufkin's third drive of the game, it got its first three-score lead as Thomas hit a wide-open Polk for a 29-yard touchdown that made it 35-14.
Conroe took less than a minute to answer that score with Black hitting Ameer Patten for a 53-yard touchdown over the middle, cutting the margin to 35-22 after a made two-point conversion with 8:12 left in the third quarter.
The Panthers bounced right back with Phillilps going untouched for a 15-yard touchdown to extend that lead to 42-22.
Lufkin finally put the game away midway through the fourth quarter when an 11-play, 80-yard drive culminated with an 11-yard Tre Grant touchdown run that made it 49-22.
Conroe added a final touchdown in the last minute of the game when Black connected with Schnautz on a 33-yard touchdown that made the final score 49-28
Lufkin (7-2, 4-1) will return home on Friday night for the regular season finale when it hosts Montgomery.
More From East Texas Sports Network