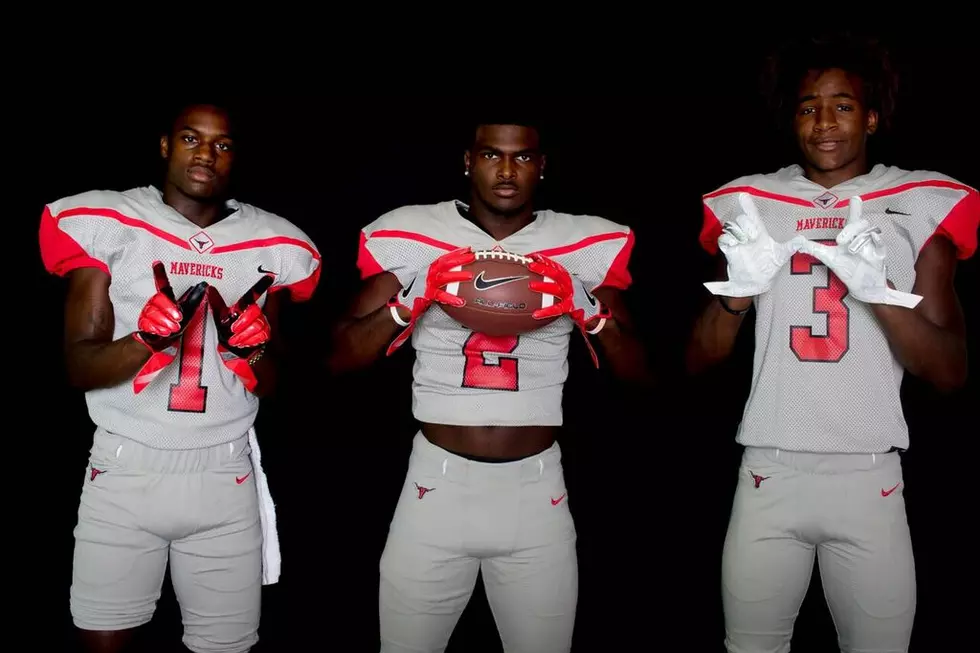 Marshall Clicking on All Cylinders As Regular Season Nears End
Marshall's (from left) Tahj Washington, De'Kendrick Bender, and Saivon Williams. (© Clint Buckley, ETSN.fm)
[By Stephen Amason, Special to ETSN.fm]
The Marshall Mavericks decided to test themselves early in the season to see where they measure when district play began. The early evaluation may pay off for them Friday night, as they get ready to play for the district title.
The Mavericks won their season opener earlier in the year, beating Tyler Lee, 42-29. They suffered two back-to-back losses against two currently undefeated teams in Longview and Carthage.
Since then, Marshall (6-2, 5-0) has won five straight games and is standing in first place in District 9-5A Division II.
The Mavericks have been lighting up the scoreboard with one of the most-electrifying offenses in the district. Since starting district play, they've been averaging 45 points per game, with 28 of their 42 touchdowns, coming from the passing game.
Offensively, they're led by junior quarterback JJ Green, who has a total of 1,614 yards passing with 24 touchdowns on the year. He's also rushed for three touchdowns and has 419 yards rushing.
Green has a sensational group of Division I college football recruits at wide receiver. Senior Tahj Washington leads the receiving corps in touchdowns with nine and in yards with 515.
Just behind Washington is junior Savion Williams with 491 yards with six touchdowns, and senior De'Kendrick Bender with 418 yards and eight touchdowns.
"Those guys grew up together and they know each other, they really push each other in practice and they're very competitive," Marshall head football coach Claude Mathis said. "They wanna be the best receiving corps in the state of Texas and they work hard at it."
The Mavericks have really stepped-up their game defensively, shutting out their opponents in back-to-back games against Jacksonville and Nacogdoches.
They have one of the youngest defenses in the district, but sometimes having chemistry with teammates can make up for a lack in experience.
"We have some young guys out there, they're finally able to gel right now, and understand what are expectations are," Mathis said. "This year has been all about getting our kids enough reps and having them ready in time for district. We were experienced the previous year and this year we were not experienced at all and it took some games for us to get there."
On Friday night, Marshall is at home against Whitehouse, which currently sits just one game behind the Mavs in the district standings. For the Mavericks, a win over the Wildcats hands them the district title.
"They're coached very well, they do a great job offensively, they have a great receiver who's been recruited to Texas Tech (Cameron Cantrell)," Mathis said of Whitehouse. "Defensively, they do a great job. They have some guys that back there that can make some plays in the secondary, they have some good linebackers that go after the ball. Overall, they do a great job and they get the ball to their playmakers and let them make plays."
More From East Texas Sports Network