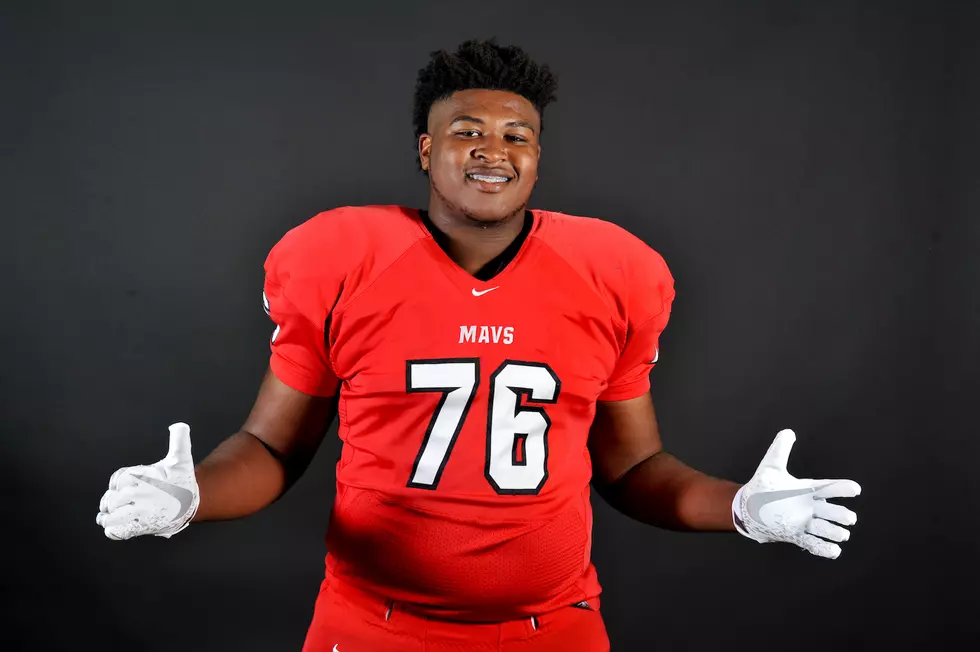 Marshall's Kameron King Commits to Southern Miss
Marshall OL Kameron King. (© Rob Graham, ETSN.fm)
With the early signing period beginning less than two weeks away, and National Signing Day in February fast approaching, the few remaining undecided recruits are in the final stages of the recruitment process.
On Thursday evening, one East Texas player made his decision.
Marshall senior offensive lineman Kameron King announced his commitment to Southern Miss, via Twitter.
King (6-2, 275), a former North Texas pledge, chose the Golden Eagles over offers from Memphis, UNT, Tulane, Louisiana-Monroe, and UT-San Antonio.
The Mavericks' lineman is the 20th member of East Texas' 2018 recruiting class to commit, and the first one to pick Southern Miss.
There are currently six local senior recruits undecided. The 72-hour early signing period goes form Dec. 20-22, and National Signing Day is Feb. 7, 2018.
King is part of a Marshall senior class that features three Division I commits. In addition to King, the Mavericks have OL/DL Chasen Hines (LSU) and DE Marje Smith (Baylor) and FBS pledges.
Marshall won the District 16-5A championship in 2017, and finished 6-5, losing to Mesquite Poteet in the first round of the Division I playoffs under first-year head coach Claude Mathis.
Southern Miss has been active in recruiting the East Texas area after hiring former East Texas Baptist head coach Scotty Walden as its inside receivers and tight ends coach in March of 2017.
The Golden Eagles were 8-4 overall and 6-2 in Conference USA play this season under second-year head coach Jay Hopson. Southern Miss plays Florida State on Dec. 27 at the Independence Bowl in Shreveport, La.
All commitments are non-binding until a recruit signs his national letter of intent.
2018 East Texas Football Players With Division I FBS Offers
Tre Allison, John Tyler, OLB, 6-2, 211 — committed to SMU; additional offers from Arkansas State, Louisiana Tech, Mississippi State, Syracuse, Texas State, Tulane, ULL (8)
Chance Amie, Tyler Lee, QB, 6-3, 190 — committed to Houston; additional offers from Arkansas State, Bowling Green, Central Florida, Cincinnati, Colorado State, Florida Atlantic, Georgia State, Illinois, Iowa State, New Mexico, North Carolina, North Texas, Rutgers, Southern Miss, Syracuse, Tulane, ULL, Virginia (19)
Xavier Benson, Pleasant Grove, LB, 6-3, 200 — committed to Texas Tech; additional offers from Arkansas State, Army, Memphis, North Texas, Rice, SMU, Southern Miss, Texas State, Tulane, ULL, ULM, Wyoming (13)
Hunter Brabham, Hughes Springs, DE, 6-3, 235 — committed to Army (1)
Drake Centers, Tatum, OL, 6-3, 296 — committed to Texas State; additional offers from SMU, Southern Miss, ULM (4)
Kylar Cooks, Liberty-Eylau, OL, 6-5, 252 — committed to Texas State; additional offers from Arkansas State, North Texas, ULL (4)
Jeremiah Davis, Lufkin, CB, 5-10, 194 — committed to ULL (1)
Kris Dike, Van, OL, 6-6, 283 — committed to TCU; additional offers from Colorado, Houston, Memphis, North Texas, Oklahoma State, SMU, Tulane (8)
Dekalen Goodson, John Tyler, DE/OLB, 6-2, 209 — committed to Houston; additional offers from Mississippi State, SMU, Texas State, Tulane, ULL (6)
Trae Hall, Henderson, QB/ATH, 6-3, 185 — offers from Florida Atlantic, New Mexico State, Tulane, ULL, ULM (5)
Conner Henson, Harmony, OL, 6-3, 243 — committed to ULM; additional offer from ULL (2)
Chasen Hines, Marshall, OL/DL, 6-3, 353 — committed to LSU; additional offers from Arizona, Baylor, Florida, Louisiana Tech, Minnesota, North Texas, Oklahoma, Oklahoma State, Oregon, Rice, Southern Miss, TCU, Texas, Texas A&M, Texas State, Texas Tech (17)
Tevailance Hunt, Texas High, WR, 6-2, 180 — committed to TCU; additional offers from Arkansas State, Bowling Green, Colorado State, Florida Atlantic, Houston, Indiana, Iowa State, Kansas, Louisiana Tech, Marshall, Memphis, Nevada, North Texas, Oklahoma State, Southern Miss, Tulsa (17)
Dewaylon Ingram, Carthage, WR, 6-0, 160 — offer from Arkansas State (1)
Keaontay Ingram, Carthage, RB, 6-0, 198 — committed to Texas; additional offers from Arkansas, Baylor, Colorado, Florida State, Georgia, Houston, Iowa State, Kansas, LSU, Memphis, Michigan, Minnesota, Missouri, Nebraska, Notre Dame, Ohio State, Oklahoma, Oklahoma State, Ole Miss, Oregon, Oregon State, TCU, Texas A&M, Texas Tech, UCLA, USC, UTSA (28)
Malik Jackson, Lufkin, WR, 5-8, 163 — offers from Arkansas State, Houston, Texas State, Tulane (4)
Chris Kessler, Longview, K/P, 5-9, 150 — committed to Texas State; additional offer from Army (2)
Kameron King, Marshall, OL, 6-2, 275 — committed to Southern Miss; additional offers from Memphis, North Texas, Tulane, ULM, UTSA (6)
Trevor Lawrence, Whitehouse, DE, 6-4, 245 — offers from Texas State, ULM (2)
DeMarvion Overshown, Arp, S, 6-4, 196 — committed to Texas; additional offers from Alabama, Arizona State, Arkansas, Auburn, Baylor, Clemson, Colorado, Florida, Florida State, Georgia, Houston, Kansas, Kansas State, LSU, Missouri, Nebraska, Ohio State, Oklahoma, Oklahoma State, Ole Miss, SMU, South Carolina, Southern Miss, Stanford, TCU, Texas A&M, UCLA, USC, UTSA (30)
Leonard Parks, Texas High, DE, 6-5, 230 — committed to SMU; additional offer from ULM (2)
Michael Sanchez, Gladewater, TE/OL, 6-5, 327 — offer from Houston (1)
Jonathan Shepherd, Kilgore, WR, 6-3, 196 — committed to Oklahoma State; additional offers from Colorado State, Florida Atlantic, Houston, Kansas State, ULM, Missouri, New Mexico, Memphis, North Texas, Oregon State, Southern Miss, TCU, Texas State, Texas Tech (15)
Marje Smith, Marshall, DE, 6-6, 210 — committed to Baylor (1)
DaRyan Williams, Nacogdoches, S, 5-10,199 — offers from Texas State, Tulane (2)
Tyree Wilson, West Rusk, LB, 6-5, 225 — committed to Texas A&M; additional offers from Baylor, Houston, Kansas, Memphis, Mississippi State, Nebraska, New Mexico, Oklahoma State, Ole Miss, SMU, Southern Miss, TCU, Texas State, Tulane, ULL, ULM, Washington State, Wyoming (19)
Kenneth Woods, Brownsboro, LB, 6-1, 209 — offer from Southern Miss (1)
More From East Texas Sports Network