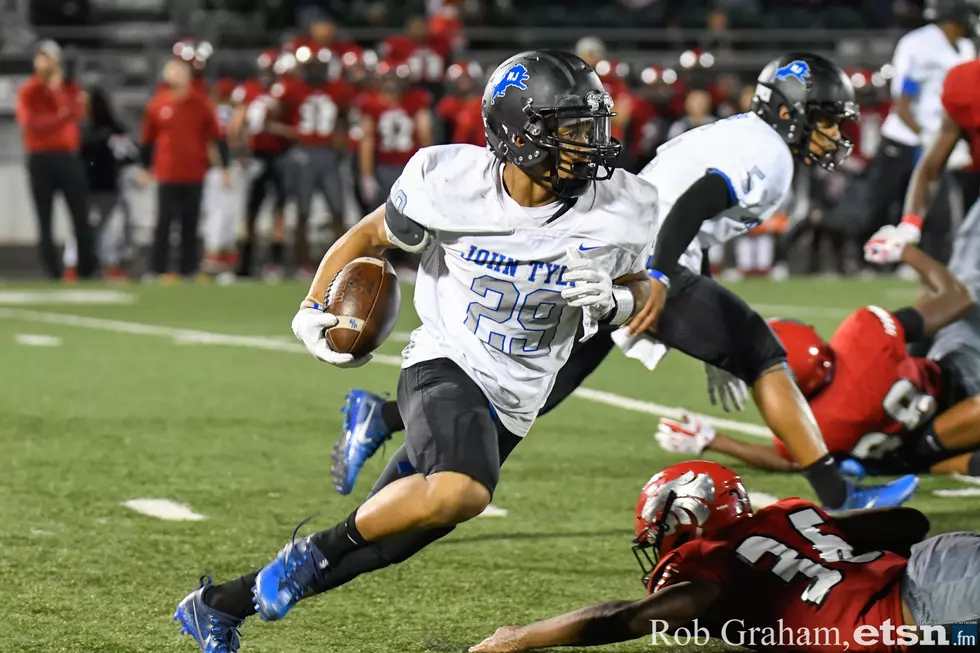 Mesquite Horn Holds John Tyler to Scoreless First Half En Route to 35-13 Victory
Rob Graham, ETSN.fm
MESQUITE -- Jermaine Givens accounted for three total touchdowns and Mesquite Horn put John Tyler in danger of missing the playoffs after its 35-13 win on Friday night.
After Rockwall's 45-7 win over Mesquite, John Tyler (5-4, 3-3) is now tied with the Yellow Jackets for the fourth and final playoff spot in District 11-6A. JT, which lost to Rockwall 48-7 to open district, will need a win against rival Tyler Lee next week and a Rockwall loss to make the postseason.
Givens threw for 213 yards and two touchdowns and ran for another for Mesquite Horn, which faces Rockwall-Heath next week with a shot to go undefeated in district. Givens connected with Cornell Caldwell on both touchdowns, as Caldwell finished with five catches for 150 yards.
The two paired up for the second time, this score from 43 yards out, to put Mesquite Horn up 21-10 with 9:43 left in the third quarter. Givens followed with a 1-yard touchdown run with 5:59 left in the third to put the Jaguars up 28-10.
John Tyler only managed one offensive touchdown in the game, which came on a 6-yard touchdown pass from Devlen Woods to Ke'Andre Street late in the third quarter. Frankie Sanchez followed with a 43-yard field goal 1:29 into the fourth quarter to cut Horn's lead to 14-10, but the Jaguars put the game out of reach.
Street finished with three catches for 98 yards and a touchdown, while K'Lon Warren threw for 117 yards and rushed for 35 yards for JT. Victor Campbell Jr. led the Lions in rushing with 13 carries for 72 yards.
More From East Texas Sports Network