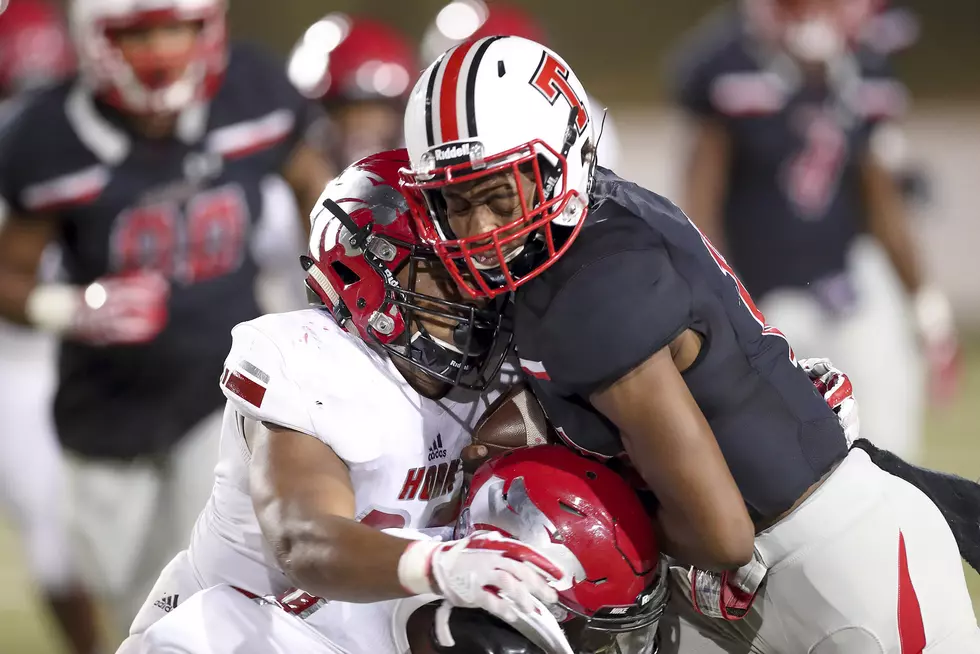 Mesquite Horn's Big First Half Ignites 56-28 Rout of Tyler Lee
(© Lang White, ETSN.fm)
TYLER -- Mesquite Horn used a 42-point first half to coast to a 56-28 victory over Tyler Lee on Friday night at CHRISTUS Trinity Mother Frances Rose Stadium.
Horn (5-1, 3-0 in District 11-6A) quarterback Jermaine Givens ignited a 585-yard onslaught by accounting for 409 yards and five touchdowns.
Givens completed 16 of 25 passes for 257 yards with two touchdowns, and ran 16 times for 152 yards and three scores.
The Jaguars' signal-caller had touchdown runs of 59, 20, and 5 yards, and delivered scoring tosses of 60 and 16 yards as Horn went into the locker room with a 42-21 halftime lead.
Horn running back Esaias Taylor ran for 73 yards and two touchdowns, and was on the receiving end of Givens' 60-yard scoring pass.
Lee (3-3, 0-3) was led offensively by junior running back Ladarius Wickware, who finished with 135 yards and a touchdown on 19 carries.
Red Raiders quarterback Chance Amie added 90 yards on the ground, and passed for 60 yards and a touchdown.
Both teams are off next week before returning to district play Oct. 20. Horn plays host to Rockwall (2-4, 1-2), while Lee entertains Mesquite (1-5, 0-3).
More From East Texas Sports Network