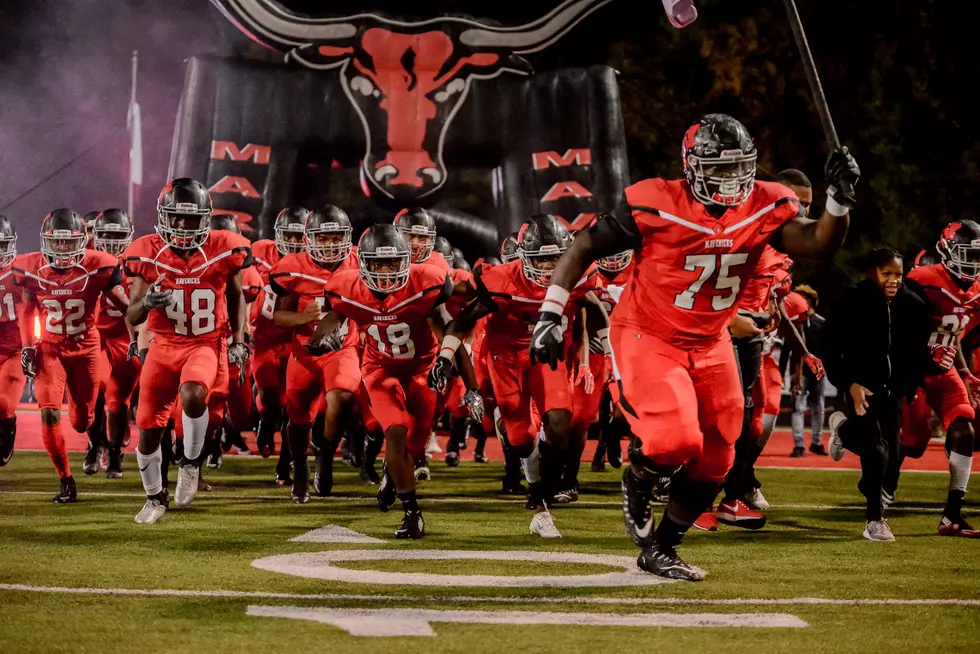 New Offers Arrive For Marshall Trio
(© Geoff McKay, ETSN.fm)
JJ Green's list continues to grow.
Green, a 2020 QB for Marshall, already had two offers from Nebraska and Ole Miss before Wednesday. Now he has three.
Green tweeted that Texas State became the latest school to show its interest in him.
Green wasn't the only Maverick that Texas State offered, though.
Receiver Tahj Washington also received an offer from the Bobcats as well as one from Southern Miss.
Later, Washington also reported an offer from Bowling Green.
But there was one more Maverick to receive an offer.
Savion Williams, a 2020 receiver for the Mavericks, reported an offer from Southern Miss as well.
Last season, Green's first season at quarterback, he passed for 1,743 yards with 20 touchdowns and eight interceptions and added 535 rushing yards and four touchdowns.
He helped Marshall win the District 16-5A championship under first-year coach Claude Mathis. The Mavs finished 6-5 overall and fell to Mesquite Poteet in the bi-district round of the playoffs.
Last season, Washington caught 31 passes for 478 yards and six touchdowns, and added 159 yards and two touchdowns rushing.
Williams played in only three games and had four receptions for 17 yards.
Texas State competes in the Sun Belt Conference and finished 2017-18 with a 2-10 record. Southern Miss competes in the Conference USA. The Golden Eagles finished 2017 with a record of 8-5, losing in the Independence Bowl to Florida State.
Washington, like all juniors, can sign with any team that offers him beginning in December. As a sophomore, Green must wait until December 2019.
2019 East Texas Football Players With Division I FBS Offers
Jade Ashalintubbi, Elysian Fields, OL, 6-6, 331 —offers from Louisiana-Monroe, Tulsa (2)
Darwin Barlow, Newton, RB, 6-0, 200 -- offers from Arkansas, Arkansas State, Baylor, Houston, Louisiana Tech, Louisiana-Lafayette, Louisville, LSU, Minnesota, Missouri, Nebraska, Oklahoma State, Ole Miss, SMU, Southern Miss, TCU, Texas State, Texas Tech, Tulsa, Utah, UTSA (21)
DeKendrick Bender, Marshall, WR, 6-2, 185 -- offers from Air Force (1)
Chance Billington, John Tyler, OL, 6-3, 301 — offers from Iowa State, New Mexico State, SMU, Texas State, Tulane (5)
Tamauzia Brown, Newton, ATH, 6-1, 170 -- offers from Alabama, Arkansas, Arkansas State, Baylor, Houston, Louisiana Tech, Louisiana-Lafayette, Minnesota, Missouri, Nebraska, New Mexico, Oklahoma State, Oregon, San Diego State, Southern Miss, SMU, TCU, Texas A&M, Texas Tech, UTEP, UTSA (21)
Javasia Brunson, Lufkin, DE, 6-4, 235 -- offers from Nevada, North Texas, Oklahoma State, SMU, South Florida, Southern Miss, Tulane, Tulsa UTEP (9)
Keontae Burns, Pittsburg, ATH, 6-3, 182 — offers from Arizona, Alabama, Arkansas, Arkansas State, Baylor, Houston, Iowa State, Kansas, Louisiana-Monroe, Minnesota, Missouri, Nebraska, North Texas, SMU, Southern Miss, Texas State, Texas Tech, UTSA (18)
Cameron Cantrell, Whitehouse, WR, 6-1, 180 -- committed to Texas Tech (1)
Coltin Clack, Texas High, QB, 6-3, 202 — offers from Akron, Arkansas State, Florida Atlantic, Louisiana-Lafayette, New Mexico State, SMU, Southern Miss, UTSA (8)
Josh Foster, Newton, ATH, 6-0, 165 -- offers from Arkansas, Arkansas State, Baylor, Houston, Louisiana-Monroe, Louisiana Tech, SMU, Southern Miss TCU, Tulane, ULL, ULM, Utah, Vanderbilt (14)
Breylon Garcia, Lufkin, DE, 6-3, 220 -- offer from Nevada, Rice (2)
T.K. Hamilton, Waskom, RB/DB, 6-0, 162 -- offers from Texas State, UTSA (2)
Christian Hood, Marshall, OL, 6-2, 290 — offer from Southern Miss (1)
T.Q. Jackson, Jefferson, WR, 6-3, 181 — offers from Arizona, Arizona State, Arkansas, Arkansas State, Baylor, Houston, Kansas, Minnesota, Missouri, North Texas, Purdue, SMU, Southern Miss, Texas Tech, Tulsa, UTSA (16)
Jawan King, Atlanta, RB, 5-10, 2010 -- offers from Louisiana-Monroe, Texas State, UTSA (3)
Beaux Limmer, Tyler Lee, OL, 6-5, 260 -- committed to Arkansas; additional offers from Arkansas State, Baylor, Houston, Louisiana Monroe, Louisiana Tech, North Texas, Northwestern, Oklahoma State, SMU, Southern Miss, Texas State, Tulsa, UTSA, Vanderbilt (15)
Darius Richardson, West Rusk, DL, 6-3, 288 -- committed to Texas State (1)
Braelyn Riden, Jacksonville, DB, 6-1, 170 -- offer from ULL (1)
Keivie Rose, Henderson, DE, 6-4, 220 — offers from Arkansas State, Florida Atlantic, Kansas, Louisiana Tech, Memphis, New Mexico, North Texas, Oklahoma State, SMU, Southern Miss, Tulane (11)
Ke'Andre Street, John Tyler, WR, 6-4, 190 -- offers from Boston College, Bowling Green, Houston, North Texas, Southern Miss, Syracuse, Tulane, UTEP (8)
Blake Trainor, Hallsville, OT, 6-7, 280 — offers from Arkansas, Houston, North Texas, Texas A&M, Tulsa, Texas State (6)
Caiden Walker, Newton, OL, 6-4, 276 — offers from Louisiana Tech, Tulane, ULM, UTEP (4)
Tahj Washington, Marshall, WR, 5-11, 160 -- offers from Air Force, Bowling Green, Kansas, Louisiana-Lafayette, Southern Miss, Texas State, Tulsa (7)
Carl Williams, Lufkin, DT, 6-4, 310 — offers from Arkansas, Houston, Kansas, Minnesota, Oklahoma, Oklahoma State, Ole Miss, SMU, Southern Miss, TCU, Tulsa, UTSA (12)
Keshon Williams, Pine Tree, ATH, 6-4, 230 -- offer from Iowa State, Louisiana Monroe, New Mexico State, Rice, South Alabama, Texas State, Tulane, UTEP, UTSA (9)
Marcus Williams, Longview, OL, 6-6, 285 — committed to TCU; additional offers from Baylor, Houston, SMU, Southern Miss, Texas State (6)
Robbie Williams, Chapel Hill, WR, 6-3, 195 -- offer from Southern Miss (1)
2020 East Texas Football Players With Division I FBS Offers
Kelvontay Dixon, Carthage, ATH, 5-11, 160 — offers from Arkansas, Baylor, Colorado, Oklahoma State, TCU, Texas (6)
JJ Green, Marshall, QB, 6-2, 165 -- offers from Nebraska, Ole Miss, Texas State (3)
Khalan Griffin, John Tyler, QB/ATH, 5-11, 180 — offer from Texas State (1)
Herbert Gums, Diboll, RB, 6-1, 228 -- offer from Houston (1)
Allen Horace, Crockett, DE, 6-5, 218 -- offers from Baylor, Oklahoma State (2)
Tren Jones, Arp, ATH, 6-0, 170 — offer from Baylor (1)
Devon King, Gilmer, OL, 6-3, 320 -- offer from Texas State (1)
Haynes King, Longview, QB, 6-2, 170 -- offers from Houston, Louisiana Tech, Louisiana-Monroe, Southern Miss (4)
Jamal Ligon, Tyler Lee, DE, 6-2, 240 -- offer from Texas State (1)
Ja'Lynn Polk, Lufkin, WR, 6-2, 170 — offer from Illinois (1)
James Sylvester, Newton, DE, 6-4, 215 — offers from Alabama, Arkansas, Baylor, Georgia, Missouri, Oklahoma, Oklahoma State, SMU, Texas A&M (9)
Jerrin Thompson, Lufkin, S, 6-0, 170 -- offers from Arkansas, South Florida, Vanderbilt (3)
Savion Williams, Marshall, WR, 6-3, 165 -- offers from Bowling Green, Southern Miss (2)
More From East Texas Sports Network