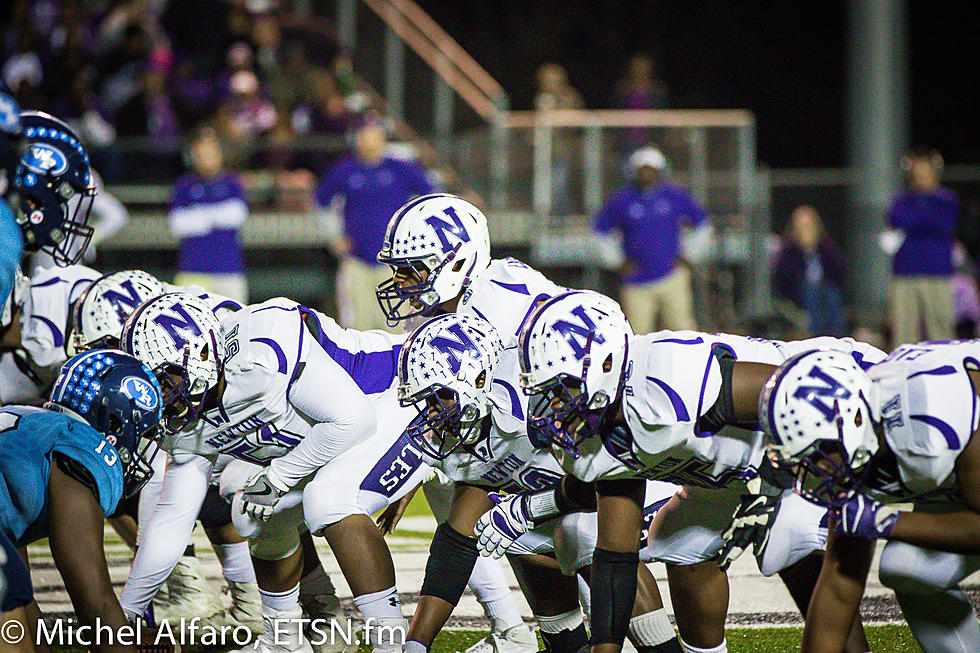 Newton's Caiden Walker Receives First Offer
(© ETSN.fm)
While many East Texas recruits from 2018 signed their letters of intent on Wednesday, Caiden Walker had a marquee day of his own.
Walker, a 2019 tackle from Newton, received his first scholarship offer on National Signing Day, he posted on Twitter. Louisiana Monroe was the team to offer.
Walker was a starting tackle for Newton, which won the Class 3A Division II state championship in 2017. He was a key member of an offense that posted 460.3 yards and 52.2 points per game. He stands 6-foot-4 and is 276 pounds, according the the Eagles' roster on MaxPreps.
Louisiana Monroe competes in the Sun Belt Conference of the NCAA's Division I FBS subdivision. The Warhawks finished the 2017-18 season 4-8.
Walker, like all juniors, can first sign with any team that offers him beginning in December 2018.
2019 East Texas Football Players With Division I FBS Offers
Jade Ashalintubbi, Elysian Fields, OL, 6-6, 331 —offers from Tulsa, ULM (2)
Darwin Barlow, Newton, RB, 6-0, 200 -- offers from Arkansas, Arkansas State, Baylor, Houston, Louisiana Tech, Missouri, Oklahoma State, Southern Miss, SMU, TCU, UTSA (11)
Chance Billington, John Tyler, OL, 6-3, 301 — committed to SMU; additional offer from Texas State (2)
Tamauzia Brown, Newton, ATH, 6-1, 170 -- offers from Arkansas, Arkansas State, Baylor, Houston, Louisiana Tech, Missouri, Oklahoma State, San Diego State, Southern Miss, SMU, TCU, Texas Tech, UTSA (13)
Javasia Brunson, Lufkin, DE, 6-4, 235 -- offers from Oklahoma State, SMU (2)
Keontae Burns, Pittsburg, ATH, 6-3, 182 — offers from Arkansas, Iowa State, Kansas, Missouri, North Texas, SMU, Southern Miss, Texas State, UTSA (9)
Cameron Cantrell, Whitehouse, WR, 6-1, 180 -- committed to Texas Tech (1)
Coltin Clack, Texas High, QB, 6-3, 202 — offers from Florida Atlantic, SMU, Southern Miss (3)
Josh Foster, Newton, ATH, 6-0, 165 -- offer from Arkansas, Arkansas State, Baylor, Louisiana Tech, SMU, ULM, Utah (7)
Christian Hood, Marshall, OL, 6-2, 290 — offer from Southern Miss (1)
T.Q. Jackson, Jefferson, WR, 6-3, 181 — offers from Arkansas, Arkansas State, Houston, SMU, Southern Miss, Texas Tech, Tulsa, UTSA (8)
Beaux Limmer, Tyler Lee, OL, 6-5, 260 -- offers from Houston, Louisiana Monroe, Louisiana Tech, North Texas, Texas State, Tulsa (6)
Darius Richardson, West Rusk, DL, 6-3, 288 -- offer from Texas State (1)
Keivie Rose, Henderson, DE, 6-4, 220 — offers from Arkansas State, Florida Atlantic, Kansas, Louisiana Tech, Memphis, Oklahoma State, SMU, Southern Miss, Tulane (9)
Ke'Andre Street, John Tyler, WR, 6-4, 190 -- offers from Houston, Southern Miss, Syracuse, Tulane (4)
Caiden Walker, Newton, OL, 6-4, 276 — offers from Louisiana Monroe (1)
Carl Williams, Lufkin, DT, 6-4, 310 — offers from Arkansas, Houston, Kansas, Oklahoma, Oklahoma State, SMU, Southern Miss, TCU, Tulsa, UTSA (10)
Keshon Williams, Pine Tree, ATH, 6-4, 230 -- offer from Texas State (1)
Marcus Williams, Longview, OL, 6-6, 250 — offers from Baylor, Houston, SMU, Southern Miss, Texas State (5)
More From East Texas Sports Network