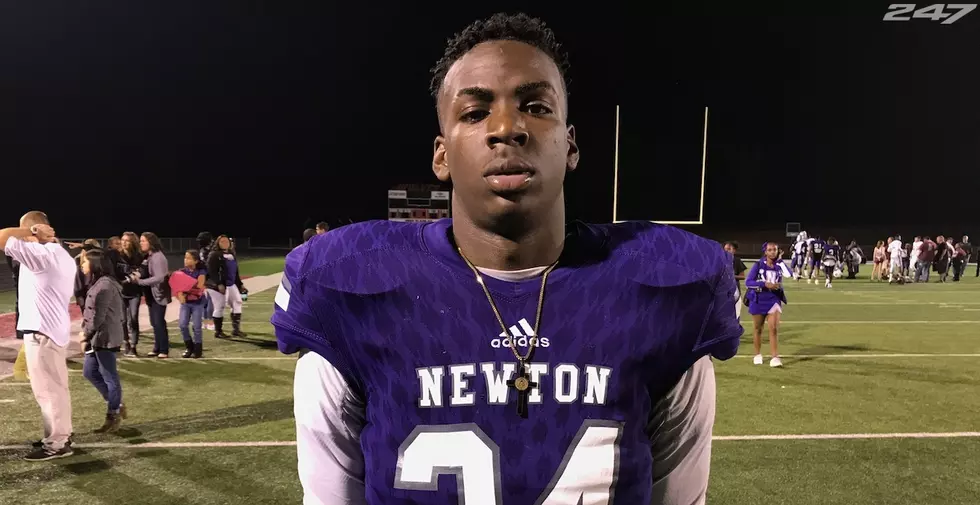 Newton's James Sylvester Receives First Offer From Baylor
Newton DE James Sylvester. (Gabe Brooks, 247sports.com)
With college football currently on hiatus between the end of the regular season and bowl season, college coaches are making their rounds through the state.
And one school in particular seems to be awfully fond of what it's finding in Newton.
Baylor offered the third player from Newton in a little more than two weeks by officially targeting Eagles 2020 defensive end James Sylvester, who reported the offer via Twitter on Tuesday.
Sylvester (6-4, 215) became the fifth member of East Texas' 2020 recruiting class to receive an FBS scholarship offer.
Newton 2019 teammates Tamauzia Brown and Darwin Barlow have also been offered by Baylor.
The Bears now have three offers out to current East Texas sophomores. In addition to Sylvester, Baylor has also offered Carthage's Kelvontay Dixon and Arp's Tren Jones.
Sylvester has had a strong season for Newton (12-0), which faces Waskom this Friday night for the Class 3A Division II Region III championship. He has made 63 tackles (14 for loss) with seven sacks.
Baylor just concluded a 1-11 season under first-year coach Matt Rhule. The Bears currently have seven native East Texans on their roster.
Sylvester, like all sophomores, will first become eligible to sign with any Division I program that offers him in December of 2019.
2020 East Texas Football Players With Division I FBS Offers
Kelvontay Dixon, Carthage, ATH, 5-11, 160 — offers from Baylor, Colorado, Oklahoma State, TCU, Texas (5)
Khalan Griffin, Chapel Hill, QB/ATH, 5-11, 180 — offer from Texas State (1)
Tren Jones, Arp, ATH, 6-0, 170 — offer from Baylor (1)
Ja'Lynn Polk, Lufkin, WR, 6-2, 170 — offer from Illinois (1)
James Sylvester, Newton, DE, 6-4, 215 — offer from Baylor (1)
More From East Texas Sports Network