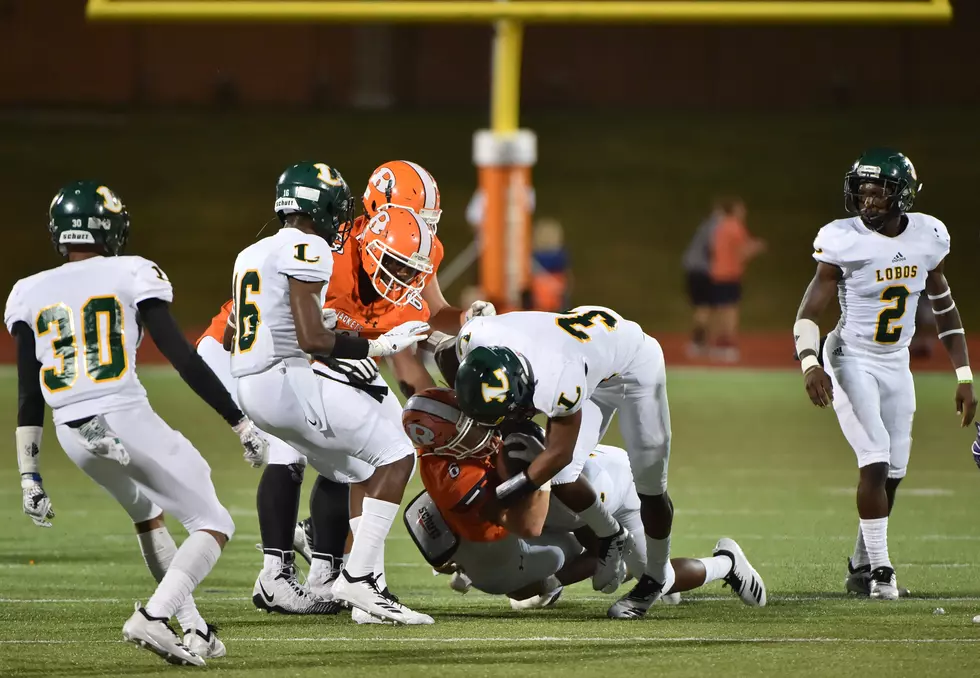 No. 6 Longview Outlasts Rockwall, 42-35, to Begin District 11-6A
(Samuel De Leon)
ROCKWALL – Longview didn't have an answer for Rockwall superstar receiver Jaxon Smith on Friday night, but fortunately for the Lobos, Rockwall's defense had troubles of its own.
Longview opened District 11-6A with a thrilling 42-35 win over Rockwall at Wilkerson-Sanders Memorial Stadium, rolling up more than 500 yards of offense in the process.
Kaden Meredith's 2-yard touchdown run with 9:00 remaining in the fourth quarter, the final score of the night, gave Longview (5-0, 1-0) its first lead.
And the Lobos' defense did the rest, turning the Yellowjackets (2-2, 0-1) over downs and essentially putting the game away with a Robert Pierce interception with 3:35 to play.
"It was a heckuva ballgame, about how I thought it would go," said Longview head coach John King. "I knew there'd be some fireworks and were gonna have to match them score for score. And hopefully maybe get some stops and maybe a turnover, and get a lead."
Rockwall (2-2, 0-1), which had 462 yards on the night, had just 33 in the fourth quarter.
"It's a huge shot in the arm," King said of the win. "If you'd have told me we'd be 5-0 going into bye week I would have probably disagreed with you because of who we had to play. It was extremely important to come on the road and beat a good Rockwall team.
"We knew they were explosive offensively and we were gonna have to do some things to match them, and find a way to get some turnovers and get some stops to get out of here with a win."
Prior to the fourth quarter, Longview's defense was on its heels.
Smith, a junior who holds offers from more than 20 Division I FBS programs, finished with 13 catches for 289 yards and three total touchdowns. He hauled in a 65-yard scoring toss on the third play of the game, then burnt the Lobos in double coverage for a 58-yard touchdown reception that gave Rockwall a 35-28 lead with 4:15 remaining in the third.
He also had a 28-yard touchdown run in the first quarter.
"He's as good as advertised," King said of Smith. "He runs great routes, they have an excellent scheme to get him singled up a lot of times, and their quarterback throws the ball extremely well to spots. And he hits them on location, post routes, fade balls, whatever it may be. We couldn't tackle him out of the wildcat. Maybe he'll reclassify and graduate this year."
Longview quarterback Haynes King led the Longview attack, completing 18 of 25 passes for 296 yards and three touchdowns. Running back Keilyn Williams ran for 188 yards, and caught two passes for 31 yards.
"I saw a lot of toughness and grit," Coach King said of Williams. "He was running extremely hard, and he's a tough little dude to bring down. They tried to rip the ball from him, but they were gonna have to rip his heart out first."
Trailing 21-14 at halftime, Longview scored on its first three possessions of the third quarter, and entered the final period tied at 35-35.
Rockwall attempted a fake punt at its own 49 early in the fourth, but punter Logan Claborn's pass was incomplete.
Williams had runs of 9 and 21 yards, and Meredith's scoring run on the sixth play of the drive proved to be the game-winner.
Longview rolled up 581 yards of offense and racked up 29 first downs. Kamden Perry had six catches for 115 yards and two touchdowns.
"Offensively we were able to move the ball and get points," Coach King said. "With the exception of a turnover and a couple of holding calls, I thought we played pretty good (on offense)."
Rockwall senior quarterback and Minnesota commit Jacob Clark was 20 of 29 for 344 yards with two touchdowns and an interception.
Longview is off next week, and returns to action Oct. 12 at home against Mesquite Horn (0-5, 0-1). Rockwall plays at Horn next Friday night.
No. 6 Longview 42, Rockwall 35
At Wilkerson-Sanders Memorial Stadium, Rockwall
Longview         7      7    21      7    –    42
Rockwall        14      7    14      0    –    35
First Quarter
ROC—Jaxon Smith 65 pass from Jacob Clark (Landry Poppen kick), 11:25.
LON – Jessie Anderson 6 run (J.K. Martin), 5:04.
ROC – Smith 28 run (Poppen kick), 3:06.
Second Quarter
LON – Daquavion Randall 19 pass from Haynes King (Martin kick), 11:31.
ROC – J.J. Williams 9 run (Poppen kick), 7:49.
Third Quarter
LON – Kamden Perry 17 pass from King (Martin kick), 9:58.
ROC – Zach Henry 15 run (Poppen kick), 8:59.
LON – Kaden Meredith 3 run (Martin kick), 5:35.
ROC – Smith 58 pass from Clark (Poppen kick), 4:15.
LON – Perry 17 pass from King (Martin kick), :28.
Fourth Quarter
LON – Meredith 2 run (Martin kick), 9:00.
                                  LON                  ROC
First Downs                     29                     17
Total Yards                     581                   462
Rushes-Yards            49-285             26-118
Passing Yards                 296                  344
Comp.-Att.-Int.          18-25-0           20-30-1
Punts-Avg.                  1-42.0             3-31.0
Fumbles-Lost                    2-1                 0-0
Penalties-Yards                4-40               2-10
INDIVIDUAL STATISTICS
RUSHING—Longview, Keilyn Williams 24-188, Jessie Anderson 13-56, Haynes King 4-36, Kaden Meredith 7-25, Team 1-(-20). Rockwall, Zach Henry 21-85, Jaxon Smith 3-34, J.J. Williams 1-9, Jacob Clark 1-(-10).
PASSING—Longview, King 18-25-0—296. Rockwall, Clark 20-29-1—344, Logan Claborn 0-1-0—0.
RECEIVING—Longview, Kamden Perry 6-115, Kaden Kearbey 4-76, Anderson 3-24, Da'Kiemion Mumphrey 2-31, Williams 2-31, Daquavion Randall 1-19. Rockwall, Smith 13-289, Williams 3-35, Claborn 2-10, Henry 2-10.
More From East Texas Sports Network