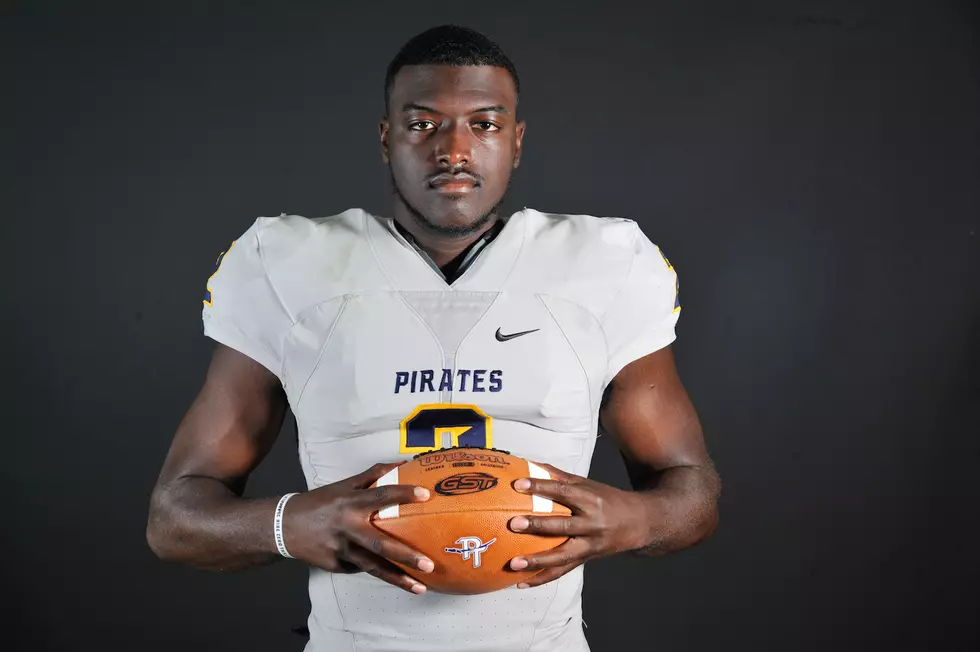 Pine Tree ATH Keshon Williams Receives First Scholarship Offer
Pine Tree's Keshon Williams. (© Rob Graham, ETSN.fm)
It didn't take long after its game for Texas State to make its decision.
After a 45-27 home loss to Louisiana-Monroe Saturday, the Bobcats offered a scholarship to 2019 ATH Keshon Williams. They became the first Division I team to do so.
Williams works primarily with his legs for Pine Tree. He has 49 carries for 199 yards and nine touchdowns this season. He also has six catches and 94 yards receiving.
He is 6-of-19 for 67 yards through the air. He is second on the depth chart to senior Wade Seidel, but will likely get the chance to showcase his ability as a passer more frequently next season.
The Bobcats, which compete in the FBS subdivision, are 1-4 this season.
Coming off a 31-21 victory against Mount Pleasant on Friday, Pine Tree is 2-4 this year. The Pirates are on a two-game win streak after defeating Sulphur Springs the week prior to open district play. Pine Tree will have a road matchup with Greenville this upcoming Friday.
Williams, like all juniors, will first become eligible to sign with any Division I program that offers him in December of 2018.
2019 East Texas Football Players With Division I FBS Offers
Jade Ashalintubbi, Elysian Fields, OL, 6-6, 331 —offers from Tulsa, ULM (2)
Chance Billington, John Tyler, OL, 6-3, 201 — committed to SMU (1)
Tamauzia Brown, Newton, WR/ATH, 6-1, 170 -- offer from Oklahoma State (1)
Keontae Burns, Pittsburg, WR, 6-3, 182 — offers from Iowa State, North Texas, SMU, Southern Miss (4)
Cameron Cantrell, Whitehouse, WR, 6-1, 180 -- committed to Texas Tech (1)
Coltin Clack, Texas High, QB, 6-3, 202 — offers from Florida Atlantic, SMU, Southern Miss (3)
Christian Hood, Marshall, OL, 6-2, 290 — offer from Southern Miss (1)
T.Q. Jackson, Jefferson, WR, 6-2, 175 — offers from SMU, Southern Miss (2)
Keivie Rose, Henderson, DE, 6-4, 220 — offers from Arkansas State, Florida Atlantic, SMU, Southern Miss, Tulane (5)
Carl Williams, Lufkin, DT, 6-3, 275 — offers from Houston, Oklahoma, SMU, TCU, Tulsa (5)
Marcus Williams, Longview, OL, 6-6, 250 — offers from Baylor, Houston, SMU, Southern Miss, Texas State (5)
Keshon Williams, Pine Tree, ATH, 6-4, 230 — offer from Texas State (1)
More From East Texas Sports Network