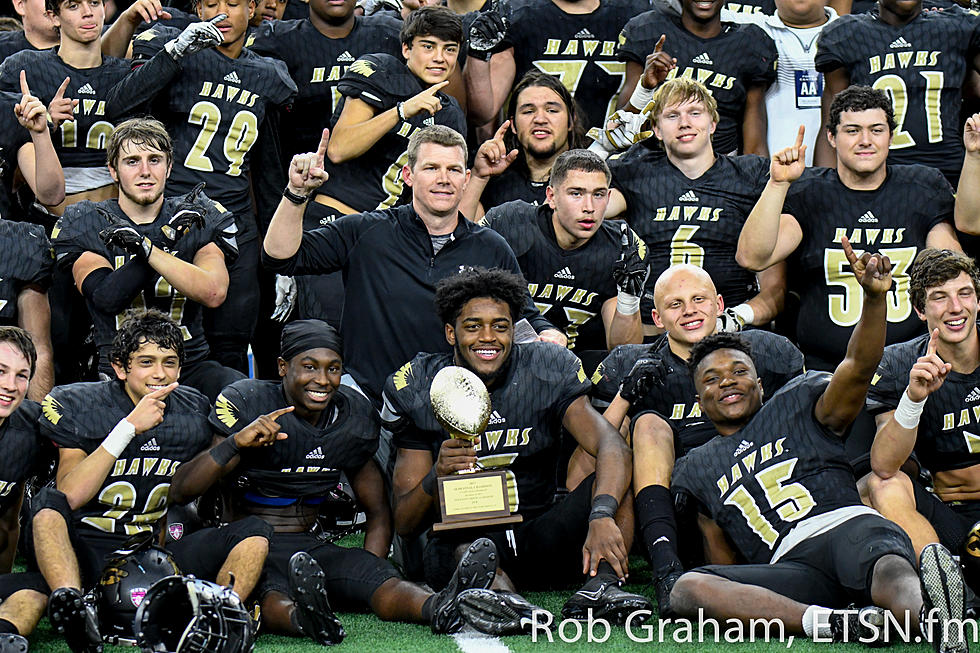 Pleasant Grove Dominates Graham to Reach First-Ever State Championship Game
Pleasant head coach Josh Gibson celebrates with his team after their 45-14 win over Graham in the Class 4A Division II semifinals Thursday night in Frisco. (© ETSN.fm)
FRISCO -- When Josh Gibson took over the Pleasant Grove football program four years ago, he had a vision. But it was ultimately his players' responsibility to turn that into reality.
On Thursday night, the city of Texarkana sent its third of three Texas public schools to the football state championship game -- Pleasant Grove High.
The Hawks (15-0) dominated previously unbeaten Graham from start to finish, leaving the Ford Center at The Star with a 45-14 win in a Class 4A Division II semifinal.
Pleasant Grove, which won just a total of four games in the three seasons prior to Gibson's arrival, will play for the state title at 3 p.m. Friday, Dec. 22, from AT&T Stadium in Arlington.
The Hawks will meet the winner of Friday's other semifinal between two-time defending state champion West Orange-Stark and Wimberley.
"I'm just so thankful for our kiddos and our coaches and how they've worked for four years, and bought into a dream and vision," Gibson said. "They step up and do everything we asked them to every week, and we couldn't be around better kids and better coaches."
Pleasant Grove's defense set the tone in the first half, forcing a high-powered Graham (14-1) offense that entered the semifinals averaging more than 53 points per game into three, three-and-outs to begin the game.
The Hawks also racked up for four first-half sacks, limited Graham to 24 yards before intermission, and held a commanding 28-0 halftime lead.
"Our defense has been great all year," Gibson said. "Our defensive coordinator Brandon Easterly has done a really good job against two really explosive offenses these past two weeks. The kids play smart, play hard, and really a physical brand of football."
Following a punt on its opening series of the game, Pleasant Grove scored on its next four possessions.
The Hawks ran for 374 yards on the night. Sophomore Bruce Garrett led the way with 168 yards and two touchdowns, one of which was an 85-yarder. Senior TJ Cole, the team's leading rusher for the season, ran 18 times for 127 yards and two touchdowns.
"We knew coming into this week we'd have to play physical," Cole said.
Hawks sophomore quarterback Ben Harmon tossed a 53-yard touchdown pass to Carson Cox in the first half, and completed a screen pass for a 24-yard gain to Cole for Pleasant Grove's only two completions of the night.
The Hawks did just about whatever it wanted on the ground.
"The Wing-T doesn't work well unless you have 11 guys doing their job, and that's why so many different kids get to produce," Gibson said. "We try to keep people off balance and work through different carriers."
Graham's offense picked up its production in the second half, but still managed just 249 yards for the game (minus-14 rushing). In last week's win, the Steers posted 797 total yards and came into this week averaging close to 500 per game.
Steers quarterback Tucker Horn passed for 263 yards with a touchdown and interception on 18 of 38 passing, and was sacked five times.
"We try to get a bunch of pressure each and every week, so each week we're gonna play fast and create pressure, and then we'll drop into some zone coverages and mix it up as best we can," Gibson said. "But we're all about pressure, pressure, pressure."
Adam Groves had a team-high seven catches for 109 yards for Graham.
Pleasant Grove began its second drive of the night at midfield and scored on the fifth play, a 15-yard run from Garrett for a 7-0 lead with 6:01 remaining in the first quarter.
Following the third consecutive Steers three-and-out, Pleasant Grove's Chauncey Martin returned a punt 23 yards to set the Hawks up at the Graham 36.  Cole's 18-yard touchdown run three minutes later pushed the PG lead to 14-0 with 1:42 to play in the first.
Graham finally achieved a pair of first downs on the ensuing series, but a pair of negative plays totaling 23 yards forced another Steers punt.
Pleasant Grove then drove 60 yards in 10 plays, going up 21-0 on Cole's 17-yard touchdown run with 5:22 until halftime.
The Hawks scored again on their next drive, this time on Harmon's long scoring toss to Cox with 2:21 remaining in the half.
Pleasant Grove scored three times in the second half -- an 85-yard burst from Garrett, a 1-yard plunge by James Wiggins, and a 27-yard field goal from Dillon Williams.
Graham cut the deficit to 38-7 with a Chase Gilmore 3-yard scoring run late in the third quarter, and Horn's touchdown pass -- a 6-yarder to Daniel Gilbertson -- came with 11 seconds to play in the game.
All that was left for Pleasant Grove after that was to take a knee, which sent the Hawks to state finals.
"It's unbelievable," Cole said. "What a journey for this season."
Pleasant Grove 45, Graham 14
Class 4A Division II
State Semifinal
At Ford Center, Frisco
Graham                      0      0      7      7    --    14
Pleasant Grove          14    14      7    10    --    45
First Quarter
PG--Bruce Garrett 15 run (Dillon Williams kick), 6:01.
PG--TJ Cole 18 run (Williams kick), 1:42.
Second Quarter
PG--Cole 17 run (Williams kick), 5:22.
PG--Carson Cox 53 pass from Ben Harmon (Williams kick), 2:21.
Third Quarter
PG--Garrett 85 run (Williams kick), 3:05.
GRA--Chase Gilmore 3 run (Greg Simental kick), 1:36.
Fourth Quarter
PG--FG Williams 27, 8:03.
PG--James Wiggins 1 run (Williams kick), 1:49.
GRA--Daniel Gilbertson 6 pass from Tucker Horn (Simental kick), :11.
                                       GRA                     PG
First Downs                          18                     23
Total Yards                          249                   451
Rushes-Yards                17-(-14)             50-374
Passing Yards                      263                    77
Comp.-Att.-Int.              18-38-1               2-6-0
Punts-Avg.                       5-32.2             2-43.5
Fumbles-Lost                        0-0                 0-0
Penalties-Yards                    9-73                8-60
INDIVIDUAL STATISTICS
RUSHING--Graham, Chase Gilmore 7-29, Daniel Gilbertson 2-3, Tucker Horn 7-(-32), Adam Groves 1-(-14). Pleasant Grove, Bruce Garrett 16-168, TJ Cole 18-127, Josh Roberts 7-53, Ben Harmon 3-7, Luke Harmon 3-7, James Wiggins 4-7, Chauncey Martin 3-5.
PASSING--Graham, Horn 18-38-1--263. Pleasant Grove, Ben Harmon 2-6-0--77.
RECEIVING--Graham, Adam Groves 7-109, Callen Mills 5-65, Cameron Parker 2-48, Jake Lanham 2-23, Gilbertson 1-6, Gilmore 1-3. Pleasant Grove, Carson Cox 1-53, Cole 1-24.
More From East Texas Sports Network