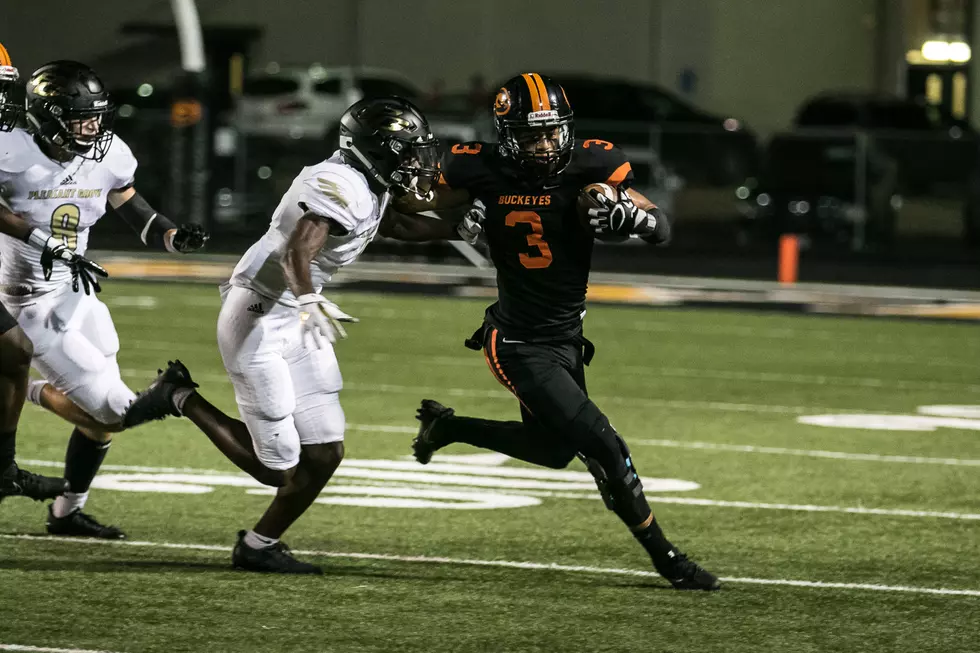 PREVIEW: Gilmer Looks to Rebound Against Gladewater
(© Ruel Felipe, ETSN.fm)
DISTRICT 7-4A DIVISION II
Gilmer Buckeyes (4-2, 0-1)
vs.
Gladewater Bears (2-4, 1-0)
7:30 p.m. Friday
Jack V. Murphy Bear Stadium, Gladewater
Coaches
Gilmer: Matt Turner
Gladewater: John Berry
Last week
Next week
Gilmer: vs. Spring Hill, Oct. 27
Gladewater: at Atlanta, Oct. 27
Playmakers
QB Aaron "Poppy" Brown, Sr., 5-9, 180 (129 of 207, 2,042 yards, 17 TDs, 9 INTs; 53 carries, 288 yards, 6 TDs)
RB/DB Brannon Webb, Jr., 5-10, 175 (56 carries, 492 yards, 8 TDs; 6 catches, 66 yards, 0 TDs; 12 tackles, 1 INT, 2 PBUs)
WR/DB Morgan Lusty, Sr., 5-9, 150 (29 catches, 703 yards, 7 TDs; 16 tackles, 2 PBUs)
WR/DB Red Jones, Sr., 5-11, 150 (33 catches, 455 yards, 3 TDs; 7 carries, 34 yards, 0 TDs; 9 tackles, 2 INTs, 6 PBUs)
WR/DB Qua Heath, Sr., 6-2, 175 (17 catches, 307 yards, 4 TDs; 10 tackles, 2 for loss, 1 INT, 1 PBU)
LB Garry Orr, Sr., 6-1, 190 (39 tackles)
WR/DB Tra Fluellen, Jr. (14 catches, 182 yards, 1 TD; 4 carries, 24 yards, 0 TDs; 21 tackles, 2 INTs, 1 forced fumble)
LB Dain Goudarzi, Sr. (62 tackles, 3 for loss, 1 sack)
RB/DB Isaiah Davis, Sr., 5-11, 210 (67 carries, 349 yards, 2 TDs; 5 tackles, 1 for loss, 3 PBUs)
TE Mike Sanchez, Sr., 6-5, 327
QB Danny Badger, Jr., 6-0, 200 (17 of 40, 195 yards, 3 TDs, 0 INTs; 61 carries, 196 yards, 3 TDs)
OL Andrew Williams, Sr., 5-11, 290
FB/LB Rashaud Johnson, Jr., 5-8, 190 (41 carries, 204 yards, 3 TDs; 60 tackles, 11 for loss, 3 sacks, 2 forced fumbles, 1 recovery, 1 PBU)
FB Keston Wilson, Jr., 5-10, 220 (36 carries, 166 yards, 0 TDs)
DB Mycah Stephens, Sr., 6-0, 186 (36 tackles, 1 for loss, 1 fumble recovery, 2 PBUs, 2 blocked kicks)
DL Dre'ka Ransom, Sr., 5-9, 210 (30 tackles, 7 for loss, 1 fumble recovery, 1 PBU)
Just the facts
Gilmer and Gladewater share the same school colors (orange and black), and are separated by just 14 miles along Highway 271.
Gladewater has not defeated Gilmer since 2001. The Buckeyes won last year's meeting, 35-28.
Gilmer is averaging 48.5 points and 575.7 yards per game -- 233.2 rushing and 342.5 passing.
The Buckeyes have not begun 0-2 in district play since 2000.
Gilmer is allowing 36.5 points per game, and has forced only seven turnovers in six games -- six interceptions and seven fumbles.
Gladewater is averaging 16.7 points and 250 yards per game -- 217.5 rushing and 32.5 passing.
The Bears' four losses have come to Carthage, Kilgore, Chapel Hill, and Lindale, who are a combined 17-8 (.680) on the season.
Gladewater is allowing 27.3 points per game, and has forced only six turnovers in six games -- two interceptions and four fumbles.
Key matchup: Gladewater rushing attack vs. Gilmer defensive front. The Bears haven't had much success on offense this season, averaging less than 17 points per game through six weeks. However, Gladewater is coming off its best performance of the year in a 38-35 win over previously unbeaten Spring Hill. In that game, the Bears not only scored a season-high in points, but they also rolled up 384 yards per game, which is 130 more than their season average. And like every year, Gladewater's offense goes as far as its running game can take it. The Bears pounded the rock 59 times last week (easily a season high) for 310 yards. Gladewater might have averaged only 5.3 yards per carry, but the Bears accomplished their goal of keeping the ball away from a Spring Hill offense that came in averaging more than 50 points per game.
Senior running back Isaiah Davis did most of the heavy lifting last week with a season-best 178 yards and two touchdowns on 32 attempts. He's missed three games because of injury, but appears to be healthy now, which is good news for Gladewater and bad news for opponents. Gladewater will need another strong performance from Davis to have a chance against Gilmer.
The Buckeyes' defense has been vulnerable all season, and in particular against the run. At no time was that more evident than last Friday's 41-38 loss to Pleasant Grove. The Hawks chewed up 436 yards on the ground in helping them earn a key district win on the road. In order for Gilmer to avoid back-to-back district losses for the first time in 17 years, the Buckeyes will need to be much better at defending Gladewater's rushing attack.
Don't be surprised if: Gilmer goes on the offensive early Friday. The Buckeyes got off to a slow start last week, which forced them to expand a lot of energy playing catch-up for most of the night. Gilmer is a proud program not accustomed to stumbling during district play. Expect the Buckeyes to come out with a high level of energy and aggressiveness on offense. If Gilmer can grab a big lead early on the road, it might settle a team that's lost two of their last three games.
More From East Texas Sports Network