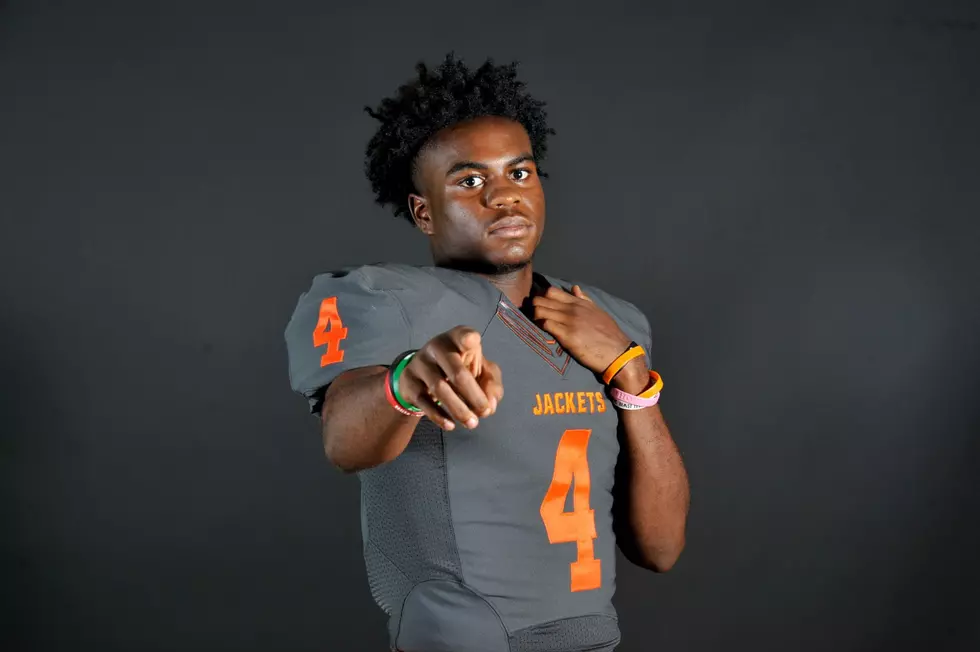 PREVIEW: Jefferson and Elysian Fields to Battle for 3-0
Elysian Fields RB Nathan Johnson (© Rob Graham, ETSN.fm)
Jefferson Bulldogs (2-0)
vs.
Elysian Fields Yellowjackets (2-0)
7:30 p.m. Friday
Jacket Stadium, Elysian Fields
Coaches
Jefferson: Antwain Jimmerson
Elysian Fields: Scott Ford
Last week
Jefferson: def. Hewitt 42-16
Elysian Fields:

 

def. Winona 28-20
Next week
Jefferson: vs. Frankston, Sept. 22
Elysian Fields: vs. Dallas First Baptist, Sept. 22
Playmakers
WR/DB T.Q. Jackson, Jr., 6-2, 175
QB Trey Hodge, Jr., 6-1, 205
WR/DB Dee Mitchell, Sr., 6-2, 180
LB Jordan Randle, Sr., 5-9, 185
RB/DL Taylor Smith, Sr., 6-1, 174
WR/DB Trace Smith, Jr., 6-4, 175
OL/DL Dylan Polver, Jr., 6-3, 278
RB Tyron Williams, Jr., 5-8, 165
OL Jade Ashalintubbi, Jr., 6-6, 315
OL/DL Malik Johnson, Sr., 6-4, 275
RB/LB Nathan Johnson, Sr., 5-11, 200
RB/DB Christavian Smith, Soph., 5-9, 160
WR/DB Cole Myers, Sr., 6-2, 165
LB Stone Crisp, Sr., 5-8, 165
LB Jeb Dickson, Sr., 5-8, 160
WR/DB Caleb Mosley, Sr., 6-1, 175
Just the facts
Elysian Fields and Jefferson have met five times since 2012, with Jefferson holding a 3-2 lead since then.
Elysian Fields has won the past two matchups, including a 30-25 victory last season.
Trey Hodge and Dee Black each had two touchdowns for the Bulldogs in their Week 1 victory against Waskom.
Elysian Fields' offensive line duo of Jade Ashalintubbi and Malik Johnson combine to weigh 590 pounds.
Jefferson's T.Q. Jackson had more than 1,000 yards receiving last season and 11 touchdowns.
Key matchup: Elysian Fields offensive line against Jefferson defensive line. The Yellowjackets got more than 1,500 yards combined on the ground from Nathan Johnson and Christavian Smith. Behind a big line that features Jade Ashalintubbi and Malik Johnson, there should be plenty of room to run through.
That's why Jefferson's chances of winning will be largely centered on whether it can stop the ground game. That begins with the defensive line. Taylor Smith and Dylan Polver are the leaders, and if they can get in the backfield this game will be interesting.
If not, Elysian Fields could run away with it.
Don't be surprised if: T.Q. Jackson has a big game. The junior had a breakout year last season, going for more then 1,000 yards receiving and 11 touchdowns. He was quiet in the Bulldogs' opener, but definitely has the talent to put up big numbers Friday.
It will be imperative for Elysian Fields to make sure he is accounted for on defense. If not, Jackson could make them pay.
More From East Texas Sports Network