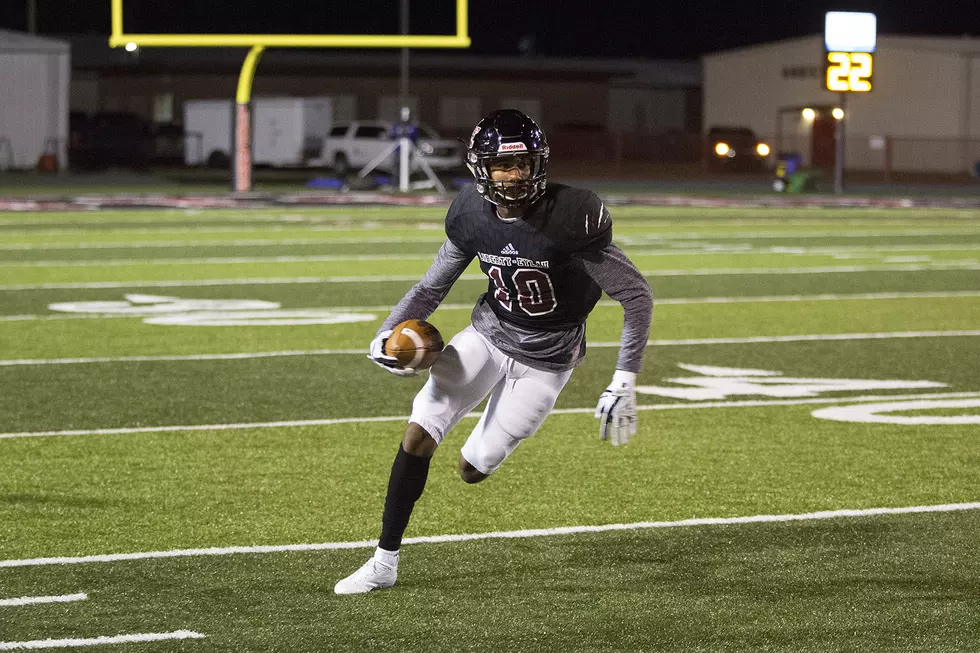 PREVIEW: Liberty-Eylau Looks to Keep Run Alive Against Kaufman
(Evan Lewis, ETSN.fm)
CLASS 4A DIVISION I
REGION II SEMIFINAL
Liberty-Eylau Leopards (7-5)
vs.
Kaufman Lions (11-1)
7 p.m. Friday
Royse City ISD Stadium, Royse City
Coaches
Liberty-Eylau: Steve Wells
Kaufman: Jeramy Burleson
Last week
Next week
Winner faces either Kennedale or Midlothian Heritage, regional championship
Playmakers
OL Kylar Cooks, Sr., 6-5, 250 (committed to Texas State)
QB Decorian Phillips, Sr., 6-1, 180 (209-of-347, 3,207 yards, 30 TDs, 12 INTs; 106 carries, 602 yards, 11 TDs)
ATH Isaiah Cross, Jr., 6-1, 165 (57 catches, 841 yards, 6 TDs)
LB Cedric Dickerson, Jr., 5-10, 178
ATH DeAndre Hoof, Sr., 5-10, 185
DL Orion Williams, Sr., 6-4, 215
WR Dazawion Cooper, Jr., 6-3, 148 (42 catches, 817 yards, 7 TDs)
OL Trey Parker, Sr., 6-0, 221
WR Mahleik Darty, Sr., 6-0, 175 (55 catches, 782 yards, 11 TDs)
C Colton Bergt, Sr., 6-0, 251
LB Devyn Morris, Sr., 6-2, 235
QB Trey Collier, Jr., 5-11, 150
OL/DL Landon Taylor, Jr., 6-0, 220
WR/DB Casey Smith, Sr., 5-10, 160
Just the facts
Liberty-Eylau is 26-18 all-time in the playoffs. The Leopards have never won a state championship in 4A (they won twice in 3A in 1999 and 2006).
Liberty-Eylau is in the midst of a six-game winning streak.
Leopard quarterback Decorian Phillips is throwing for an average of 267.25 yards per game.
Liberty-Eylau is averaging 42.6 points per game but giving up 39.9.
Kaufman is holding opponents to 22.4 points per game.
The Lions defeated Van to claim the District 8-4A Division I title.
Key matchup: Liberty-Eylau's ability to get defensive stops. The Leopards are holding teams to 33.2 points per game during their six-game win streak. They may still seem like a lot, but consider they allowed 45.2 through their first five games. The improvement, though marginal, is there.
Kaufman is a team that can do some damage on offense. The Lions put up 52 points last week and are averaging 32.9 so far this season. However, Liberty-Eylau doesn't even need its defense to consistently get stops. The Leopards have the offense to score plenty. They only need their defense to come up with stops here and there so the offense has the chance to outscore the Lions.
If it can do that, the Leopards might just be the most surprising team out of East Texas in these playoffs.
Don't be surprised if: Liberty-Eylau quarterback Decorian Phillips goes off. This postseason and the end of the regular season, Phillips has come alive. He certainly is not playing like a player ready to say goodbye to his last season of high school football.
He has thrown for 3,207 yards and 30 touchdowns this season and will see those numbers continue to rise. He has a solid group of receivers led by Isaiah Cross and Dazawion Cooper, who have combined for more than 1,600 yards. Mahleik Darty is the go-to end zone target of Phillips, hauling in 11 touchdowns this season.
As if that weren't enough, El-Amin Greer adds another 663 yards. Throw running back Ralph Crabtree in the mix, and Phillips has targets anywhere he looks. It is going to be difficult for Kaufman to stop the Leopards' passing attack, as the many teams who have faced them before this season can attest.
Look for a big day from Phillips, regardless of the winner in this one.
More From East Texas Sports Network