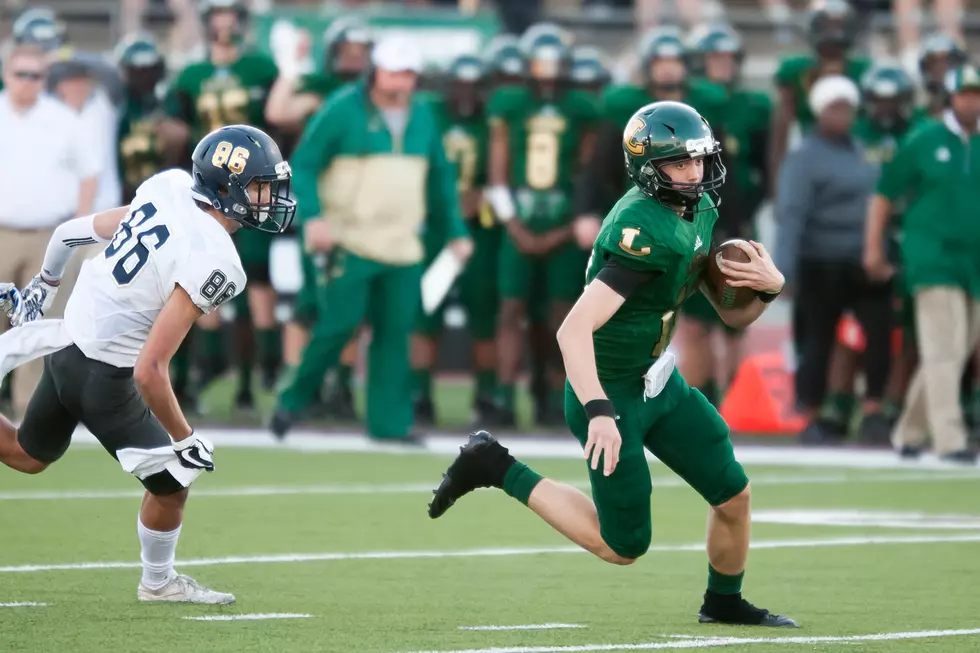 PREVIEW: Longview Draws Unbeaten Klein Collins on Saturday
Longview quarterback Haynes King (right) runs upfield during the Lobos' 75-43 area-round playoff win over Dallas Jesuit on Nov. 25 in Dallas. (© Francis Celii, ETSN.fm)
CLASS 6A DIVISION II
REGION II SEMIFINAL
Longview Lobos (11-1)
vs.
Klein Collins Tigers (11-0)
2 p.m. Saturday
McLane Stadium, Waco
Coaches
Longview: John King
Klein Collins: Drew Svoboda
Last week
Next week
Winner faces either Lufkin or Spring Westfield, regional championship
Playmakers
RB Keilyn Williams, Jr., 5-5, 145 (145 carries, 992 yards, 15 TDs; 8 catches, 150 yards, 1 TD)
DB Jephaniah Lister, Jr., 5-9, 155 (104 tackles, 3 for loss, 2 sacks, 3 INTs, 4 PBUs, 1 forced fumble)
DB Jalen Carr, Sr., 6-0, 160 (46 tackles, 2 for loss, 1 sack, 9 INTs, 4 PBUs, 3 blocked kicks)
QB Haynes King, Soph., 6-3, 170 (88 of 162, 1,579 yards, 14 TDs, 5 INTs; 16 carries, 187 yards, 1 TD)
TE Jaylin Brown, Sr., 6-3, 205 (23 catches, 499 yards, 8 TDs)
DL D'Marjai Dearion, Sr., 6-0, 250 (31 tackles, 7 for loss, 6 sacks)
LB Javontae Writt, Jr., 5-9, 190 (72 tackles, 9 for loss, 3 sacks, 4 fumble recoveries)
RB Jaquan Edwards, Sr., 5-5, 155 (89 carries, 629 yards, 9 TDs; 5 catches, 95 yards, 1 TD)
RB Isaiah Spiller, Jr., 6-1, 202 (174 carries, 1,153 yards, 21 TDs; 15 catches, 313 yards, 4 TDs; committed to Oklahoma)
LB Donavan Mutin, Sr., 6-1, 220 (59 tackles, 17 for loss, 7 sacks, 3 QB pressures; committed to Houston)
DB Phillip Hill, Sr., 6-0, 184 (41 tackles, 2 INTs, 4 PBUs, 1 fumble recovery; committed to UNLV)
OL Kameron Lewis, Sr., 6-4, 300 (committed to Houston)
WR Alex Brown, Jr., 6-4, 185 (12 catches, 330 yards, 3 TDs)
QB Carter Rhyne, Jr. (75 of 120, 1,602 yards, 20 TDs, 2 INTs; 37 carries, 169 yards, 3 TDs)
RB Josh Powell, Sr., 6-0, 185 (121 carries, 720 yards, 5 TDs)
WR AJ Bennett, Sr., 6-1, 178 (21 catches, 437 yards, 9 TDs)
Just the facts
Longview is in the third round of the playoffs for the 10th time in John King's 14 seasons as head coach. The Lobos are 5-4 in this round under King.
Longview is averaging 44.1 points and 414.5 yards per game -- 234.3 rushing and 180.2 passing.
Longview averaged 17.4 yards per play in last week's area-round playoff win over Dallas Jesuit.
Longview is allowing 19.1 points per game, and has forced 32 turnovers -- 18 interceptions and 14 fumbles. The Lobos have 40 sacks as a team as well.
Klein Collins reached the state semifinals a season ago, falling to eventual champion DeSoto. The Tigers defeated John Tyler, 56-14, in the third round last year.
Klein Collins is averaging 42.7 points and 405.1 yards per game -- 256.4 rushing and 148.7 passing.
Klein Collins junior running back Isaiah Spiller committed to Oklahoma last week. He is the son of former Texas A&M tight end Fred Spiller.
Klein Collins is allowing 8.6 points per game, and has forced 17 turnovers -- nine interceptions and eight fumbles. The Tigers have 27 sacks as a team as well.
Key matchup: Longview rushing attack vs. Klein Collins rushing attack. Both teams rely on establishing the run first, and working in the passing attack. And that strategy might not be more critical than this week.
Longview is coming off its best rushing performance of the season with 462 yards and eight touchdowns on just 29 attempts, for an eye-popping average of 15.9 yards per carry. The duo of Jaquan Edwards and Keilyn Williams lit the fuse with a combined 349 yards and seven touchdowns in the playoff win over Dallas Jesuit.
For the season, the Lobos are getting contributions from a multitude of backs. Longview averages a little more than 230 rushing yards per game, and it will need another good performance from the duo of Williams and Edwards if it wants to keep its season alive.
Klein Collins actually averages more than 250 yards per game on the ground, and like Longview, the Tigers mostly feature two backs. Junior Isaiah Spiller is the primary ball carrier, as he enters Saturday's game with a team-leading 1,153 yards and 21 touchdowns. The Oklahoma commit has seven 100-yard games this season, and has rushed for a touchdown in 10-straight games. Spiller will share carries with senior Josh Powell, who is creeping close to 1,000 yards on the season. He has actually outushed Spiller in two playoff games, 219-208.
Both quarterbacks in this game -- Longview's Haynes King and Carter Rhyne from Klein Collins -- have done an outstanding job this season complimenting the running game. But neither has been asked to carry the load on offense too often. The goal of each defense will be to change that approach.
Don't be surprised if: Saturday's game is low scoring. Despite allowing 43 points and more than 600 yards of offense last week to Dallas Jesuit, Longview's defense is playing at a high level. It forced five turnovers and scored touchdowns off all five takeaways last week, and held down really good offenses like Lufkin, Tyler Lee, and Rockwall during the regular season. Turnovers have been a common theme for the Lobos, forcing an average of almost three per game. Longview also has racked up 40 sacks as a team this season.
Klein Collins will be the best defense Longview has faced this season. The Tigers are allowing less than nine points per game, and have surrendered more than two touchdowns in a game only once this season. Perhaps Collins' two most impressive defensive performance came in the first two weeks of the season. The Tigers limited Houston Lamar to only 12 points, and shut out Humble Atascocita. Both of those teams are still alive in the 6A playoffs.
More From East Texas Sports Network