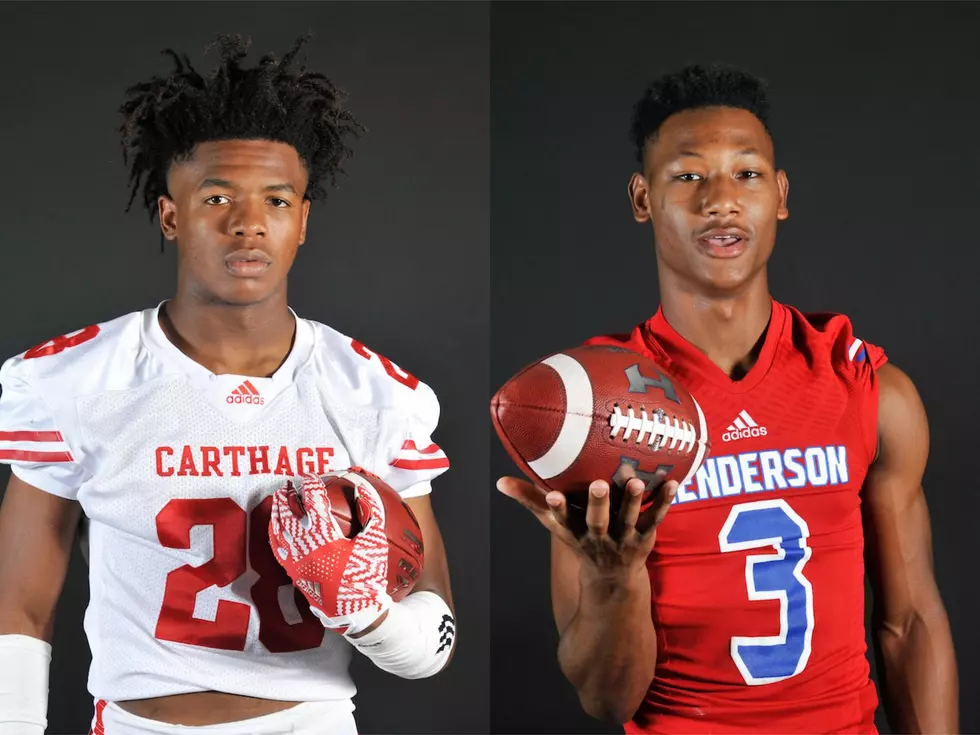 PREVIEW: No. 1 Carthage Tangles With Unbeaten Henderson in Rivalry Game
(© ETSN.fm)
DISTRICT 9-4A DIVISION I
No. 1 Carthage Bulldogs (4-0, 0-0)
vs.
Henderson Lions (5-0, 1-0)
7:30 p.m. Friday
Lion Stadium, Henderson
Coaches
Carthage: Scott Surratt
Henderson: Phil Castles
Last week
Next week
Carthage: vs. Kilgore, Oct. 13
Henderson: idle
Playmakers
RB Keaontay Ingram, Sr., 6-0, 200 (68 carries, 624 yards, 7 TDs; 9 catches, 122 yards, 1 TD; committed to Texas)
WR Dewaylon Ingram, Sr., 6-1, 170 (20 catches, 254 yards, 4 TDs)
LB Mykel Gates, Sr., 5-11, 230 (53 tackles, 9 for loss, 1 sack, 2 QB pressures, 1 fumble recovery, 3 PBUs)
WR/DB Mekhi Colbert, Sr., 5-9, 190 (15 catches, 183 yards, 2 TDs; 4 carries, 53 yards, 1 TD; 6 tackles, 1 for loss, 2 INTs, 2 PBUs)
LB Ahmad Brown, Sr., 6-0, 225 (46 tackles, 7 for loss, 1 QB pressure)
WR Dee Bowens, Sr., 5-7, 140 (13 catches, 315 yards, 4 TDs)
QB Gunner Capps, Jr., 5-11, 170 (63 of 107, 923 yards, 12 TDs, 4 INTs)
DB Jacorey Ware, Jr., 6-0, 155 (8 tackles, 3 INTs, 1 PBU, 1 fumble recovery, 1 defensive TD)
QB Trae Hall, Sr., 6-3, 185 (40 of 53, 575 yards, 4 TDs, 0 INTs; 59 carries, 263 yards, 5 TDs)
LB Garrett Lybrand, Sr., 6-2, 200 (57 tackles, 15 for loss, 2 sacks, 8 QB pressures, 1 forced fumble, 1 PBU)
RB D.Q. Murphy, Sr., 5-8, 180 (89 carries, 465 yards, 3 TDs)
DL De'Braylon Garrett, Sr. (34 tackles, 6 for loss, 3 sacks, 6 QB pressures)
LB Ty Blanton, Sr., 6-2, 190 (35 for tackles, 4 for loss, 2 QB pressures, 2 INTs, 2 PBUs, 2 defensive TDs)
WR Caleb Medford, Soph., 6-1, 175 (11 catches, 259 yards, 1 TD)
DB Keshoyn Alexander, Jr., 5-8, 165 (25 tackles, 3 INTs, 4 PBUs, 1 forced fumble, 1 defensive TD)
LB Brady Odom, Soph. (58 tackles, 8 for loss, 3 sacks, 6 QB pressures, 1 PBU)
Just the facts
This is the 75th all-time meeting between Henderson and Carthage. Henderson leads the series, 40-31-3.
The two teams split their two meetings last year. Henderson won during the regular season, 36-28, while Carthage defeated the Lions in the playoffs, 33-31.
Carthage is averaging 46.8 points and 446.8 yards per game -- 216 rushing and 230.8 passing.
Bulldogs receiver Dee Bowens is averaging 24.2 yards per catch.
The last time Carthage began a season 5-0 was 2009.
Henderson is averaging 33.2 points and 312.4 yards per game -- 194 rushing and 118.4 passing.
The Lions defense has racked up 13 sacks through the season's first five games.
Henderson quarterback Trae Hall is averaging more than 14 yards per completion.
Key matchup: Carthage rushing attack vs. Henderson defensive front. There's no secret to what the Bulldogs want to do on offense, and that's establish the running game with star running back and University of Texas commit Keaontay Ingram. who enters Friday's game against arch-rival Henderson with 746 yards from scrimmage and eight touchdowns. He's coming off his best performance of the year two weeks ago against Gilmer, when he finished with 228 yards rushing and two touchdowns and 62 receiving yards with a TD.
Ingram had big games in both games against Henderson last season. In the regular-season matchup, he finished with 221 total yards and three touchdowns. He was even more of a factor in the playoff game, as Ingram put up 280 yards from scrimmage and scored four times. There's no doubt the Henderson defense will be keying in on the Bulldogs' superstar running back.
Henderson's defense has been one of East Texas' best units through the first half of the season. The Lions are holding opponents to 15.8 points per game, and have been particularly effective at the line of scrimmage. In five games, Henderson's defense has amassed 49 tackles for loss, which includes 13 sacks. Senior linebacker Garrett Lybrand leads the way in that department with 13 stops behind the line of scrimmage. Fellow linebackers Brady Odom and Ty Blanton have also stepped up to make Henderson's front one of the most productive in the area.
Don't be surprised if: The game isn't decided until the fourth quarter. On paper, Carthage might have the better overall team, but in rivalry games, that often has very little to do with the outcome. The Bulldogs are also playing on the road in a hostile environment against a team it knocked out of the playoffs a season ago. Many folks in Henderson believe the Lions would've been celebrating the 4A Division I state championship had bitter rival Carthage not stood in their way last November in the regional semifinals.
More From East Texas Sports Network