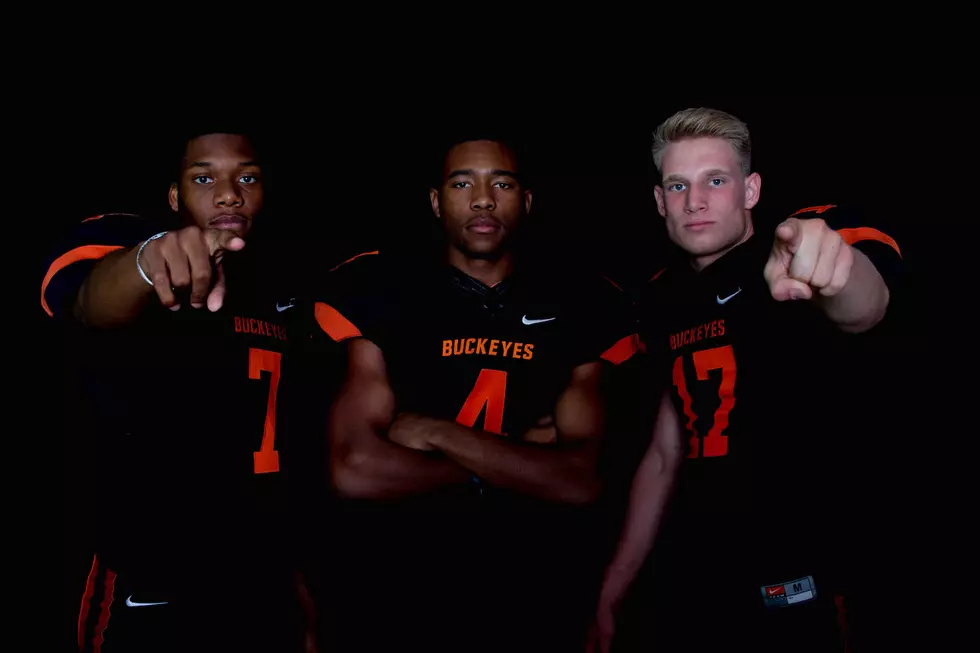 Top 25 Games of 2018: No. 25 Liberty-Eylau at Gilmer
Gilmer's Brannon Webb (left), Larry Montgomery (center), and Luke Metzel. (© Clint Buckley, ETSN.fm)
The Liberty-Eylau Leopards and Gilmer Buckeyes both have a steep tradition when it comes to football in East Texas.
Both have state championships to their credit this century, and both have matched up over the years both in the regular season and playoffs.
But for the first time since 1979, Liberty-Eylau and Gilmer will meet as district rivals. The Nov. 9 matchup at Gilmer's Jeff Traylor Stadium checks in at No. 25 on ETSN.fm's list of the top 25 games of 2018.
Since 2006, Liberty-Eylau and Gilmer have met 11 times. The Buckeyes have won 10 consecutive games in the series since suffering a stunning first-round playoff defeat to the eventual state champs in '06.
Despite the series dominance, the last three meetings -- all season openers -- have been decided by a total of 12 points. And there's been plenty of offensive fireworks. The scores of those games have been 50-45, 61-55, and 58-57.
Points might be a little harder to come by this season as both teams are replacing record-setting quarterbacks. Liberty-Eylau will be without Decorian Phillips, while the Buckeyes are moving on from Aaron "Poppy" Brown.
District 6-4A Division II might be the toughest in East Texas. Aside from perennial powers Liberty-Eylau and Gilmer, defending state champion Pleasant Grove, Pittsburg, and Spring Hill also call the league home.
Both Liberty-Eylau and Gilmer return nine starters from last season's regional semifinalist teams.
ETSN.fm's Top 25 Games of 2018
No. 25: Liberty-Eylau at Gilmer
More From East Texas Sports Network