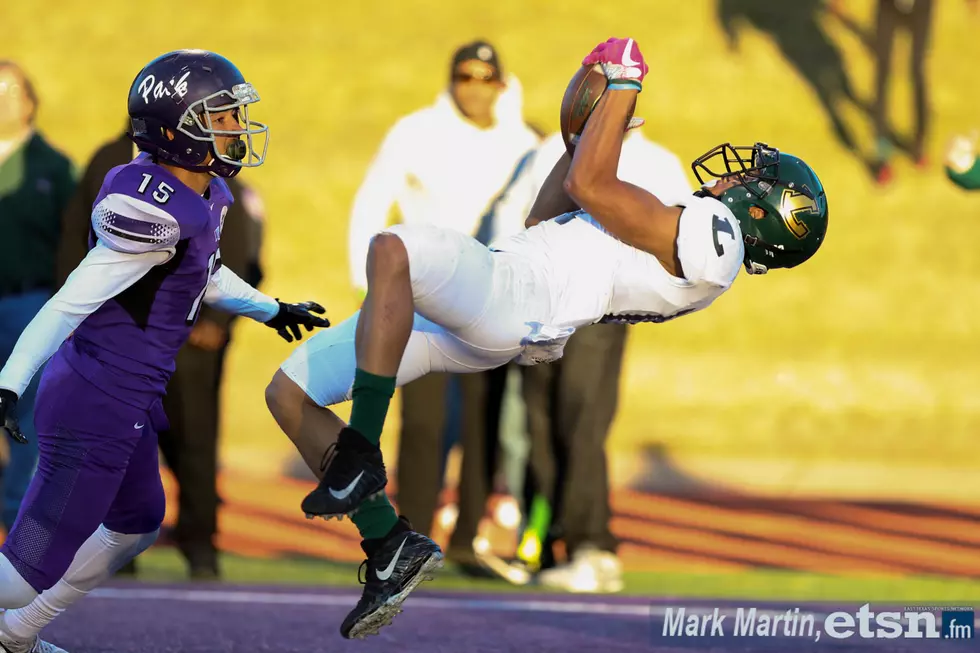 Touchdown Pass in Final Minute Sends Longview to Epic 33-32 Over Lufkin
Longview's Kamden Perry makes the game-winning, 28-yard touchdown catch with 54 seconds remaining in the Lobos' 33-32 defeat of Lufkin in their Class 6A Division II, Region II final Saturday in Nacogdoches. (© ETSN.fm)
NACOGDOCHES — An estimated 20,000 fans were in attendance for Saturday's Class 6A Division II, Region II final between East Texas rivals Lufkin and Longview.
They were treated to an instant classic.
The sixth and final lead change of the second half came when Longview sophomore quarterback Haynes King found Kamden Perry in the back of the end zone with 54 seconds remaining.
Chris Kessler, who missed his previous extra point attempt, drilled the PAT after the 28-yard touchdown pass to give Longview a heart-stopping 33-32 win over the Panthers at Homer Bryce Stadium.
"I've never played in a game like this in my life," Perry said. "It was amazing to be in this position."
Longview (13-1) advanced to the state semifinals for the first time since 2010. The Lobos will meet Hewitt Midway (14-0) at 6 p.m. next Saturday from Allen's Eagle Stadium.
"To be able to get these guys to the semifinals with what we had to go through with the injury bug and really how we started district … it's great for these kids," said Longview coach John King.
Lufkin (11-3) went in front on Isaiah Phillips' 8-yard touchdown run. Quarterback Kewone Thomas powered his way across the goal for the two-point conversion, which gave the Panthers a 32-26 lead with 2:07 remaining.
It seemed as if Phillips, who ran 36 times for 237 yards and three touchdowns, would be the hero.
But a different one soon emerged.
Keilyn Williams returned the ensuing kickoff 50 yards to the Lufkin 38 with less than two minutes remaining.
"The key was the kickoff return that got us past midfield," Coach King said. "We got a first down, and that enabled us to get in our traditional set. We didn't have to panic, we could still run the ball, and maybe play-action. And that's what we did."
Haynes King found Perry for a first down to the 28-yard line, setting up the game-winner.
"(Offensive coordinator Chris Vallery) called a great play, one that we thought we had a shot at, and Kamden made one of heckuva catch on his back in the end zone," Coach King said.
Haynes King, on the play fake, looked to his right and saw Perry leaking back to the other side of the field. He lofted the pass just over the head of Lufkin safety Darren Woodson, and into the arms of Perry, who leapt for the catch and secured it all the way to the ground.
"I just knew I had to get in position to go make a play on the ball," Perry said. "I secured the catch and tried to hold onto it. I'm blessed to be able to make a play like that and put the team on my back. I'm glad I get another week to play with them."
Perry finished the game with a career-high eight catches for 113 yards and two touchdowns.
Lufkin took over at its own 31 with 48 seconds remaining, and after a first-down sack by JC Blakemore and a spike on second down, Thomas was intercepted deep downfield by Jephaniah Lister to seal it.
"They fought their butts off until the bitter end, and you can't ask them to do any more than that," said Lufkin coach Todd Quick.
Lufkin fell behind 13-0 in the first quarter but reeled off 17 consecutive points for its first lead less than a minute into the third quarter.
The rest of the game was back and forth.
"No quit, no panic," Coach King said. "We were up 13-0, and I told them, 'hold on, boys. We've been here before. They can come back in a hurry and they did'"
Jessie Anderson, who suffered a torn wrist ligament in Week 2, saw his first action since in the third quarter.
Lufkin muffed a punt that was recovered by Longview's Roshodrick Harmon at the Panthers' 17-yard line. Anderson's 8-yard run to the 1 set up Haynes King's QB sneak, and Longview regained the lead at 20-17 with 6:45 to play in the third.
Anderson finished with 55 yards on seven carries — all in the second half.
"It just felt good being out here with my team," Anderson said. "As soon as I went down, I started back working out every day to get back to where I am. I'm glad that it finally paid off."
Lufkin responded with an 11-play, 92-yard drive that concluded with a Phillips 32-yard touchdown run that gave the Panthers a 24-20 lead with 11:02 remaining in the fourth.
Kessler missed a 42-yard field goal on the ensuing possession, but Lister blocked a Lufkin punt one series later, giving the Lobos the ball at the Lufkin 29.
Williams, who had a team-high 90 yards on 18 carries, then ripped off a 22-yard touchdown run, regaining the lead for Longview, 26-24, with 7:46 remaining.
That set the stage for Lufkin's go-ahead touchdown, coming on the 16th play of a drive that begin on its own 13. The series featured nine rushing attempts for Phillips, including the 8-yard score with 2:07 to play.
"He did it all year, and I'm very proud of him and that offensive line," Quick said of Phillips. "I'm proud of the whole group, a great bunch of boys."
Longview's running game was held in check in the first half. Following a 63-yard rushing half, the Lobos ran the ball 19 times for 141 yards after halftime.
Lufkin's run defense came into the game allowing an average of 81 yards per game, and less than three yards per carry.
"We changed a little bit of what we were trying to do, and we blocked a little better," Coach King said of his team's ground game. "They're good, they're big up front and they did a few things differently against us in the first half. They overloaded some sets and we were getting whipped at the point of attack, but our kids did better in the second half."
It was all Longview to start.
Lufkin's first drive of the game was stopped on downs at the Longview 24, and the Lobos went to the air.
Haynes King found a wide-open A'Darius Carter for a 39-yard touchdown and 7-0 lead with 6:51 remaining in the first quarter.
Longview's Ja'Vontae Writt intercepted Thomas on the next Lufkin series, and Haynes King connected with Perry for a 35-yard score and a 13-0 advantage with less than two minutes to play in the first.
Lufkin finally responded with a 21-yard field from Rodrigio Molina and Thomas' 22-yard touchdown pass to Ja'Lynn Polk in the second quarter, as the Panthers trailed 13-10 at halftime.
"Coach King told us it was gonna be a dogfight from the beginning, and we couldn't let it mess with our heads," Anderson said. "So we knew we were gonna have to fight until the end."
Longview 33, Lufkin 32
Class 6A Division II
Region II Championship
At Homer Bryce Field, Nacogdoches
Longview                 13      0      7    13    --    33
Lufkin                         0    10      7    15    --    32
First Quarter
LON--A'Darius Carter 39 pass from Haynes King (Chris Kessler kick), 6:51.
LON--Kamden Perry 35 pass from King (pass failed), 1:35.
Second Quarter
LUF--FG Rodrigo Molina 21, 11:21.
LUF--Ja'Lynn Polk 22 pass from Kewone Thomas (Molina kick), 6:47.
Third Quarter
LUF--Isaiah Phillips 2 run (Molina kick), 11:37.
LON--King 1 run (Kessler kick), 6:45.
Fourth Quarter
LUF--Phillips 32 run (Molina kick), 11:02.
LON--Keilyn Williams 22 run (kick failed), 7:46.
LUF--Phillips 8 run (Thomas run), 2:07.
LON--Perry 28 pass from King (Kessler kick), :54.
                                          LON                     LUF
First Downs                             16                       24
Total Yards                             381                     453
Rushes-Yards                    31-204               52-263
Passing Yards                         177                    190
Comp.-Att.-Int.                 13-22-2              17-25-2
Punts-Avg.                          4-25.8               2-46.0
Fumbles-Lost                           0-0                    1-0
Penalties-Yards                       5-38                  4-39
INDIVIDUAL STATISTICS
RUSHING--Longview, Keilyn Williams 14-90, Jessie Anderson 7-55, Haynes King 3-35, Jaquan Edwards 7-24. Lufkin, Isaiah Phillips 36-237, Kewone Thomas 11-38, Tre' Grant 4-6, Team 1-(-18).
PASSING--Longview, King 13-22-2--177. Lufkin, Thomas 17-25-2--190.
RECEIVING--Longview, Kamden Perry 8-113, A'Darius Carter 2-53, Williams 2-8, Edwards 1-3. Lufkin, Malik Jackson 5-62, Ja'Lynn Polk 5-60, Titan Williams 3-48, Phillips 1-3.
More From East Texas Sports Network