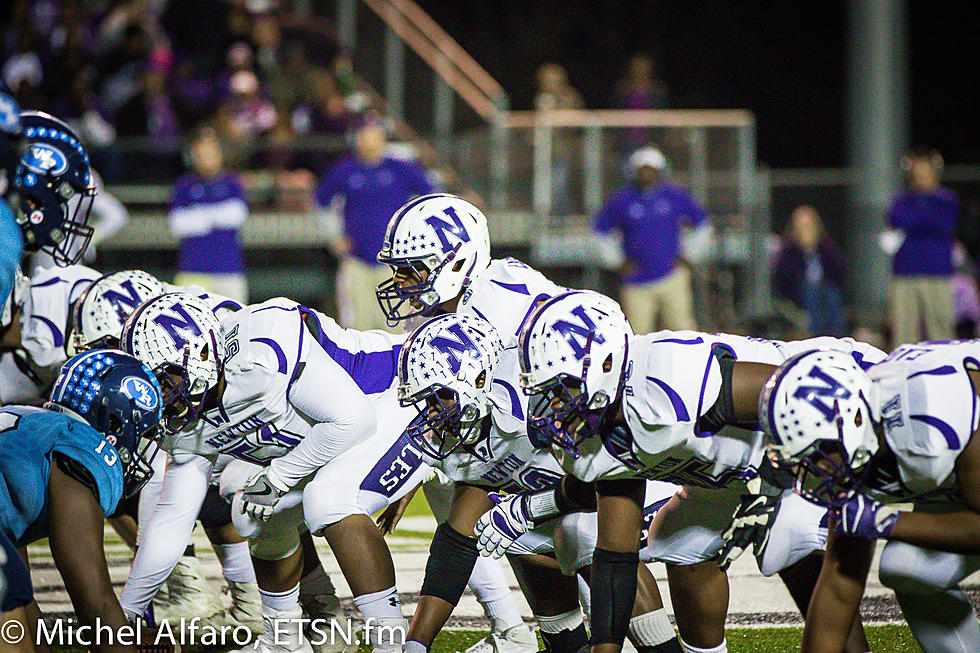 Tulane Offers Newton's Josh Foster + Caiden Walker
(© ETSN.fm)
Two more Newton players added offers Tuesday.
Josh Foster and Caiden Walker, both members of the Eagles' 2017 Class 3A Division II state championship team, reported offers from Tulane on Tuesday.
Foster played quarterback for the Eagles in 2017, throwing for 1,977 yards and 30 touchdowns. He also played defensive back, recording one interception. Walker was part of a potent offensive that averaged 460 yards and 52.2 points per game.
Tulane competes in the American Athletic Conference and finished with a 5-7 record in 2017.
Foster and Walker, like all juniors, are first eligible to sign with any team that offers them beginning in December.
2019 East Texas Football Players With Division I FBS Offers
Jade Ashalintubbi, Elysian Fields, OL, 6-6, 331 —offers from Louisiana-Monroe, Tulsa (2)
Darwin Barlow, Newton, RB, 6-0, 200 -- offers from Arkansas, Arkansas State, Baylor, Houston, Louisiana Tech, Louisiana-Lafayette, Louisville, LSU, Minnesota, Missouri, Nebraska, Oklahoma State, Ole Miss, SMU, Southern Miss, TCU, Texas State, Texas Tech, Utah, UTSA (20)
DeKendrick Bender, Marshall, WR, 6-2, 185 -- offers from Air Force (1)
Chance Billington, John Tyler, OL, 6-3, 301 — offers from Iowa State, New Mexico State, SMU, Texas State, Tulane (5)
Tamauzia Brown, Newton, ATH, 6-1, 170 -- offers from Alabama, Arkansas, Arkansas State, Baylor, Houston, Louisiana Tech, Louisiana-Lafayette, Minnesota, Missouri, Nebraska, New Mexico, Oklahoma State, Oregon, San Diego State, Southern Miss, SMU, TCU, Texas Tech, UTEP, UTSA (20)
Javasia Brunson, Lufkin, DE, 6-4, 235 -- offers from Nevada, North Texas, Oklahoma State, SMU, South Florida, Southern Miss, Tulane, UTEP (8)
Keontae Burns, Pittsburg, ATH, 6-3, 182 — offers from Arizona, Alabama, Arkansas, Arkansas State, Baylor, Houston, Iowa State, Kansas, Louisiana-Monroe, Minnesota, Missouri, Nebraska, North Texas, SMU, Southern Miss, Texas State, Texas Tech, UTSA (18)
Cameron Cantrell, Whitehouse, WR, 6-1, 180 -- committed to Texas Tech (1)
Coltin Clack, Texas High, QB, 6-3, 202 — offers from Arkansas State, Florida Atlantic, New Mexico State, SMU, Southern Miss (5)
Josh Foster, Newton, ATH, 6-0, 165 -- offers from Arkansas, Arkansas State, Baylor, Houston, Louisiana-Monroe, Louisiana Tech, SMU, TCU, Tulane, ULL, ULM, Utah, Vanderbilt (13)
Breylon Garcia, Lufkin, DE, 6-3, 220 -- offer from Rice (1)
Christian Hood, Marshall, OL, 6-2, 290 — offer from Southern Miss (1)
T.Q. Jackson, Jefferson, WR, 6-3, 181 — offers from Arizona, Arizona State, Arkansas, Arkansas State, Baylor, Houston, Minnesota, Missouri, North Texas, Purdue, SMU, Southern Miss, Texas Tech, Tulsa, UTSA (15)
Beaux Limmer, Tyler Lee, OL, 6-5, 260 -- committed to Arkansas; additional offers from Arkansas State, Baylor, Houston, Louisiana Monroe, Louisiana Tech, North Texas, Northwestern, Oklahoma State, SMU, Southern Miss, Texas State, Tulsa, UTSA, Vanderbilt (15)
Darius Richardson, West Rusk, DL, 6-3, 288 -- committed to Texas State (1)
Braelyn Riden, Jacksonville, DB, 6-1, 170 -- offer from ULL (1)
Keivie Rose, Henderson, DE, 6-4, 220 — offers from Arkansas State, Florida Atlantic, Kansas, Louisiana Tech, Memphis, North Texas, Oklahoma State, SMU, Southern Miss, Tulane (10)
Ke'Andre Street, John Tyler, WR, 6-4, 190 -- offers from Boston College, Bowling Green, Houston, North Texas, Southern Miss, Syracuse, Tulane, UTEP (8)
Blake Trainor, Hallsville, OT, 6-7, 280 — offers from Arkansas, Houston, North Texas, Texas A&M, Tulsa, Texas State (6)
Caiden Walker, Newton, OL, 6-4, 276 — offers from Louisiana Tech, Tulane, ULM, UTEP (4)
Tahj Washington, Marshall, ATH, 5-11, 160 -- offer from Air Force (1)
Carl Williams, Lufkin, DT, 6-4, 310 — offers from Arkansas, Houston, Kansas, Minnesota, Oklahoma, Oklahoma State, Ole Miss, SMU, Southern Miss, TCU, Tulsa, UTSA (12)
Keshon Williams, Pine Tree, ATH, 6-4, 230 -- offer from Louisiana Monroe, New Mexico State, Rice, South Alabama, Texas State, Tulane, UTEP (7)
Marcus Williams, Longview, OL, 6-6, 285 — committed to TCU; additional offers from Baylor, Houston, SMU, Southern Miss, Texas State (6)
More From East Texas Sports Network