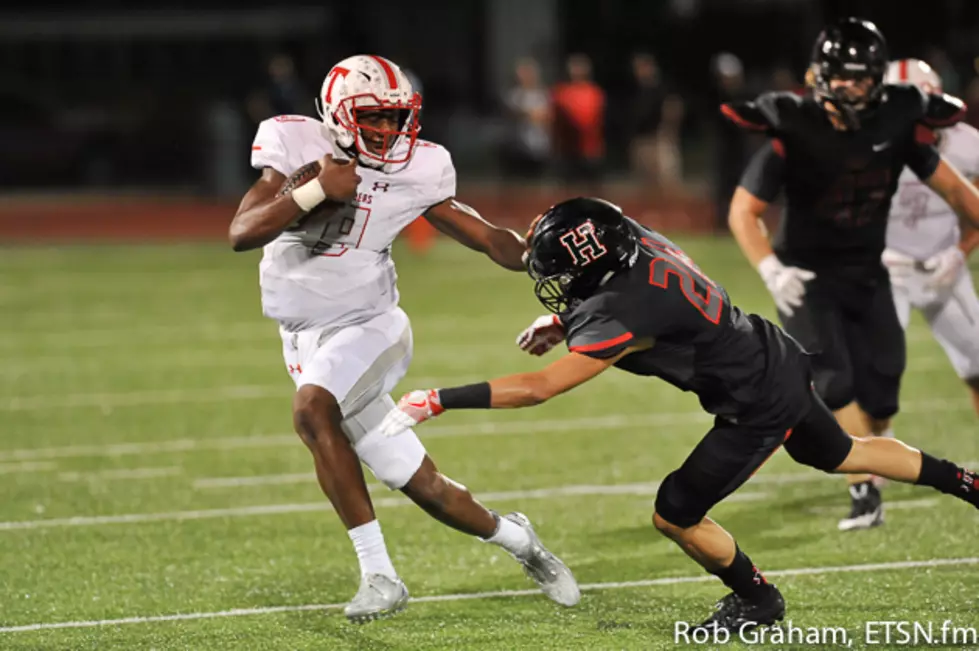 Tyler Lee Quarterback Chance Amie Picks Up Offer From Illinois
Tyler Lee's Chance Amie picked up his 19th Division I FBS offer on Wednesday. This one is from Illinois.
Chance Amie is no stranger to scholarship offers.
He picked up his 19th from a Division I FBS school on Wednesday as Illinois extended an offer to the 6-3, 190 quarterback from Tyler Lee.
Amie is dual-threat QB, amassing 2,639 yards (1,174 rushing and 1,465 passing) and scoring 27 total touchdowns last season. Although Tyler Lee finished with a 2-8 record, expectations are higher this season under first-year coach Kurt Traylor. Traylor left Gilmer to coach the Red Raiders.
Justin Wells of InsideTexas.com was the first to report the Illinois offer.
Amie has verbally committed to play at the University of Houston in 2018.
The Fighting Illini have a piece of East Texas on their squad. Coach Lovie Smith was born in Big Sandy and played as a defensive end and linebacker for the Wildcats. He is entering his second season at Illinois after leading it to a 3-9 record in his inaugural season. He also brings several years of NFL coaching experience – eight as a head coach with the Chicago Bears.
Amie, like all players entering their senior year of high school, is first eligible to sign with any Division I program that offers him in December.
2018 East Texas Football Players With Division I FBS Offers
Tre Allison, John Tyler, OLB, 6-2, 211 — committed to SMU; additional offers from Arkansas State, Louisiana Tech, Mississippi State, Texas State, Tulane, ULL (7)
Chance Amie, Tyler Lee, QB, 6-3, 190 — committed to Houston; additional offers from Arkansas State, Bowling Green, Central Florida, Cincinnati, Colorado State, Florida Atlantic, Georgia State, Illinois, Iowa State, New Mexico, North Carolina, North Texas, Rutgers, Southern Miss, Syracuse, Tulane, ULL, Virginia (19)
Xavier Benson, Pleasant Grove, LB, 6-3, 200 — committed to Texas Tech; additional offers from Arkansas State, Army, Memphis, North Texas, Rice, SMU, Southern Miss, Texas State, Tulane, ULL, ULM, Wyoming (13)
Hunter Brabham, Hughes Springs, DE, 6-3, 235 — committed to Army (1)
Drake Centers, Tatum, OL, 6-3, 296 — committed to Texas State; additional offers from SMU, Southern Miss, ULM (4)
Kylar Cooks, Liberty-Eylau, OL, 6-5, 252 — committed to Texas State; additional offers from Arkansas State, North Texas, ULL (4)
Jeremiah Davis, Lufkin, CB, 5-10, 194 — committed to ULL (1)
Kris Dike, Van, OL, 6-6, 283 — committed to TCU; additional offers from Colorado, Houston, Memphis, North Texas, Oklahoma State, SMU, Tulane (8)
Dekalen Goodson, John Tyler, DE/OLB, 6-2, 209 — committed to Houston; additional offers from Mississippi State, SMU, Texas State, Tulane, ULL (6)
Trae Hall, Henderson, QB/ATH, 6-3, 185 — offers from Florida Atlantic, New Mexico State, Tulane, ULL, ULM (5)
Conner Henson, Harmony, OL, 6-3, 243 — committed to ULM; additional offer from ULL (2)
Chasen Hines, Marshall, OL, 6-3, 353 — committed to LSU; additional offers from Arizona, Baylor, Florida, Louisiana Tech, Minnesota, North Texas, Oklahoma, Oklahoma State, Oregon, Rice, Southern Miss, TCU, Texas, Texas A&M, Texas State, Texas Tech (17)
Tevailance Hunt, Texas High, WR, 6-2, 180 — committed to TCU; additional offers from Arkansas State, Bowling Green, Colorado State, Florida Atlantic, Houston, Indiana, Iowa State, Kansas, Louisiana Tech, Marshall, Memphis, Nevada, North Texas, Oklahoma State, Southern Miss, Tulsa (17)
Dewaylon Ingram, Carthage, WR, 6-0, 160 — offer from Arkansas State (1)
Keaontay Ingram, Carthage, RB, 6-0, 198 — committed to Texas; additional offers from Arkansas, Baylor, Colorado, Florida State, Houston, Iowa State, Kansas, LSU, Memphis, Michigan, Minnesota, Missouri, Nebraska, Notre Dame, Ohio State, Oklahoma, Oklahoma State, Ole Miss, Oregon, Oregon State, TCU, Texas A&M, Texas Tech, UCLA, USC, UTSA (27)
Malik Jackson, Lufkin, WR, 5-8, 163 — committed to Houston; additional offers from Arkansas State, Texas State (3)
Chris Kessler, Longview, K, 5-9, 150 — offer from Army (1)
Kameron King, Marshall, OL, 6-2, 275 — committed to North Texas; additional offers from Memphis, Tulane, ULM, Southern Miss (5)
Trevor Lawrence, Whitehouse, DE, 6-4, 245 — committed to Texas State; additional offer from ULM (2)
DeMarvion Overshown, Arp, S, 6-4, 196 — committed to Texas; additional offers from Alabama, Arizona State, Arkansas, Auburn, Baylor, Clemson, Colorado, Florida, Florida State, Georgia, Houston, Kansas, Kansas State, LSU, Missouri, Nebraska, Ohio State, Oklahoma, Oklahoma State, Ole Miss, SMU, South Carolina, Southern Miss, Stanford, TCU, Texas A&M, UCLA, USC, UTSA (30)
Leonard Parks, Texas High, DE, 6-5, 230 — committed to SMU; additional offer from ULM (2)
Michael Sanchez, Gladewater, TE/OL, 6-5, 327 — offer from Houston (1)
Jonathan Shepherd, Kilgore, WR, 6-3, 196 — committed to Oklahoma State; additional offers from Colorado State, Florida Atlantic, Houston, Kansas State, ULM, Missouri, New Mexico, Memphis, North Texas, Oregon State, Southern Miss, TCU, Texas State, Texas Tech (15)
Marje Smith, Marshall, DE, 6-6, 210 — committed to Baylor (1)
DaRyan Williams, Nacogdoches, S, 5-10,199 — offer from Texas State (1)
Tyree Wilson, West Rusk, LB, 6-5, 225 — committed to Texas A&M; additional offers from Houston, Kansas, Memphis, Mississippi State, New Mexico, Oklahoma State, SMU, Southern Miss, TCU, Texas State, Tulane, ULL, ULM, Washington State, Wyoming (16)
More From East Texas Sports Network