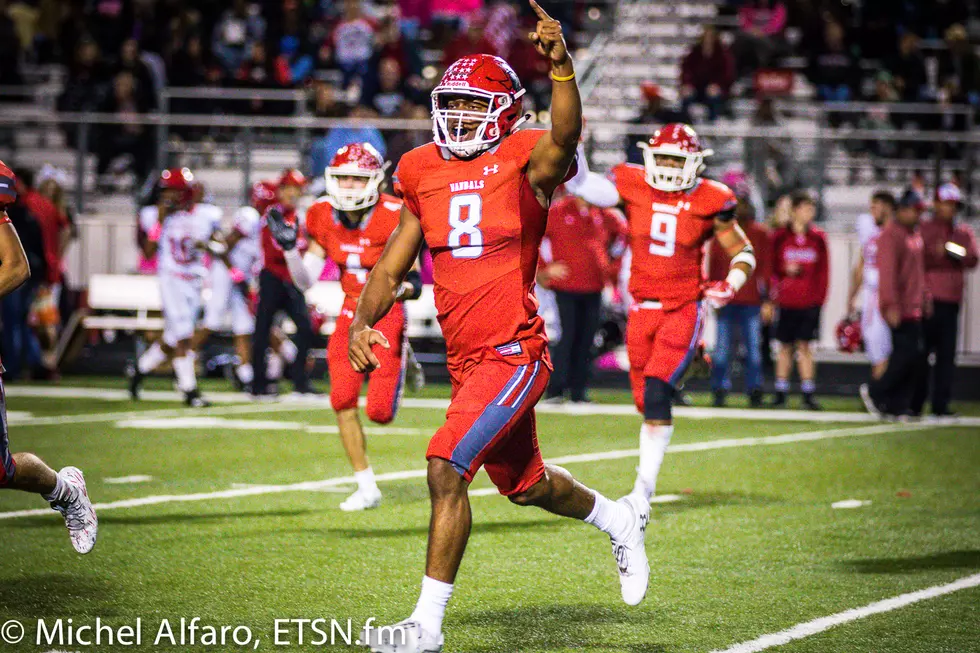 Van Secures Key District Win By Edging Kilgore, 35-28
(© ETSN.fm)
VAN -- The tough season continued for Kilgore, whose Bulldogs have taken every opponent this season down to the wire, but haven't been able to finish.
Van, however, got a big win at home Friday night, dealing Kilgore a 35-28 defeat that was actually probably closer than the final score. Kilgore scored with five and-a-half minutes left, but Van took the kickoff and smothered the ball, picking up a few first downs and running out the clock.
Van is 6-2 on the season and 2-1 in District 10-4A Division I. The Vandals will travel to Chapel Hill next Friday night, and can finish as high as second in the district if they can win out.
Kilgore fell to 2-6 on the season, 1-2 in district play, and must win one of its last two games to claim the fourth playoff spot. Van and Henderson both hold tiebreakers over Kilgore due to head-to-head play.
Kilgore hosts Palestine next Friday night, and then finishes the regular season at Carthage, Nov. 9.
Van got a magnificent performance from its passing game against Kilgore, a 25-of-42 completion night from quarterback Jayton Moffatt, who threw for 295 yards and three touchdowns. Hoss Brewer, Ethan Robinson and Beau Thompson caught the touchdown passes.
Moffatt also ran for 40 yards and a score. Running back Elijah Rankine ran for 96 yards and caught 11 passes for 86 yards.
Kilgore received the game's opening kickoff and scored first on a 51-yard touchdown run by quarterback Gus Witt, who might have had his best game of the season (14-of-19 for 101 yards, a touchdown to Daniel Sifford, and an interception, and ran for two scores). That gave the Bulldogs a 7-0 lead.
Van tied it just moments later on a 15-yard pass from Moffatt to Brewer that capped an 80-yard drive.
Van's Ridge Preston picked off a pass by Witt, but the Bulldogs stopped the Vandals and forced a turnover on downs at Kilgore's 9-yard-line.
A second Kilgore turnover, though -- a lateral pass by Donovan Adkins that Tray Epps couldn't come up with -- was recovered by Van at midfield, and Van made Kilgore pay for it, going up 14-7 on a 21-yard pass to Thompson after a fake handoff.
The Vandals tacked on another touchdown, a 2-yard run by A.J. Zarate, to go up 21-7. Kilgore got within a score on a 15-yard pass from Witt to Sifford before the half, and trailed 21-14 at the break.
Van stretched its lead back to two touchdowns, 28-14, on a pass from Moffatt to Robinson for a 41-yard score, but then Kilgore, continuing to chase the Vandals down, got within a touchdown yet again, this time on a 58-yard run by Kennieth Lacy. Lacy led all Bulldogs with 149 yards on 12 carries and that touchdown.
That made it 28-21, but just when it appeared Kilgore might catch the Vandals, Van put the lead back at two scores. Moffatt scored on a 1-yard run with 2:43 left in the third quarter, and Van had a 35-21 advantage.
Witt scored on a 4-yard run with 5:38 left in the game that got Kilgore back within a score, but the Vandals were able to receive the ensuing kick and run the clock completely out.
More From East Texas Sports Network