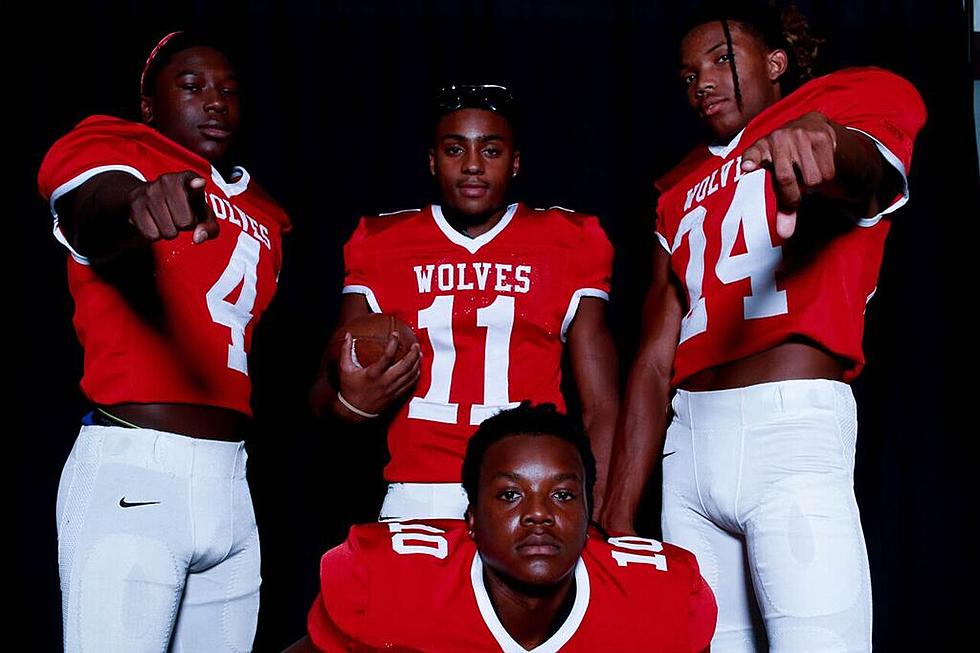 District 12-2A Division I Preview: San Augustine the Hunted in 2018
San Augustine's (from left) Kevorian Barnes, Tijay Thomas, TyPatrick Bluford, and JaVarius Miller. (© Clint Buckley, ETSN.fm)
The San Augustine Wolves are the only team in District 12-2A Division I to have won a playoff game in 2017. In fact, they won four of them on the way to their first state semifinal appearance since 2003.
Graduation took away 15 starters, but enough potential impact players return to make San Augustine the preseason district favorites.
Groveton promoted defensive coordinator Richard Steubing to head coach, and with 14 returning starters at his disposal, a sixth consecutive playoff appearance for the Indians seems to be a given.
The rest of the district, consisting of Shelbyville, Hull-Daisetta, Deweyville, and West Sabine, combined to go 12-28 in 2017. So the last two playoff spots appear to be up for grabs.
District 12-2A Division I Preview
PLAYMAKERS
DL TyPatrick Bluford, Sr., San Augustine
QB/DB Jaylon Brinson, Jr., Shelbyville
RB/DB Jacobi Jackson, Sr., Shelbyville
RB Clinton McGee, Sr., Hull-Daisetta
RB/DB Dailon Smith, Sr., West Sabine
ATH Cade Steubing, Jr., Groveton
WR/DB Eli Stewart, Sr., Groveton
RB/DB Tijay Thomas, Jr., San Augustine
RB Gavin Villanueva, Sr., Hull-Daisetta
FB/LB Lance Wilhelm, Sr., Deweyville
TOP GAMES
San Augustine at Tenaha, Sept. 21
Hull-Daisetta at Deweyville, Oct. 19
Groveton at San Augustine, Oct. 19
1. San Augustine Wolves
Coach: Marty Murr
2017 finish: 14-1 (2A Division I semifinalist)
Returning starters: 3 offensive, 4 defensive
Players to watch
DL TyPatrick Bluford, Sr., 6-1, 200
RB/DB Tijay Thomas, Jr., 5-8, 143
QB DelMarquis Barnes, Soph., 5-8, 145
LB Zach Garcia, Jr., 5-8, 165
LB Alberto Bahena, Sr.
DL Eulalio Carranza, Jr., 5-9, 180
RB Kevorian Barnes, Soph., 5-7, 145
WR/DL JaVarious Miller
Offense: Graduation took its toll with the Wolves losing most of its offensive firepower from 2017. Gone are quarterback Gavin Murr, running back KJ Davis, and receiver QuenTyvian Borders.
Together that trio helped San Augustine average a little more than 40 points per game. Head coach Marty Murr is hopeful that a small collection of returning skill players like Tijay Thomas, Kevorian Barnes, and JaVarius Miller can pick up the slack. Thomas will get a look at quarterback, but so will sophomore DeMarquis Barnes. Holes on the offensive line also exist, which might make things on offense a tad bumpy in the early going.
Defense: Last season, San Augustine limited opponents to an average of about 15 points per game. That level of play might be hard to duplicate with just four defensive starters coming back, but one guy Coach Murr can count on is senior defensive lineman TyPatrick Bluford, who record 10 tackles for loss and four sacks in 2017.
Linebackers Zach Garcia and Alberto Bahena should give the Wolves a solid foundation up front. The secondary experienced significant losses, most notably all-district cornerback Kris Wade.
2018 outlook: Despite graduating 15 starters from the school's first state semifinalist squad since 2003, San Augustine still enters this season as district favorites. The big advantage the Wolves have over the rest of the district is that the younger players got several more practices than their league counterparts in 2017. While San Augustine won four playoff games a year ago, none of 12-2A D-I's other five teams recorded a win in the postseason.
2. Groveton Indians
Coach: Richard Steubing
2017 finish: 6-4 (2A Division I bi-district finalist)
Returning starters: 8 offensive, 6 defensive
Players to watch
WR/DB Eli Stewart, Sr.
ATH Cade Steubing, Jr.
ATH Davuarrio Horace, Jr.
OL/DL Blake Hollis, Sr., 6-4, 302
RB Jak Cole, Jr.
ATH Matt Howell, Sr.
WR/DB Trenton Torregrossa, Soph.
OL/LB Anthony Chavez, Sr.
Offense: Despite injuries at quarterback, the Groveton offense managed more than 35 points per game in 2017, helping the Indians reach the playoffs for the fifth consecutive season.
When last year's starting QB Haden Terry was forced out of action, sophomore Cade Steubing answered the call and performed admirably in Terry's absence. Now the job belongs to Steubing, and he'll have a couple of seasoned weapons at his disposal. Eli Stewart and Davuarrio Horrace will anchor the receiving corps after the two combined for more than 1,200 yards a year ago. Jak Cole is back at running back after posting 628 yards and seven touchdowns as a sophomore. Also among the eight returning starters on offense is Blake Hollis, who is arguably the district's top lineman.
Defense: The defensive side of the ball needs improvement after opponents scored an average of almost 32 points per game last season. Richard Steubing, who was the team's defensive coordinator before assuming the head coaching position this offseason, is expected to change the perception that Groveton is an "offense first" operation. Six defensive starters return, which is enough to make a significant difference moving forward.
2018 outlook: Groveton is currently on an impressive five-year run of reaching the postseason. However, the Indians enter the new year in search of their first win in the playoffs since 2007. The pieces are certainly in place to potentially challenge San Augustine for a district championship, but a tough bi-district opponent awaits. The neighboring 11-2A D-I is home to Tenaha (2A Division II state finalist), Timpson (2A D-II quarterfinalist), Garrison, Beckville, and Harleton (all dropping down from 3A), along with Joaquin and Linden-Kildare, which both reached the playoffs in 2017.
3. Shelbyville Dragons
Coach: David Benbow
2017 finish: 2-8
Returning starters: 4 offensive, 4 defensive
Players to watch
RB/DB Jacobi Jackson, Sr.
QB/DB Jaylon Brinson, Jr.
OL/DL Sawyer Hendricks, Sr.
WR/DB Kaleb Campbell, Sr.
OL/DL Hunter Casey
WR/TE/K Jordan Boykins, Jr., 6-3, 185
ATH L.D. Coleman, Soph., 6-1, 135
LB/FB Trace Jackson, Sr., 5-10, 155
Offense: Production can only go up for the Shelbyville offense, which sputtered to an average of 18.5 points per game in 2017. Graduation will create some competitions for jobs under first-year head coach David Benbow. The Dragons are high on senior running back Jacobi Jackson's ability to make plays out of the backfield, and they also have high hopes for junior quarterback Jaylpn Brinson, who saw limited time behind center as a sophomore. Sawyer Hendricks and Hunter Casey will provide stability along the Shelbyville offensive line. But there will need to be several more players step up in order for the Dragons to make the improvement on offense they desire.
Defense: Shelbyville allowed opponents an average of more than 31 points per game last season, which means much of the new coaching staff's focus in the early going will be centered on finding playmakers on defense. The Dragons must replace seven defensive starters, so that task might be difficult. Hendricks, who made 10 stops behind the line of scrimmage a season ago, must lead the way.
2018 outlook: Fortunately for Shelbyville, which is breaking in a new coach on the heels of a 2-8 season, there figures to be at least a couple of playoff spots up for grabs in the district. San Augustine and Groveton are postseason regulars, but the foursome of Shelbyville, Hull-Daisetta, Deweyville, and West Sabine was a combined 12-28 in 2017. Hull-Daisetta reached the playoffs last year, but is moving up from Division II, Deweyville lost half of its starters from a 4-6 team, and West Sabine finished just 2-8. A postseason berth is very much for the taking for Shelbyville in 2018.
4. Hull-Daisetta Bobcats
Coach: Stan Hodges
2017 finish: 4-6 (2A Division II bi-district finalist)
Returning starters: 8 offensive, 7 defensive
Players to watch
RB Gavin Villanueva, Sr., 5-9, 165
RB Clinton McGee, Sr., 6-2, 165
DB/RB Kole Frauenberger, Jr.
WR Hayden Whiddon, Sr.
DL Bryce Aguirre, Soph.
2018 outlook: The Bobcats are bringing back 15 starters from last year's playoff team, which should make head coach Stan Hodges feel confident in his team's ability to reach the postseason again this year. Hull-Daisetta will go as far as the legs of Gavin Villanueva, Clinton McGee, and Shawn Taylor will take them. The defense, led by safety Kole Frauenberger, should be in good shape as well. Seven defenders with starting experience are back on a unit that pitched two shutouts in 2017.
5. Deweyville Pirates
Coach: Brandon Prouse
2017 finish: 4-6 (2A Division I bi-district finalist)
Returning starters: 6 offensive, 5 defensive
Players to watch
FB/LB Lance Wilhelm, Sr., 6-0, 185
TB/DB Keevin Gordan, Sr.
DL Ty Collier, Sr.
DB Skyler Beane, Sr., 5-10, 160
QB Nate Buxton, Jr., 6-2, 175
2018 outlook: Deweyville salvaged what was an up-and-down 2017 season by qualifying for the playoffs. The Pirates benefitted from competing in a less-talented district than the one it belongs to for the next two seasons. San Augustine was a state semifinalist a season ago, and Groveton is shooting for its sixth consecutive playoff berth. However, the rest of the league is on more even footing, which suggests Dewevylle has a shot at getting back to the postseason. The backfield trio of Lance Wilhelm, Keevin Gordon, and Nate Buxton combined for more than 1,300 rushing yards last season. If they can double that output, Deweyville should put itself in position for one of the district's four playoff spots.
6. West Sabine Tigers
Coach: Jerred Wallace
2017 finish: 2-8
Returning starters: 5 offensive, 5 defensive
Players to watch
RB/DB Dailon Smith, Sr.
LB Hunter Muncrief, Sr.
OL/DL Kaleb Perry, Sr.
OL/DL Seth Stephens, Jr.
WR/DB Dylan Anderson, Jr., 5-7, 128
RB/DB Julius Mason, Soph., 5-4, 170
LB/WR Hunter Jacks
Offense: In West Sabine's two wins last season the Tigers scored a total of 96 points. In its losses, West Sabine totaled 99. That's not the kind of consistency head coach Jerred Wallace is looking for in 2018. Senior running back Dailon Smith played in about half the games last year and rushed for nearly 600 yards, so a full season should naturally yield more production. The Tigers only bring back five offensive starters from 2017, so finding depth both up front and at the skill positions will be a challenge.
Defense: Opponents averaged more than 38 points per game against West Sabine a year ago, and just like the offense, the Tigers' defense returns only five starters. One of the few bright spots on defense last season was linebacker Hunter Muncrief, who notched a pair of sacks, forced three fumbles, and made seven tackles for loss. But it will take more than Muncrief to fix the Tigers' ills on defense.
2018 outlook: West Sabine lost by 39 points to Groveton last year, and suffered an 18-point defeat to Deweyville, so the Tigers have a lot of ground to make up on those district hangovers. It might not happen this year, but if West Sabine can be competitive against the likes of Shelbyville, Hull-Daisetta, and Deweyville this season, brighter days could be on the horizon.
More From East Texas Sports Network