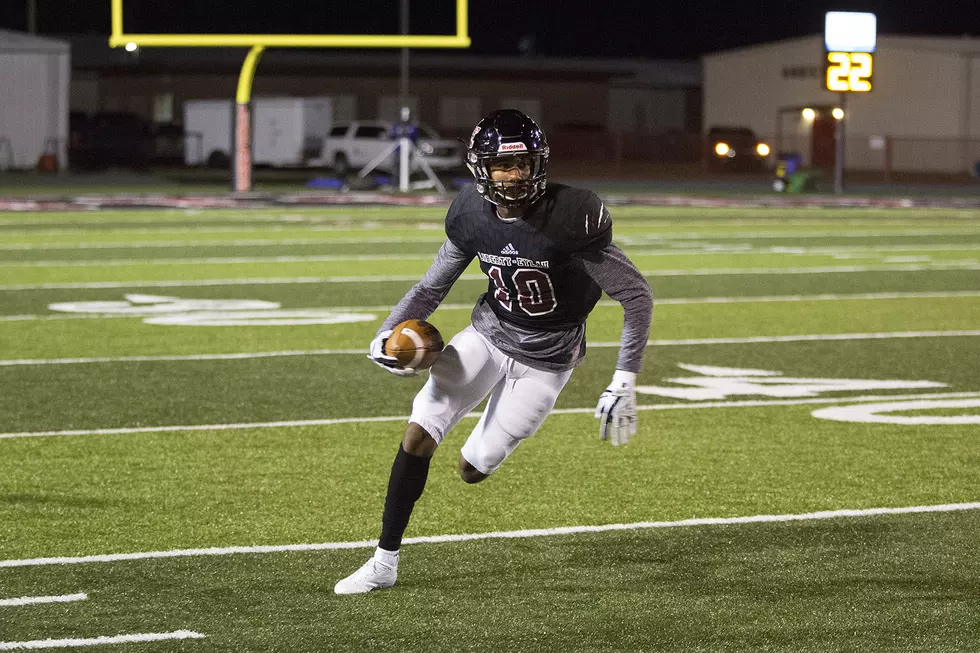 Liberty-Eylau Hands Anna First District Loss, 38-24
(Evan Lewis, ETSN.fm)
TEXARKANA — Liberty-Eylau blanked Anna in the second half and handed the Coyotes their first loss in District 7-4A Division I play with a 38-24 win Friday at Harris Field.
Decorian Phillips finished 17-of-19 passing for 354 yards and three touchdowns—twice connecting with Mahleik Darty on scores—and was 5 of 5 for 165 yards in the second half, when the Leopard defense turned Anna back on fourth-down attempts three times.
Darty had TD catches of 9 and 78 yards, the latter coming with 8:17 remaining in the game. He finished with three grabs for 101 yards, Dazawion Cooper caught four for 120 yards and a score, and Phillips also ran for a 1-yard TD to start 17 consecutive points by the Leopards in the second quarter.
Ralph Crabtree also had a rushing TD and finished with 107 yards on 19 carries.
After the Leopards scored 17 consecutive points to build a 24-10 lead with under three minutes left in the first half, Anna sandwiched a pair of quick strikes around another Liberty-Eylau score to cut its deficit to 31-24 at intermission.
The teams combined for 601 yards of total offense, split almost evenly.
The Coyotes rolled up 301 yards with 269 coming on 22 rushes, and Liberty-Eylau had 300 with 189 via the aerial assault from Phillips, who was 12-of-14 passing with two scores in the half.
Phillips connected with Cooper for a 50-yard TD with 6:51 left and Mahleik Darty for a 9-yard score with just 31 seconds remaining in the second quarter.
The Leopards finished with 511 yards of total offense, and Anna had 456—419 on the ground.
Josh Abara rushed for 165 yards on eight rushes, including an 88-yard touchdown to give the Coyotes a 10-7 lead late in the first quarter. Aaron Lee added 135 yards on 13 carries and raced 60 yards to paydirt with 2:11 left in the first half.
After Philips and Darty hooked up for their first score, Keelan Crosby snapped the ball with 1 second left and hit Noah Palshaw for a 28-yard Anna touchdown on the final play of the half.
The Coyotes never got into the end zone again.
The Leopard defense stopped them 2 yards short on fourth-and-3 inside the L-E 5 to end a 13-play drive. Liberty-Eylau sacked Crosby for a 6-yard loss on fourth down in the red zone, and dropped the ball carrier for no gain on fourth-and-1 at the 50 on the third and final possession by Anna in the second half.
More From East Texas Sports Network