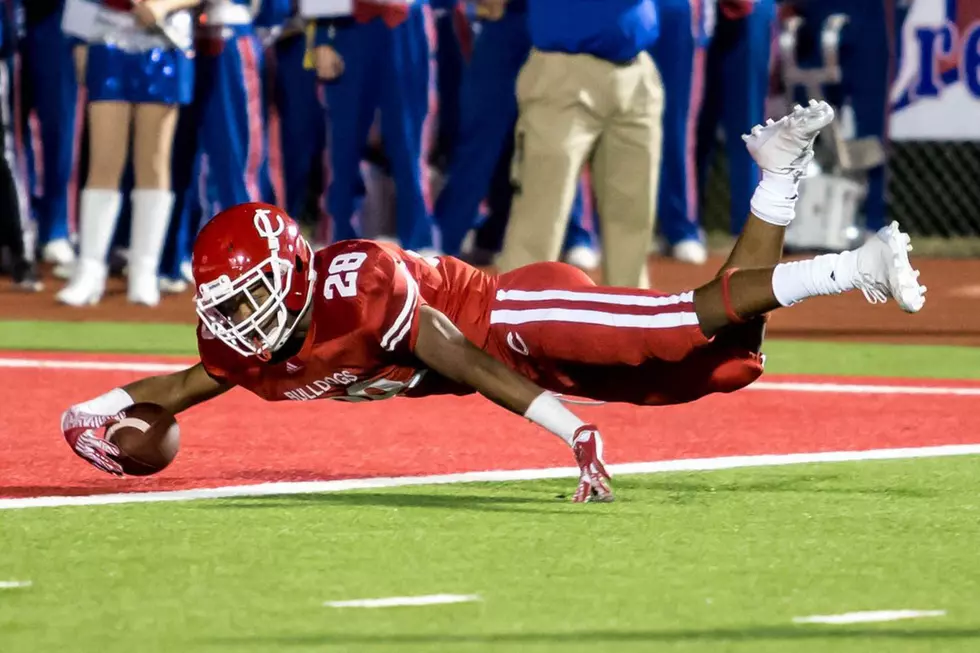 PREVIEW: Carthage Looks to Avoid Upset Against Liberty-Eylau
Carthage running back Keaontay Ingram is a big play threat every time he gets the ball.. (© Mark Martin, ETSN.fm)
Liberty-Eylau Leopards (0-1)
vs.
 No. 1 Carthage Bulldogs (1-0)
7:30 p.m. Friday
Bulldog Stadium, Carthage
Coaches
Liberty-Eylau: Steve Wells
Carthage: Scott Surratt
Last week
Next week
Liberty-Eylau: at Texas High
Carthage: at Whitehouse
Playmakers
OL Kylar Cooks, Sr., 6-5, 250 (committed to Texas State)
QB Decorian Phillips, Sr., 6-1, 180 (377 yards, 3 TD)
ATH Isaiah Cross, Jr., 6-1, 165
LB Cedric Dickerson, Jr., 5-10, 178
ATH DeAndre Hoof, Sr., 5-10, 185
DL Orion Williams, Sr., 6-4, 215
WR El-Amin Greer, Jr., 6-1, 170
OL Trey Parker, Sr., 6-0, 221
RB Keaontay Ingram, Sr., 6-0, 200 (5 car, 137 yards, 2 TD; committed to Texas)
WR Dewaylon Ingram, Sr., 6-1, 165
LB Mykel Gates, Sr., 5-11, 225
WR/DB Mekhi Colbert, Sr., 5-8, 175
WR Dee Bowens, Sr., 5-7, 140
LB Ahmad Brown, Sr., 6-0, 225
DL Montario Wilson, Sr., 5-8, 187
LB Jose DeJulian, Sr., 5-11, 180
Just the facts
The teams have met three times since 2005, the most recent meeting coming last season. Carthage won that game, 34-20.
Carthage and Liberty-Eylau have combined to win six state championships since 2006.
In last week's win over Gladewater, Keaontay Ingram carried the ball only five times but managed to rack up 137 yards and two touchdowns.
Liberty-Eylau combined with Gilmer to score 115 points in its season opener.
Carthage shut Gladewater out in the first half in Week 1. It allowed only one touchdown in the third quarter.
Carthage star running back Keontay Ingram and top pass-catcher Dewaylon Ingram are cousins.
Key matchup: Carthage secondary against the Libery-Eylau passing attack. Carthage allowed only seven points to Gladewater last week. Liberty-Eylau scored 57 points against Gilmer. It's unlikely we see a repeat of either of those feats, but whichever side comes closer could be the winner of this game.
Decorian Phillips may have found his go-to receiver last week in Dazawion Cooper. Phillips threw three touchdowns – all to Cooper – and 244 of his 377 yards went to him. It's clear the two have chemistry. But Phillips has plenty of other weapons, too. Isaiah Cross, DeAndre Hoof and El-Amin Greer all have capabilities as playmakers.
After seeing the way Carthage defended against Gladewater, it's clear the Leopards have a bigger challenge facing them.
Last season, Carthage held its opponents under 20 points nine times. In last week's season-opening win, the defense stood tall and it's not likely to back down this week.
With a linebacker group that includes Mykel Gates, Ahmad Brown and Jose DeJulian, the pressure will be on Phillips. Players such as Mekhi Colbert will be eagerly awaiting their opportunity in the secondary.
Don't be surprised if: Keaontay Ingram rushes for 200-plus yards. If he runs at the rate he did last week, it would only take him eight carries. It's a safe bet that Ingram will carry the ball more than five times this week, as Liberty-Eylau is a more formidable opponent than Gladewater.
Carthage doesn't live and die by what Ingram does. It has plenty of other playmakers on its roster. However, it would be remiss to ignore the talent the running back possesses or that he is far and away the best player either team has to offer. Each time he touches the ball, he is a threat to reach the end zone.
More From East Texas Sports Network