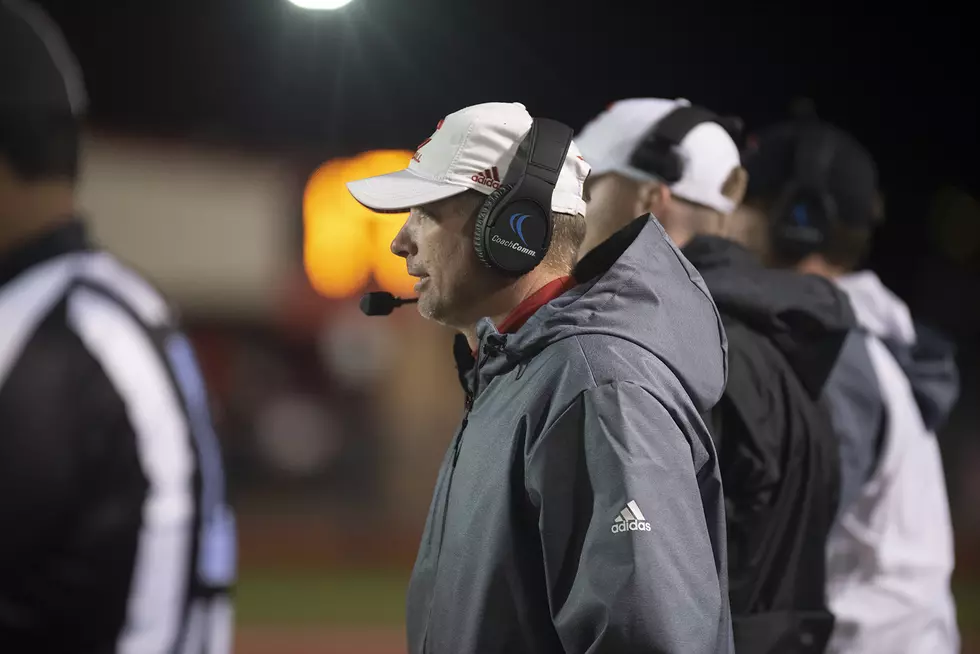 PREVIEW: Carthage Officially Begins Title Defense Thursday in Lindale
(© Bud Worley, ETSN.fm)
CLASS 4A DIVISION I
Region III Bi-District Playoff
Waxahachie Life Mustangs (5-4)
vs.
No. 1 Carthage Bulldogs (10-0)
7 p.m. Thursday
Eagle Stadium, Lindale
Coaches
Waxahachie Life: Micah Stanley
Carthage: Scott Surratt
Last week
Next week
Winner vs. Huffman Hargrave or Houston Furr, Class 4A Division I area playoff
Players to watch
Waxahachie Life
QB Gage Mayfield, Jr., 5-11, 175 (32 of 73, 436 yards, 7 TDs, 5 INTs; 122 carries, 1,130 yards, 11 TDs)
RB/DB Sir Michael Veasley, Jr., 6-0, 200 (63 carries, 725 yards, 7 TDs; 6 catches, 53 yards, 1 TD; 15 tackles, 1 for loss, 2 INTs, 1 PBBU)
WR J'Lon Sanders, Sr., 6-1, 175 (14 catches, 202 yards, 4 TDs)
LB Rayshawn Guy, Sr., 6-1, 207 (93 tackles, 8.5 for loss, 2.5 sacks, 4 QB pressures, 2 PBUs)
DE Kenneth Richardson, Sr., 6-1, 235 (56 tackles, 12 for loss, 5.5 sacks, 7 QB pressures 1 fumble recovery, 2 blocked field goals)
LB Trenten James, Jr., 6-2, 200 (56 tackles, 6.5 for loss, 0.5 sacks, 4 QB pressures, 1 PBU, 2 forced fumbles, 1 recovery, 1 blocked field goal)
LB Nathan Hoover, Sr., 5-9, 180 (33 tackles, 8 for loss, 2 sacks, 1 QB pressure, 1 INT, 1 fumble recovery)
FB Logan Blake, Sr., 5-7, 225 (81 carries, 462 yards, 7 TDs; 1 catch, 18 yards)
Carthage
QB Gunner Capps, Sr., 6-1, 195 (170 of 271, 2,327 yards, 28 TDs, 3 INTs)
WR Kelvontay Dixon, Jr., 6-0, 173 (51 catches, 769 yards, 8 TDs; 14 carries, 180 yards, 3 TDs)
OT Ty'kieast Crawford, Jr., 6-6, 310 (committed to Baylor)
DE Quinton Owens, Jr., 6-3, 200 (60 tackles, 10 for loss, 3 sacks, 5 QB pressures, 2 forced fumbles)
LB Rayvon Ingram, Jr., 5-10, 205 (93 tackles, 14 for loss, 3 sacks, 5 QB pressures, 1 INT, 4 PBUs, 1 forced fumble, 2 recoveries, 1 defensive TD)
DB Ja'Corey Ware, Sr., 6-0, 170 (32 tackles, 2 for loss, 1 sack, 5 INTs, 3 PBUs)
RB Tucker Smith, Sr., 5-11, 180 (112 carries, 651 yards, 11 TDs; 29 catches, 421 yards, 6 TDs)
RB Mason Courtney, Soph., 5-9, 185 (87 carries, 647 yards, 8 TDs; 6 catches, 82 yards)
Just the facts
Waxahachie Life is averaging 33.4 points and 379.7 yards per game -- 316.3 rushing and 63.4 passing.
The cumulative record of Waxahachie Life's opponents is 42-42 (.500).
Mustangs junior quarterback Gage Mayfield has accounted for 1,566 yards of offense and 16 touchdowns.
Waxahachie Life is allowing 33 points per game.
Carthage is averaging 42 points and 418.9 yards per game -- 186.2 rushing and 232.7 passing.
The cumulative record of Carthage's opponents is 47-53 (.470).
Bulldogs junior receiver Kelvontay Dixon has accounted for 949 yards of offense and 11 touchdowns.
Carthage is allowing 16.4 points per game.
Key matchup: Carthage passing attack vs. Waxahachie Life secondary. The Bulldogs, so far, have managed just fine without star running back Keaontay Ingram, who is currently the Texas Longhorns' leading rusher. Senior Gunner Capps, who stepped onto the state's biggest stage with an MVP performance in the title game last year, has kept the ship afloat in 2018. Capps enters the playoffs with more than 2,300 yards through the air, 28 touchdowns and only three interceptions. Capps has at least two touchdown passes in every game this season, and hasn't been intercepted since Week 2. He might not have the 1,000-yard receivers he did a year ago, but the duo of juniors Kelvontay Dixon and Kel Williams has combined for more than 1,300 yards and 11 touchdowns in 2018. Running back Tucker Smith and tight end Kaden Holcomb are also big factors in the passing game for Carthage.
Waxahachie Life will do its best to shut down an explosive Carthage offense by limiting the Bulldogs' big plays though the air. The Mustangs are extremely run-heavy on the offensive side of the ball, so playing from behind is not something they are necessarily built for. If Waxahachie Life can limit the number of Bulldogs possessions with its own ball-control offense, and finds a way to keep Capps and Co. from exploiting the secondary downfield, the Mustangs should be to keep the game competitive into the second half. Turning Carthage over will be key as well, but Capps has protected the ball very well for most of the season.
Don't be surprised if: Waxahachie Life's defense drops back into coverage with regularity at the outset. The Carthage passing game has the potential to put games away in the first half, so expect the Mustangs to protect against the quick strike. But as countless teams have experienced in the past, Carthage coach Scott Surratt is content with taking what opposing defenses give him. While the Bulldogs don't have Ingram anymore in the backfield, the duo of Smith and sophomore Mason Courtney has combined for almost 1,300 yards and 19 touchdowns on the ground. So Carthage is more than capable of getting production from its running backs.
More From East Texas Sports Network