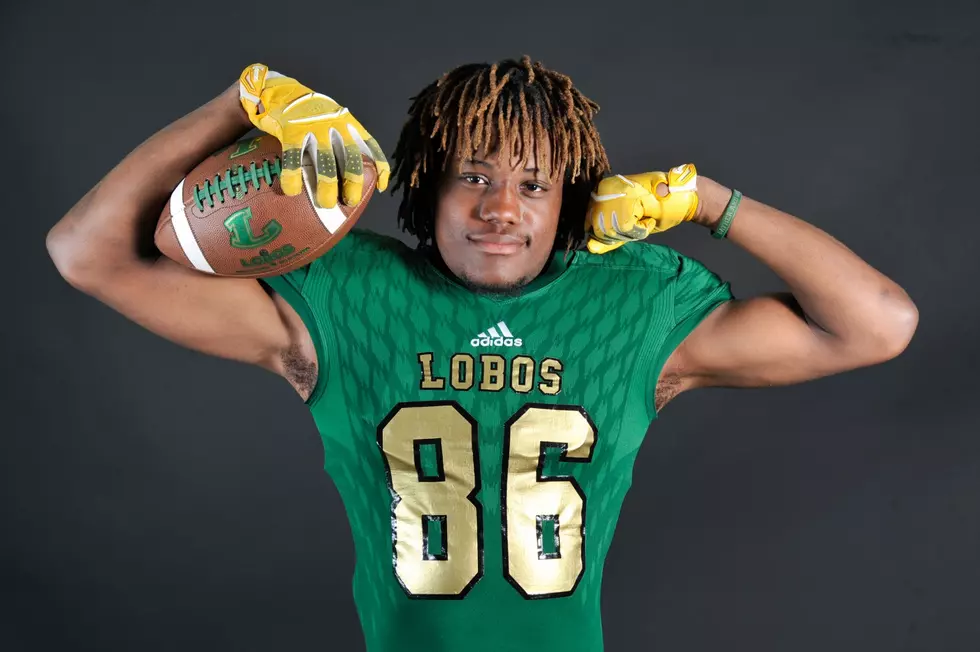 PREVIEW: Longview To Face Mesquite Horn to Open District Play
Longview TE Jaylin Brown (© Rob Graham, ETSN.fm)
DISTRICT 11-6A
Longview Lobos (3-0)
vs.
Mesquite Horn Jaguars (2-1)
7:30 p.m. Friday
E.H. Hanby Stadium, Mesquite
Coaches
Longview: John King
Rockwall: Mike Overton
Last week
Next week
Longview: vs. Tyler Lee, Sept. 29
Mesquite Horn: at Mesquite, Sept. 29
Playmakers
TE Jaylin Brown, Sr., 6-3, 205 (5 catches, 185 yards, 2 TDs)
RB Keilyn Williams, Jr., 5-4, 137 (193 yards, 1 TD)
LB D'Marjai Dearion, Sr, 6-0, 250 (3 sacks, 4 TFL)
DB Jephaniah Lister, Jr., 5-9, 155 (21 tackles, INT)
OL Marcus Williams, Jr., 6-6, 250
QB Jordan Lawson, Sr., 5-8, 171 (21-of-37, 351 yards, 3 TDs)
DB Roshodrick Harmon, Sr., 6-0, 170 (INT, 2 PBU)
WR Kamden Perry, Jr., 6-0, 165 (5 catches, 88 yards, 1 TD)
WR/LB Maureese Wren, Sr., 6-3, 215 (12 catches, 233 yards, 6 TDs; committed to Arkansas)
DB BeeJay Williamson, Sr., 6-1, 180 (19 tackles, 4 PBUs; committed to Louisiana Tech)
DB/WR Brodrick Calhoun, Sr., 5-10, 165 (15 tackles, 2 TFL 2 PBUs, 1 FF; committed to Louisiana Tech)
QB Jermaine Givens, Jr., 6-0, 187 (38-of-71, 547 yards, 8 TDs, 1 INT; 47 carries, 355 yards, 4 TDs)
LB Michael Richmond, Sr., 5-9, 195 (17 tackles, INT)
Just the facts
Longview is beating its opponents by an average of 28 points per game.
The Lobo defense has been up to par so far, allowing only 30 points all season.
Longview coach John King is 72-5 all-time in district games.
Mesquite Horn score more than 50 points in its first two wins, but fell 28-20 this past week to Cedar Hill.
Longview won last season's matchup, 47-37.
The Lobos hold a 9-1 record in the series since 2004.
Mesquite Horn is averaging nearly 250 yards per game on the ground.
Key matchup: Jermaine Givens against the Lobo defense. It's no secret that the Jaguar offense hinges on Givens. He has already amassed 902 yards through three games in addition to 12 touchdowns.
Needless to say, if Longview expects to win this contest, it is going to have to keep Givens somewhat in check.
The Lobo defense has done a good job at slowing offenses down this season. Opponents are averaging a mere 10 points against Longview. D'Marjai Dearion already has three sacks, and needs to add to that total. Meanwhile Zephaniah Lister and Roshodrick Harmon each have an interception this year.
Don't be surprised if: Jordan Lawson cements his status as starter. The Lobos have had an ongoing competition for starting QB. Lawson, Haynes King and A'Darius Carter have all split this far.
But the time to choose has passed.
Longview needs a main guy heading into district play, and Lawson appears to be just that. He has looked the best of the three, throwing for more than 300 yards and three touchdowns.
The Lobos will need him and the passing game to step up with running back Jessie Anderson done for the season.
Expect him to handle most of the quarterback duties, if not all of them, on Friday.
More From East Texas Sports Network