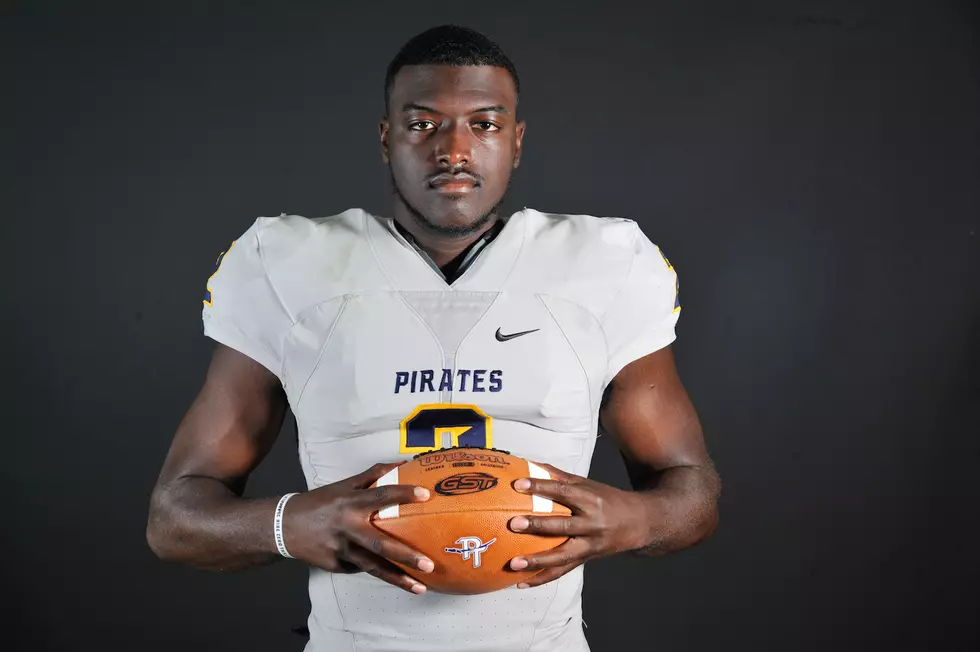 PREVIEW: Pine Tree Hopes to Continue Surprising Start to District Play Against Greenville
Pine Tree's Keshon Williams. (© Rob Graham, ETSN.fm)
DISTRICT 16-5A
Pine Tree Pirates (2-4, 2-0)
vs.
Greenville Lions (4-1, 1-0)
7:30 p.m. Friday
T.A. "Cotton" Ford Stadium, Greenville
Coaches
Pine Tree: Kerry Lane
Greenville: Darren Duke
Last week
Next week
Pine Tree: vs. Hallsville, Oct. 20
Greenville: at Marshall, Oct. 20
Playmakers
TE/ATH Keshon Williams, Jr., 6-4, 230 (6 catches, 94 yards, 49 carries, 199 yards, 9 TDs)
WR Davon Coleman, Jr. (21 catches, 447 yards, 5 TDs)
OL Mose Jeffery, Sr., 6-4, 310
DL Gary Wiley, Sr., 6-3, 220 (52 tackles, 7 for loss, 5 sacks, 1 forced fumble)
WR Trey Pruitt, Sr., 5-11, 150 (10 catches, 135 yards, 1 TD)
RB Adrian Taylor, Sr., 5-7, 140 (86 carries, 416 yards, 1 TD)
DL Kalvin Hutchings, Sr., 6-3, 242 (30 tackles, 4 for loss, 1 sack, 1 blocked FG)
QB/LB Wade Seidel, Sr., 5-11, 175 (50-of-110, 924 yards, 7 TDs, 9 INTs)
DB JaKwan Allen, Sr., 6-2, 180 (46 tackles, 1 for loss, 1 sack, 1 INT, 1 fumble recovery)
DB Koltin McNair, Sr., 5-11, 165 (60 tackles, 4 for loss, 2 PBUs)
QB Caleb Jarvis, Jr., 6-0, 165 (59-of-80, 946 yards, 6 TDs, 1 INT; 66 carries, 256 yards, 7 TDs)
OL Logan DeGarso, Sr., 6-1, 305
OL Jose Perez, Sr., 6-1, 272
RB Christian Dunson, Sr., 5-8, 150 (54 carries, 267 yards, 2 TDs)
DL Nakia Wilson, Sr., 6-3, 195 (17 tackles, 1 for loss, 1 sack, 1 forced fumble)
WR Nick Mapps, Jr., 5-9, 155 (43 carries, 359 yards, 6 TDs; 25 catches, 468 yards, 4 TDs)
Just the facts
Nick Mapps is averaging 8.3 yards per carry and 18.7 yards per catch.
The Lions have allowed just 18 points in their past two wins.
Davon Coleman is putting up 21 yards per reception.
Pine Tree is averaging 207 yards per game on the ground behind its quartet of rushers.
The Pirates are scoring 27.6 points per game.
After starting the season 0-4, Pine Tree has opened district play with two straight victories
Pine Tree has a 2-1 lead in the series since 2014.
The Pirates won last season's matchup, 21-3.
Key matchup: Greenville secondary against Pine Tree passing game. Wade Seidel has been somewhat turnover prone this season, with more interceptions than touchdowns. He didn't throw an interception this past week against Sulphur Springs, a game Pine Tree won. Although he threw three picks in the Pirates' other victory this season, he made up for it with three touchdowns.
He's going to need to do one of those two (or better, both) things if the Pirates want to win this one. Luckily, he has a couple of go-to targets in Davon Coleman and Keshon Williams.
Meanwhile, Greenville will hope to make him uncomfortable in the pocket and force a few bad throws. The duo of JaKwan Allen and Koltin McNair will be ready. If the Lions can get him to make some mistakes, the game is in their hands.
Don't be surprised if: Gary Wiley gets into the backfield a few times. The defensive end for Pine Tree has been having quite the season. He has already surpassed his sack and tackle for loss totals from last season and earned an offer from Texas State.
He will be a key to Pine Tree's success in this game and if the recent games are any indicator, he will take quarterback Caleb Jarvis down at least once. He'll look to keep building his success in this one.
More From East Texas Sports Network