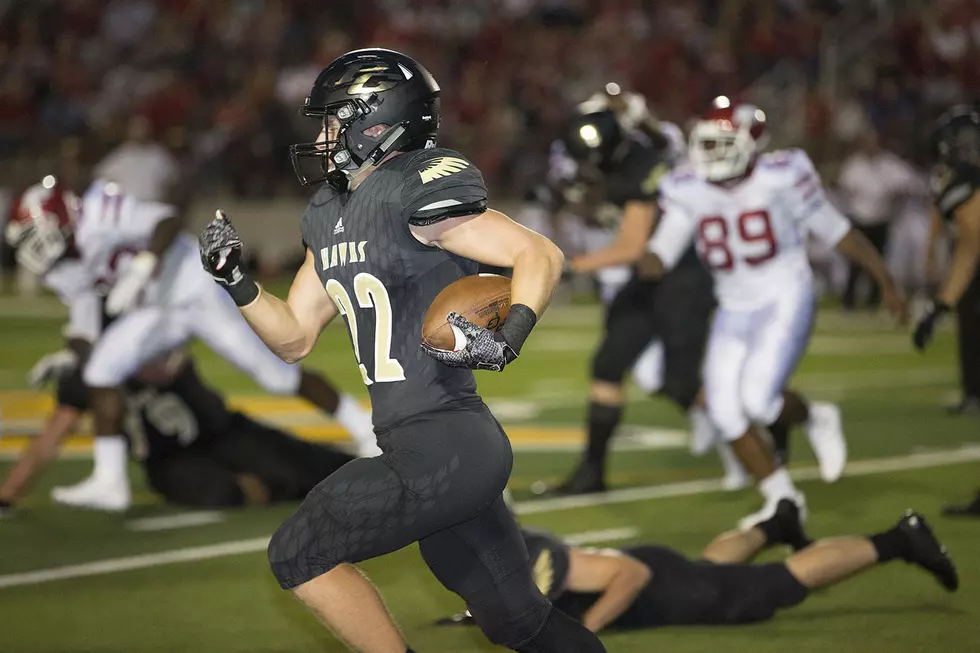 PREVIEW: Pleasant Grove Looks to Continue Hot Start Against Liberty-Eylau
Evan Lewis, ETSN.fm
Pleasant Grove Hawks (3-0)
vs.
Liberty-Eylau Leopards (1-3)
7:30 p.m. Friday
Harris Field, Texarkana
Coaches
Pleasant Grove: Josh Gibson
Liberty-Eylau: Steve Wells
Last week
Next week
Pleasant Grove: at Krum, Oct. 6
Liberty-Eylau: BYE
Playmakers
LB Xavier Benson, Sr., 6-3, 200 (97 tackles, 3 sacks, 4 forced fumbles, 3 recoveries, 1 INT, 1 defensive TD; committed to Texas Tech)
RB/DB Chauncey Martin, Sr., 6-0, 192 (76 tackles, 1 INT, 3 PBUs, 1 fumble recovery)
OL/DL Nick Gavriel, Sr., 6-2, 310
RB TJ Cole, Sr., 6-0, 200
LB Caleb Porchia, Sr., 6-0, 210 (104 tackles, 2 sacks)
WR/DB Cameron Wells, Sr., 5-10, 165
OL/DL Austin Toler, Sr., 6-1, 290
QB Ben Harmon, Soph., 6-1, 170
OL Kylar Cooks, Sr., 6-5, 250 (committed to Texas State)
QB Decorian Phillips, Sr., 6-1, 180
ATH Isaiah Cross, Jr., 6-1, 165
LB Cedric Dickerson, Jr., 5-10, 178
ATH DeAndre Hoof, Sr., 5-10, 185
DL Orion Williams, Sr., 6-4, 215
WR El-Amin Greer, Jr., 6-1, 170
OL Trey Parker, Sr., 6-0, 221
Just the facts
Pleasant Grove is holding its opponents to just 15.3 points per game.
Xavier Benson was a nuisance for quarterbacks last season, finishing with three sacks and four forced fumbles.
Liberty-Eylau has lost to the No. 1 and then-No. 2 teams in 4A by a total of only 11 points.
The Leopards are averaging nearly 40 points per game this season.
Liberty-Eylau has not lost to Pleasant Grove since 2008.
The Leopards took 2016's contest 44-35.
Key matchup: Liberty-Eylau offensive line against the Pleasant Grove attack. Liberty-Eylau has been extremely efficient on offense this season in large part because of their protection. The Leopards have Kylar Cooks, a Texas State commit, along with Trey Parker.
Meanwhile, Pleasant Grove has plenty of experience on defense. Xavier Benson, Chauncey Martin and Caleb Porchia are all seniors and a big part of the reason the Hawks have found so much success early on. They won't make things easy for Decorian Phillips and the rest of the Leopard offense.
That's why this matchup will come down to the offensive line's ability to protect. If it does, the Leopards will be looking at their second win in as many weeks.
Don't be surprised if: Pleasant Grove loses its first game of the season. The Hawks haven't seen an offense like Liberty-Eylau's yet. Not to mention, the Leopard's 1-3 record is a bit deceiving. All three of their losses come against respectable teams in Carthage, Gilmer and Texas High.
Decorian Phillips has looked impressive and Isaiah Cross and Dazawion Cooper are dangerous targets of his. Chalk up the bad record to a tough non-district schedule. This will be another tough one for the Leopards and Pleasant Grove is capable of winning it. However, expect Liberty-Eylau to continue its path to getting back on track before district play.
That started with a victory here.
More From East Texas Sports Network