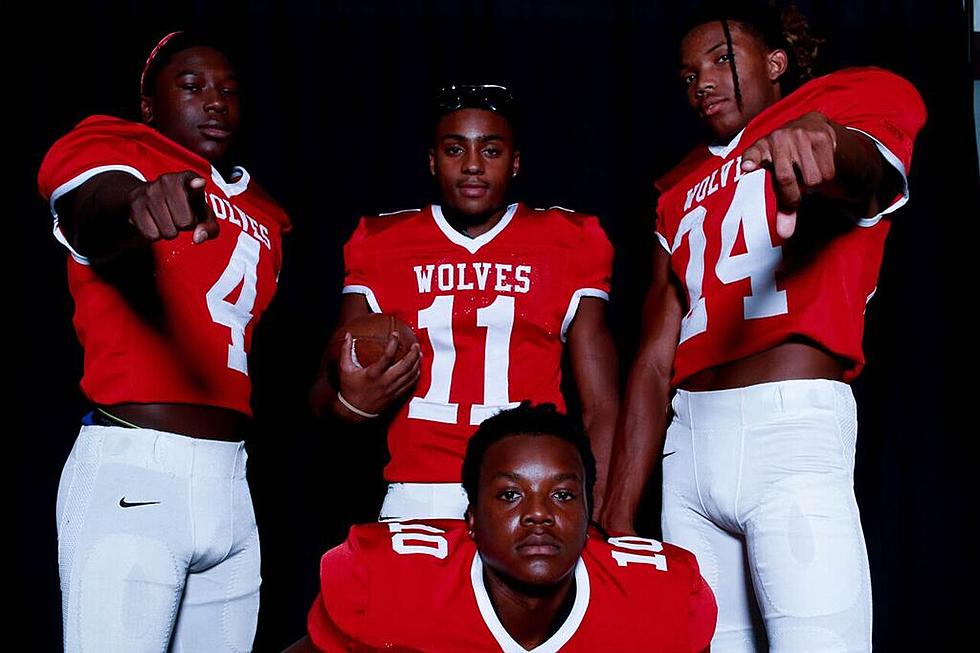 PREVIEW: Tenaha + San Augustine Meet Again in State Quarterfinal
San Augustine's (from left) Kevorian Barnes, Tijay Thomas, TyPatrick Bluford, and JaVarius Miller. (© Clint Buckley, ETSN.fm)
CLASS 2A DIVISION I
State Quarterfinal
Tenaha Tigers (10-3)
vs.
San Augustine Wolves (11-2)
7 p.m. Thursday
Dragon Stadium, Nacogdoches
Coaches
Tenaha: Greg Jenkins
San Augustine: Marty Murr
Last week
Next week
Winner vs. Mason or Refugio, 2A Division I state semifinal
Players to watch
Tenaha
DL/OL Juarmez Brock, Sr., 6-1, 245
WR/DB Jay Lloyd, Sr., 5-11, 170 (279 carries, 2,091 yards, 28 TDs; 26 catches, 417 yards, 7 TDs; 136 tackles)
DB Davon Tamplin, Jr., 5-11, 170 (122 tackles)
QB Hayden Jenkins, Jr., 6-2, 175 (135-of-228, 2,509 yards, 28 TDs, 11 INTs)
SS/WR Ja'Qualin Franks, Sr., 6-1, 165 (46 catches, 856 yards, 9 TDs)
DL/OL Jared Tovar, Jr.
DB Jordan Marshall, Soph., 5-7, 135 (5 INTs)
DL Nictavian Calloway, Sr., 5-10, 265
DE/C Tycorreus Villegas, Sr., 5-9, 235
WR/DB Erik Smith, Jr., 6-3, 180 (44 catches, 694 yards, 8 TDs)
San Augustine
DL TyPatrick Bluford, Sr., 6-1, 200 (68 tackles, 9 for loss, 2 sacks, 9 QB hurries, 1 forced fumble)
RB/DB Tijay Thomas, Jr., 5-8, 143 (219 carries, 2,132 yards, 25 TDs; 21 catches 209 yards, 3 TDs; 32 tackles, 1 INT, 4 PBUs, 1 forced fumble)
QB/DB DelMarquis Barnes, Soph., 5-8, 145 (79-of-154, 995 yards, 12 TDs, 10 INTs; 119 carries, 998 yards, 10 TDs; 53 tackles, 1 sack, 8 QB hurries, 1 INT, 6 PBUs, 1 forced fumble)
LB Zach Garcia, Jr., 5-8, 165 (104 tackles, 1 for loss)
OL/DL JaDarius Holman, Sr., 6-2, 195 (123 tackles, 10 for loss, 3 sacks, 13 QB hurries, 2 INTs)
WR/DB JaChristian Lovell, Sr., 5-10, 155 (106 tackles, 1 for loss, 4 INTs, 7 PBUs, 5 fumble recoveries)
RB Kevorian Barnes, Soph., 5-7, 145 (96 carries, 743 yards, 11 TDs)
WR/DL JaVarious Miller (18 catches, 412 yards, 7 TDs)
Just the facts
Since 2004, Tenaha is 2-1 against San Augustine. The Tigers and Wolves played in non-district earlier this season, with Tenaha winning 14-0.
San Augustine is averaging 367.4 yards per game (80.1 passing and 287.3 rushing).
The Wolves are giving up 18.8 points per game and have forced 27 turnovers (12 interceptions and 15 fumbles).
San Augustine running back Tijay Thomas is averaging 9.7 yards per carry.
Tiger receiver Jay Lloyd has more than 2,500 total yards and 35 total touchdowns.
Tenaha is averaging 36.2 points per game and giving up 19.9.
Tenaha receiver JaQualin Franks is averaging 18.6 yards per reception.
Key matchup: Tenaha passing attack against the San Augustine defense. Tenaha has had a prolific passing game this season, spreading the ball around the three different receivers. Although JaQualin Franks leads the team with more than 800 yards receiving, Erik Smith and Jay Lloyd are large contributors, too. Hayden Jenkins has performed well in his first season as the starting quarterback, averaging just less than 200 yards passing per game.
For San Augustine, JaChristian Lovell and Tijay Thomas hope to help the secondary in containing the talented Tigers receivers. They have combined for five interceptions this season. If they can contain Franks and Smith, that leaves only Lloyd, who typically does most of his damage in the running game. Whichever group comes out on top in this matchup will have a much better chance to win the game.
Don't be surprised if: Tijay Thomas leads the San Augustine offense. Thomas is to San Augustine what Jay Lloyd is to Tenaha. The Wolves run their offense through him, and he has racked up more than 2,000 yards rushing thus far. He is also dangerous in the receiving game, though San Augustine passes far less often than Tenaha does. If the Wolves are going to stay competitive, they will need a big game from him. Given his track record this season, he should have no issue coming through.
More From East Texas Sports Network