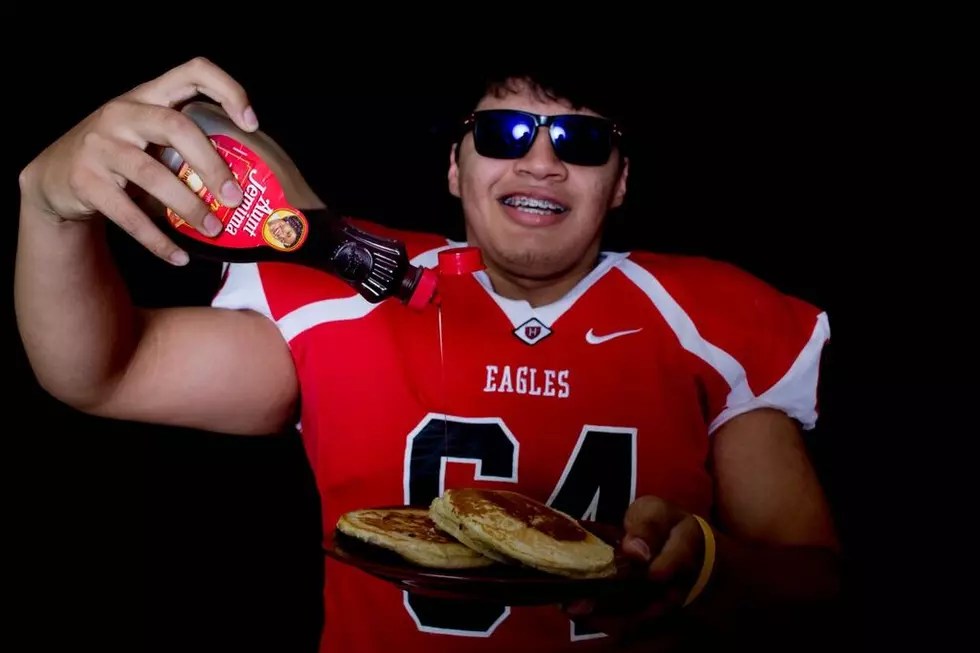 PREVIEW: West Rusk + Harmony Meet in Clash of Unbeatens
Harmony OL/LB Cesar Arreola. (© Clint Buckley, ETSN.fm)
No. 9 West Rusk Raiders (2-0)
vs.
Harmony Eagles (2-0)
7:30 p.m. Thursday
Wildcat Stadium, Emory
Coaches
West Rusk: John Frazier
Harmony: Tim Russell
Last week
Next week
West Rusk: vs. Palestine Westwood, Sept. 21
Harmony: idle
Players to watch
QB/DB LaJavius Harper, Sr., 5-10, 158 (12-of-27, 214 yards, 3 TDs; 9 carries, 54 yards, TD; 12 tackles, 1 pass defended, 1 forced fumble)
RB/DB Tyrell Moore, Jr., 5-8, 165 (21 carries, 131 yards, 1 TD; 1 tackle)
RB/LB Jaylon Garland, Sr., 5-8, 175 (27 carries, 105 yards, 1 TD; 2 tackles)
WR/DB Talon Winings, Jr., 5-11, 170 (6 catches, 138 yards, 2 TDs; 3 INTs; 2 tackles, 1 pass defended, 1 fumble recovery)
WR/DB DJ Hart, Sr., 6-0, 185 (2 carries, 61 yards; 1 catch, 25 yards; 5 tackles)
FB/LB Orlando Cortez, Sr., 5-10, 190 (1 carry, 4 yards; 35 tackles, 8 for loss, 1 sack, 1 pass defended)
OL/DL Colton Mills, Jr., 6-1, 238 (24 tackles, 5 for loss, 1 pass defended)
OL/LB Diego Molina, Sr., 5-10 190 (22 tackles, 6 for loss, 2 passes defended)
DL Darius Richardson, Sr., 6-3, 303 (8 tackles)
OL/DL Alvaro Coertez, So., 6-0 (14 tackles, 2 for loss, 1 sack, 1 pass defended)
RB/OLB Barrett Hill, Sr., 5-9, 190 (41 carries, 482 yards, 5 TDs; 1 catch 24 yards)
MLB/RB Easton Blackstone, Sr. (2 carries, 3 yards; 28 tackles, 4 for loss, 1 sack, 1 forced fumble)
DB/WR Cameron Helpenstill, Sr., 5-10, 145 (19 tackles, 1 for loss)
DB/WR Drew McNeel, Sr., 5-10, 173 (2 carries, 2 yards; 23 tackles, 2 for loss, 2 INTs, 3 passes defended)
TE/MLB Hunter McNeel, Jr., 6-0, 170 (2 catches, 95 yards, 2 TDs; 3 tackles)
DL/OL Ty Pilcher, Sr., 5-5, 165 (10 tackles, 3 for loss, 1 sack)
FB Brody Powledge, Sr., 5-5, 150 (17 carries, 153 yards)
RB Michael Everett, So., 5-10, 165 (17 carries, 128 yards)
QB Gage Goddard, Jr., 5-11, 160 (5-of-9, 181 yards, 3 TDs, 2 INTs; 6 carries, 16 yards, 1 TD)
LB/RB Leonardo Arellano, Sr., 5-8, 160 (15 tackles, 3 for loss, 1 sack, 1 INT, 3 passes defended)
OL/DL Trent Hart, Jr., 6-0, 182 (10 tackles, 4 for loss, 2 sacks)
Just the facts
Harmony holds a 4-0 lead in the series since 2004 and won the most recent contest in 2013, 28-0.
West Rusk has allowed 17 points this season, all coming in the first half of Week 2's game against Waskom.
Harmony primarily runs the ball on offense and has four 100-yard rushers through two games. Barrett Hill leads the Eagles with 482 yards.
West Rusk has forced six turnovers in 2018 for an average of three per game.
Of the Raiders' 206 tackles, 34 have come for a loss (16.5 percent).
Harmony outscored its opponents 95-34 in its first two games.
John Frazier and Tim Russell have combined for 21 years coaching at their respective schools. Frazier took over the Raiders in 2007, while Russell coached Harmony for three years before leaving. He eventually returned in 2010 and has been the coach ever since.
Key matchup: Harmony rushing attack against the West Rusk defense. For the second straight week, West Rusk faces a run-heavy offense. After coming back to defeat Waskom in Week 2, the Raiders will take on the Barrett Hill-led Eagles. Hill was one of the better running backs in East Texas a year ago and appears to be on pace for a similar finish in 2018. He already has nearly 500 yards rushing. He isn't the only back, though. Brody Powledge, Michael Everett and Marcus Davis have all rushed for at least 100 yards.
West Rusk is led by Orlando Cortez and Diego Molina on defense. The two have thus far combined for 14 tackles for loss. Their ability to get into the backfield was crucial in stopping Waskom in the second half a week ago. The Raiders will need both to perform at a similar level this week, plus big games from Colton Mills and Alvaro Cortez, if they hope to slow down Harmony's running game.
Don't be surprised if: This one is decided by a touchdown or less. This one has the makings of coming down to the final minutes. Both teams prefer to run the ball, though Harmony certainly favors it more than West Rusk. However, clock control will still be a big key in this game. Both teams also have solid defenses and have done a good job at limiting scoring opportunities thus far. Expect an exciting contest on Friday. night.
More From East Texas Sports Network