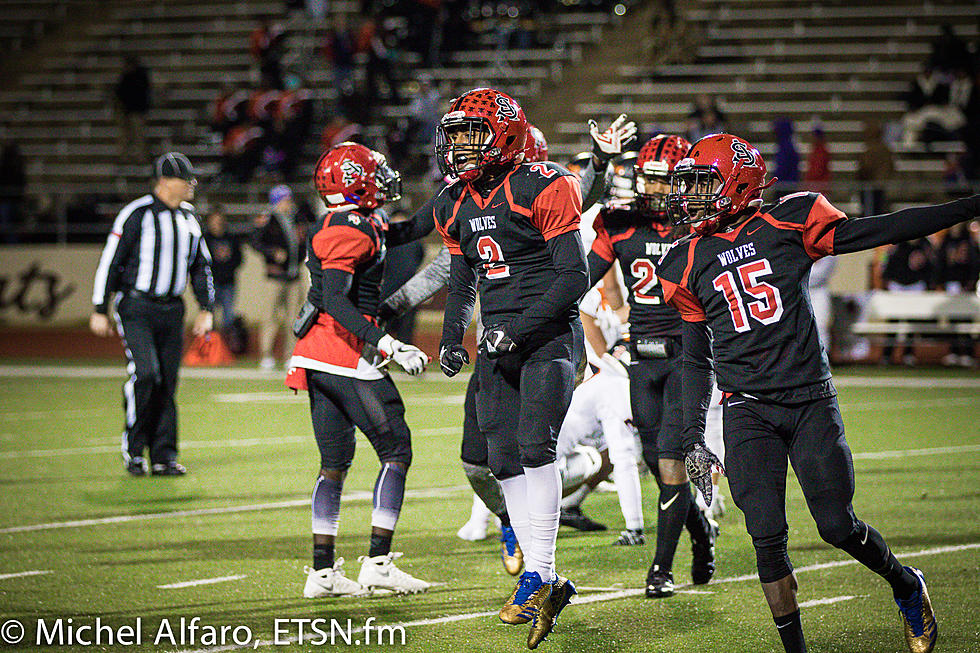 San Augustine Dominates Centerville, 50-14, to Reach State Semifinals
(Michel Alfaro, ETSN.fm)
PALESTINE -- Having a bucket of ice water dumped on your head is not something you want done to you in sub-freezing temperatures.
Unless your football team is now one win from playing for a state championship.
A soaked and freezing Marty Murr was almost at a loss for words after his team's dominating 50-14 win over Centerville on Friday in the Class 2A Division I Region III championship at Wildcat Stadium.
But he was able to say it was his team's most impressive performance of 2017.
"I thought last Saturday (against Carlisle) was the best we played all year, and I think tonight beat last Saturday," Murr said. "Centerville has won our region three out of the last four years and to do it this way ... it blew me away."
San Augustine, now a perfect 14-0, will face powerhouse and defending state champion Refugio in the state semifinals at 7 p.m. Thursday at the Berry Center in Cypress. The winner of that game will face the Stratford-Mart winner at AT&T Stadium for the state title.
Refugio beat Mason, 38-14, in the Region I title game Friday night.
A week after rushing for 323 yards and scoring six total touchdowns, San Augustine running back KJ Davis put on another display against Centerville. The senior rushed for 180 yards and four touchdowns to send his team to the semifinals for the first time since the Wolves won it all in 2003.
"I think KJ's one of the best running backs in East Texas, maybe the state," Murr said. "His ability to change direction, stop and start, is as good as I've seen and I've been doing this for 27 years. And our O-line this year has just been tons better than last year. Sometimes KJ doesn't get touched for five or 10 yards so that says a lot for those guys."
But as impressive as San Augustine's offense was, the Wolves' defense stole the show. Despite being on the field for 77 Centerville plays (compared to 39 for San Augustine), the Wolves forced seven turnovers. Kris Wade returned two interceptions for touchdowns, while another pick-six was called back for a penalty, including a 102-yarder by Tijay Thomas on the final play of the game.
San Augustine's defense, which picked off five of Centerville's seven pass attempts, has now forced 34 turnovers through 14 games and has a turnover margin of plus-28 on the season.
"For me the biggest factors in having great seasons is the turnover margin," Murr said. "Our defense has just been outstanding at getting turnovers and putting the ball in our offense's hands all season."
The Wolves ran just six offensive plays in the second half, the first of which being Davis' fourth touchdown of the game. His 44-yarder after a Centerville punt put San Augustine up 42-14 with 9:51 left in the third quarter.
San Augustine's offense wouldn't touch the ball again until late until the third quarter, and never in the fourth. The Wolves punted after recovering a fumble to end a 12-play drive in the third and Wade returned his second interception for a touchdown, this one for 81 yards, with 6:46 left in the fourth quarter. That pick ended a 15-play Centerville drive that started on the Wolves' 48-yard line.
Centerville's inability to throw the ball meant the Tigers had to grind out as much as they could on the ground. Centerville's final possession lasted 16 plays and ended on the Tigers' fifth interception of the game, only to see Thomas' 102-yard return called back due to penalty and the game was over.
All 339 of Centerville's yards came on the ground, with Brandon Madison rushing for 200 yards and a touchdown on 33 carries. Madison made his presence known in the first half, rushing for 122 yards and a 41-yard touchdown to tie the game at 7-7 in the first quarter. He left the game with a leg injury in the second quarter and was noticeably hobbled in the second half, only able to get 78 yards on 19 carries.
Calvin Gunselman picked up much of the slack in the second half for Centerville and finished with 24 carries for 118 yards.
San Augustine quarterback Gavin Murr, hobbled so much by an Achilles injury last week he didn't attempt one run, ran for 40 yards and the game's first touchdown on five carries. He also threw for 113 yards on 8 of 18 passing. The freezing temperatures proved tough on the Wolves' stout receiving corps, with six of Murr's passes dropped.
"Him running the ball, I didn't know he was going to run the ball, and we didn't expect him to," Coach Murr said with a laugh. "But I guess he felt good. He does a great job for us. He's pretty steady and I was proud of him."
It was all San Augustine after Madison tied the game with 9:10 left in the first quarter.
Davis scored his first touchdown of the game from 3 yards out with 5:32 left in the opening period, and followed with a 14-yard touchdown run just over three minutes later after a 7-yard Centerville punt.
After Gabe Castillo scored on a 7-yard run to get Centerville within 14 at 28-14 with 1:03 left in the first half, Davis responded just 31 seconds later with a 43-yard touchdown run on the Wolves' fourth play of the drive.
San Augustine looked to have its second interception return for a touchdown on Centerville's next play, with Cedric Thomas picking off Bryce Williams on a wide receiver pass. He went 69 yards to paydirt, only to see the referees rule him out at the Centerville 29-yard line. Murr hit Thomas for a long pass two plays later, but he was ruled down at the 1-yard line as time ran out at the half and San Augustine took a 35-14 lead into the break.
San Augustine 50, Centerville 14
Class 2A Division I
Region III Championship
At Wildcat Stadium, Palestine
Centerville                 7      7      0      0    --      14
San Augustine          21    14      7      8    --     50
First Quarter
SA--Gavin Murr 12 run (Quay Johnson kick), 10:40.
CEN--Brandon Madison 41 run (Daniel Byrd kick), 9:10.
SA--K.J. Davis 3 run (kick failed), 5:32.
SA--Davis 14 run (Kris Wade pass from Murr), 2:19.
Second Quarter
SA--Wade 58 interception return (Johnson kick), 10:08.
CEN--Gabe Castillo 7 run (Byrd kick), 1:03.
SA--Davis 43 run (Johnson kick), :32.
Third Quarter
SA--Davis 44 run (Johnson kick), 9:51.
Fourth Quarter
SA--Wade 81 interception return (Cedric Thomas pass from Johnson), 6:46.
                                          CEN                    SA
First Downs                        21                       16
Total Yards                         339                      340
Rushes-Yards                    70-339                 21-220
Passing Yards                    0                          113
Comp.-Att.-Int.                  0-7-5                    8-18-0
Punts-Avg.                        3-21.7                  2-26.0
Fumbles-Lost                    3-2                       0-0
Penalties-Yards                 3-30                     3-30
INDIVIDUAL STATISTICS
RUSHING--Centerville, Brandon Madison 33-200, Calvin Gunselman 24-118, Gabe Castillo 8-35, Team 1-(-1), Hunter Free 4-(-13). San Augustine, K.J. Davis 16-180, Gavin Murr 5-40.
PASSING--Centerville, Free 0-5-3--0, Bryce Williams 0-2-2--0.. San Augustine, Murr 8-18-0--113.
RECEIVING--San Augustine, Kris Wade 2-49, Cedric Thomas 2-40, QuenTyvian Borders 2-14, Tyrandis Johnson 1-6, Christion Holman 1-4.
More From East Texas Sports Network