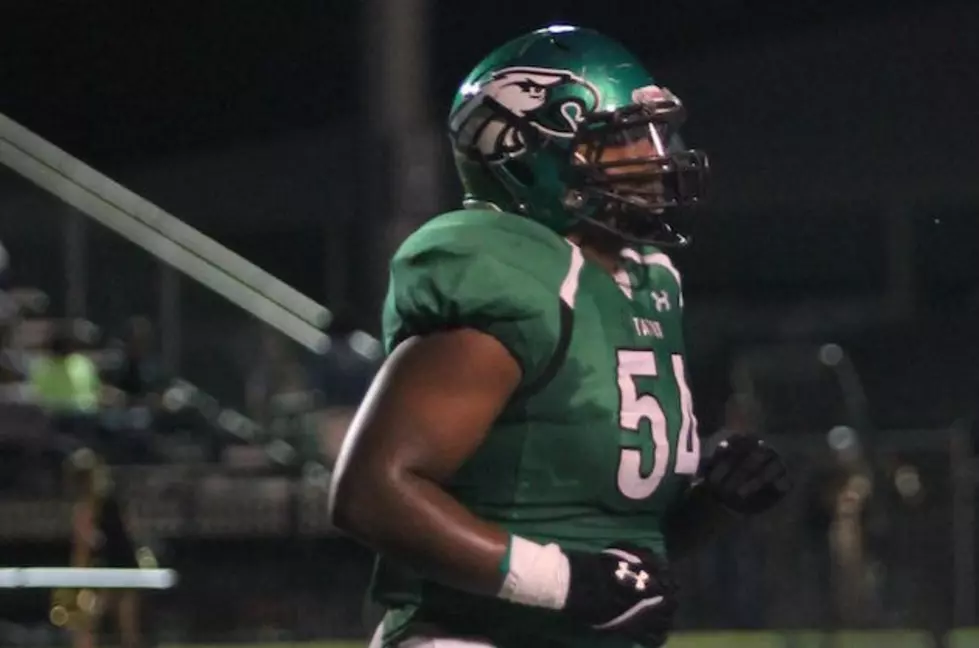 Tatum Lineman Drake Centers Picks Up Offer From ULM
Tatum offensive lineman Drake Centers added an offer from ULM on Tuesday. (Courtesy)
Drake Centers is back at the top of the recruiting conversation with a new college football scholarship opportunity from Louisiana-Monroe.
The Warhawks program reached out to the senior Tatum offensive tackle Tuesday. It is the fourth NCAA Division I FBS school to take an interest in him and follows SMU, Southern Miss and Texas State into the competition.
Centers (6-2, 296) was a big part of Tatum's turnaround 2016 season. The squad went 7-3 and reached the first round of the Class 4A Division II postseason after a winless campaign the year beforehand.
Running back Cedric White, who will be a senior this year, ran for more than 1,300 yards behind Centers and the rest of the line.
Centers competed in the ETSN Combine at APEC last month and turned in a solid performance. His testing highlight was 13 reps of 225 pounds on the bench press.
ULM went 4-8 last season under first-year coach Matt Viator. It was a two-win improvement compared to the 2015 year.
Aside from Centers, ULM has offers out to nine other local senior players. The Warhawks gained signatures from Gladewater safety Austin Hawley and Longview safety Traveion Webster in the past recruiting cycle.
Centers, like all Division I prospects currently entering their senior year of high school, will become eligible to sign with any program that offers him in December.
2018 East Texas Football Players With Division I FBS Offers
Tre Allison, John Tyler, OLB, 6-2, 211 — committed to SMU; additional offers from Arkansas State, Louisiana Tech, Mississippi State, Texas State, Tulane, ULL (7)
Chance Amie, Tyler Lee, QB, 6-3, 190 — offers from Arkansas State, Bowling Green, Central Florida, Cincinnati, Colorado State, Florida Atlantic, Georgia State, Houston, Iowa State, New Mexico, North Carolina, North Texas, Rutgers, Southern Miss, Syracuse, Tulane, ULL, Virginia (18)
Xavier Benson, Pleasant Grove, LB, 6-0, 200 — offers from Arkansas State, Army, Memphis, North Texas, Rice, SMU, Southern Miss, Texas State, Texas Tech, Tulane, ULL, ULM, Wyoming (13)
Drake Centers, Tatum, OL, 6-3, 296 — offers from SMU, Southern Miss, Texas State, ULM (4)
Kylar Cooks, Liberty-Eylau, OL, 6-5, 252 — offers from Arkansas State, North Texas, Texas State, ULL (4)
Jeremiah Davis, Lufkin, CB, 5-10, 194 — committed to ULL (1)
Kris Dike, Van, OL, 6-6, 283 — offers from Colorado, Houston, Memphis, North Texas, Oklahoma State, SMU, TCU, Tulane (8)
Dekalen Goodson, John Tyler, DE/OLB, 6-2, 209 — committed to Houston; additional offers from Mississippi State, SMU, Texas State, Tulane, ULL (6)
Trae Hall, Henderson, QB/ATH, 6-3, 185 — offers from Florida Atlantic, New Mexico State, Tulane, ULL, ULM (5)
Conner Henson, Harmony, OL, 6-3, 243 — offers from ULL, ULM (2)
Chasen Hines, Marshall, OL, 6-3, 353 — committed to LSU; additional offers from Arizona, Baylor, Louisiana Tech, Minnesota, North Texas, Oklahoma, Oklahoma State, Oregon, Rice, Southern Miss, TCU, Texas, Texas A&M, Texas State, Texas Tech (16)
Tevailance Hunt, Texas High, WR, 6-2, 180 — committed to Kansas; additional offers from Arkansas State, Bowling Green, Florida Atlantic, Houston, Iowa State, Louisiana Tech, Marshall, Memphis, Nevada, North Texas, Oklahoma State, Southern Miss, Tulsa (14)
Dewaylon Ingram, Carthage, WR, 6-0, 160 — offer from Arkansas State (1)
Keaontay Ingram, Carthage, RB, 6-0, 198 — committed to Texas; additional offers from Arkansas, Baylor, Colorado, Florida State, Houston, Iowa State, Kansas, LSU, Memphis, Michigan, Minnesota, Missouri, Nebraska, Notre Dame, Ohio State, Oklahoma, Oklahoma State, Ole Miss, Oregon, Oregon State, TCU, Texas A&M, Texas Tech, UCLA, USC, UTSA (27)
Malik Jackson, Lufkin, WR, 5-8, 163 — offers from Arkansas State, Houston, Texas State (3)
Kameron King, Marshall, OL, 6-2, 275 — offers from Memphis, North Texas, Tulane, ULM, Southern Miss (5)
Trevor Lawrence, Whitehouse, DE, 6-4, 245 — offer from ULM (1)
DeMarvion Overshown, Arp, S, 6-4, 196 — committed to Texas; additional offers from Alabama, Arizona State, Arkansas, Auburn, Baylor, Clemson, Colorado, Florida, Florida State, Georgia, Houston, Kansas, Kansas State, LSU, Missouri, Nebraska, Ohio State, Oklahoma, Oklahoma State, Ole Miss, SMU, South Carolina, Southern Miss, Stanford, TCU, Texas A&M, UCLA, USC, UTSA (30)
Leonard Parks, Texas High, DE, 6-5, 230 — offer from ULM (1)
Michael Sanchez, Gladewater, TE/OL, 6-5, 327 — offer from Houston (1)
Jonathan Shepherd, Kilgore, WR, 6-3, 196 — committed to Oklahoma State; additional offers from Colorado State, Florida Atlantic, Houston, Kansas State, ULM, Missouri, New Mexico, Memphis, North Texas, Oregon State, Southern Miss, TCU, Texas State, Texas Tech (15)
Marje Smith, Marshall, DE, 6-6, 210 -- committed to Baylor (1)
DaRyan Williams, Nacogdoches, 5-10,199 — offer from Texas State (1)
Tyree Wilson, West Rusk, LB, 6-5, 225 — offers from Houston, Kansas, Memphis, Mississippi State, New Mexico, Oklahoma State, SMU, Southern Miss, TCU, Texas State, Tulane, ULL, ULM, Washington State, Wyoming (15)
More From East Texas Sports Network