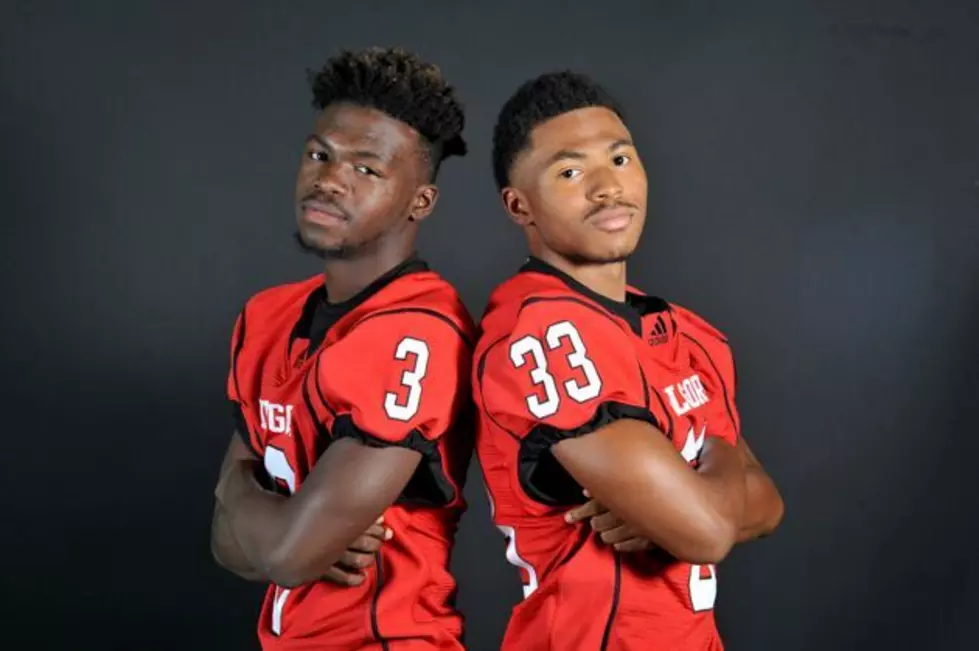 Top 25 Games of 2017: No. 21, Henderson at Kilgore
Kilgore's Buddy Jackson (left) and Isaiah Smith. (© Rob Graham, ETSN.fm)
The two schools are separated by just 17 miles along Highway 259, and for years Henderson and Kilgore have been squaring off under the Friday night lights of East Texas.
And they've been good, too.
Each school has won a state championship since 2004, and the two shared the District 9-4A Division I title last season, after Kilgore and Henderson each suffered just one district loss.
Kilgore entered the playoffs as the No. 1 seed, however, thanks to its touchdown pass in the closing seconds to defeat Henderson, 28-26.
The rematch, scheduled for Oct. 20 from Kilgore's R.E. St. John Memorial Stadium, checks in at No. 21 on ETSN.fm's list of the top 25 games of 2017.
Quarterback Buddy Jackson and receiver Jonathan Shepherd, who hooked up for the game-winner with 21 seconds to play last year, are back to lead what figures to be a very experienced Kilgore offense.
The Bulldogs return 11 starters from last season's 7-5 area finalist.
Henderson lost several key pieces from 2016's 11-2 regional semifinalist, namely running back and TCU signee La'Kendrick Van Zandt and receiver and Baylor true freshman Trestan Ebner.
The Lions do, however, welcome back starting quarterback Trae Hall, a Division I recruit himself.
ETSN.fm's Top 25 Games of 2017
More From East Texas Sports Network