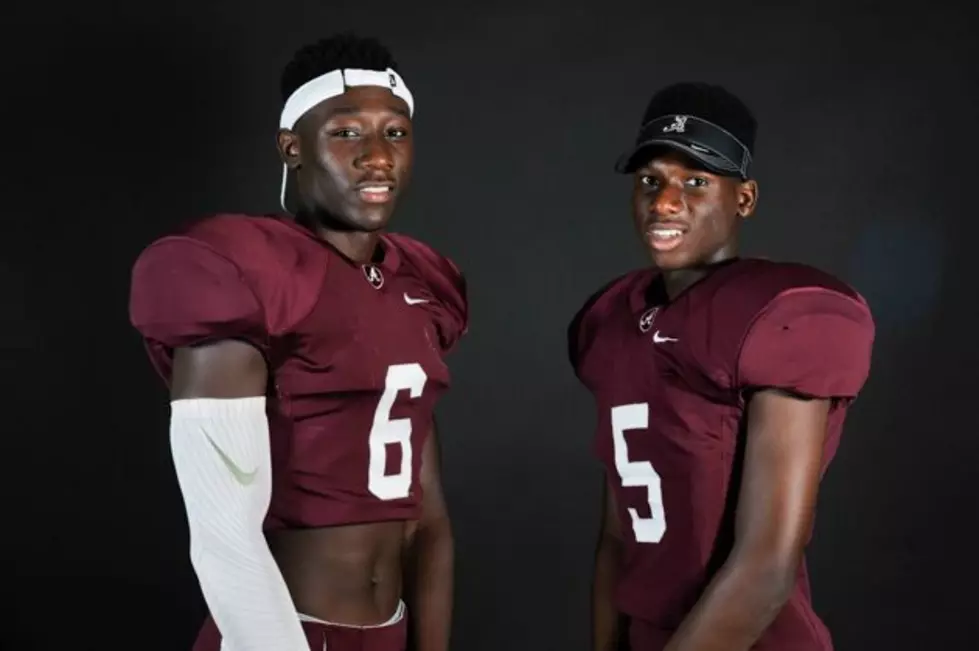 Top 25 Games of 2017: No. 23, Tatum at Arp
Arp's DeMarvion Overshown (left) and Tren Jones. (© Rob Graham, ETSN.fm)
Since the beginning of he 21st Century, few East Texas programs have achieved the level of success both of Tatum and Arp.
Tatum has captured two state championships, played for another, and compiled a record of 150-61 -- a winning percentage of .711.
Meanwhile Arp, while never winning a state title, has reached the playoffs 15 times, and holds a nearly identical record of 148-60 during the same time span.
And when this season kicks off on Sept. 1, the two East Texas powers will collide in Week 1 for the second consecutive year. It checks in at No. 23 on ETSN.fm's list of the top 25 games of 2017.
In last year's encounter, Tatum scored a 24-14 victory that snapped the Eagles' 11-game losing streak. Tatum was coming off its first winless season 1962.
The Eagles went on to win seven times in 2016, returning to the playoffs for the 14th time in the previous 15 seasons.
Arp recovered from the season-opening setback, winning 12 of its next 13 games, reaching the Class 3A Division II state semifinals -- its first trip to the semis since 2000.
Both teams return several impact performers this season.
Tatum brings back 1,300-yard rusher Cedric White along with stalwart offensive linemen Drake Centers and Bryan Jackson.
Arp is led by safety and University of Texas commit DeMarvion Overshown, along with six other starters.
ETSN.fm's Top 25 Games of 2017
More From East Texas Sports Network