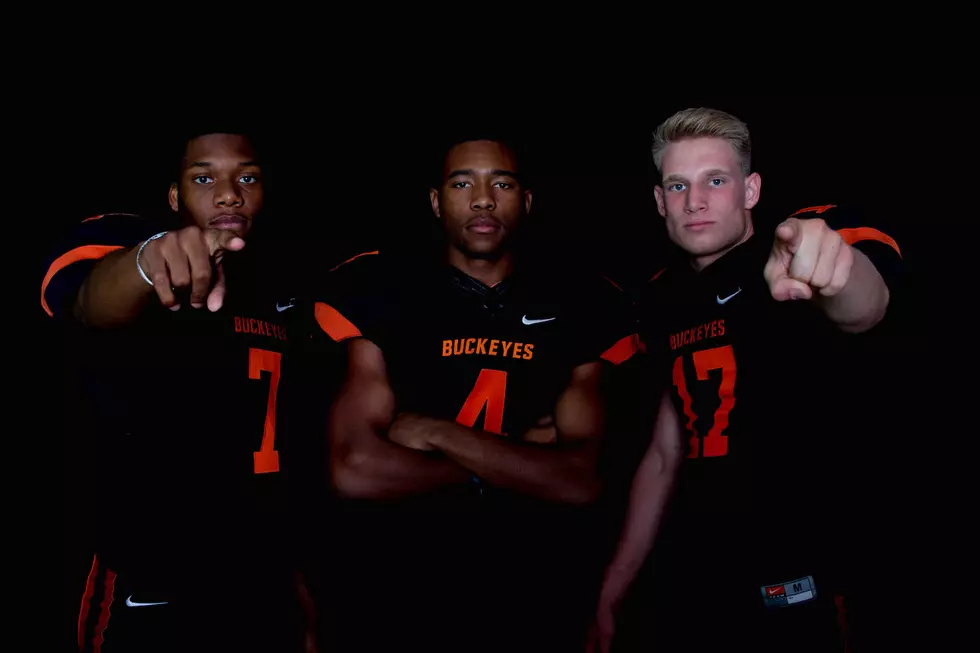 Top 25 Games of 2018: No. 16 Pleasant Grove at Gilmer
Gilmer's Brannon Webb (left), Larry Montgomery (center), and Luke Metzel. (© Clint Buckley, ETSN.fm)
Want a game that could decide a district championship?
Look no further than Gilmer/Pleasant Grove on Oct. 19. The Buckeyes and Hawks both have title aspirations in 4A Division II. Pleasant Grove is coming off of its first state championship and looking to roll its success into 2018. Gilmer, on the other hand, is a perennial power in East Texas and always a threat to win its district.
The Hawks handed the Buckeyes a 41-38 loss on their home field in 2017, giving Gilmer added motivation this season. Since 2004, it is the only game Pleasant Grove has won in the series. The Buckeyes hold a 6-1 lead.
Pleasant Grove loses plenty from its championship squad. Linebacker Xavier Benson is gone to Texas Tech. Running back TJ Cole graduated and receiver Carson Cox is off to Wichita State on a baseball scholarship. But defensive lineman Landon Jackson, whose 11.5 sacks this past season broke a freshman record, is back. As is 1,000-yard rusher Bruce Garrett and quarterback Ben Harmon. The Hawks weren't a one-season fluke. They're here to stay.
Gilmer will look to reclaim District 6-4A behind speedy running back Bran Webb, who rushed for 1,382 yards and 24 touchdowns in 2017. Receiver and defensive back Trae Fluellen and lineman Devon King will also play big roles. All three players already have scholarship offers. Defensive lineman Abel Euceda and linebacker Brandon Legan will lead the defense.
This game has all the intrigue one could want. A defending state champion, a perennial power and district title implications. If you have nothing else to do on Oct. 19, perhaps a trip out to Gilmer is what you need.
ETSN.fm's Top 25 Games of 2018
More From East Texas Sports Network