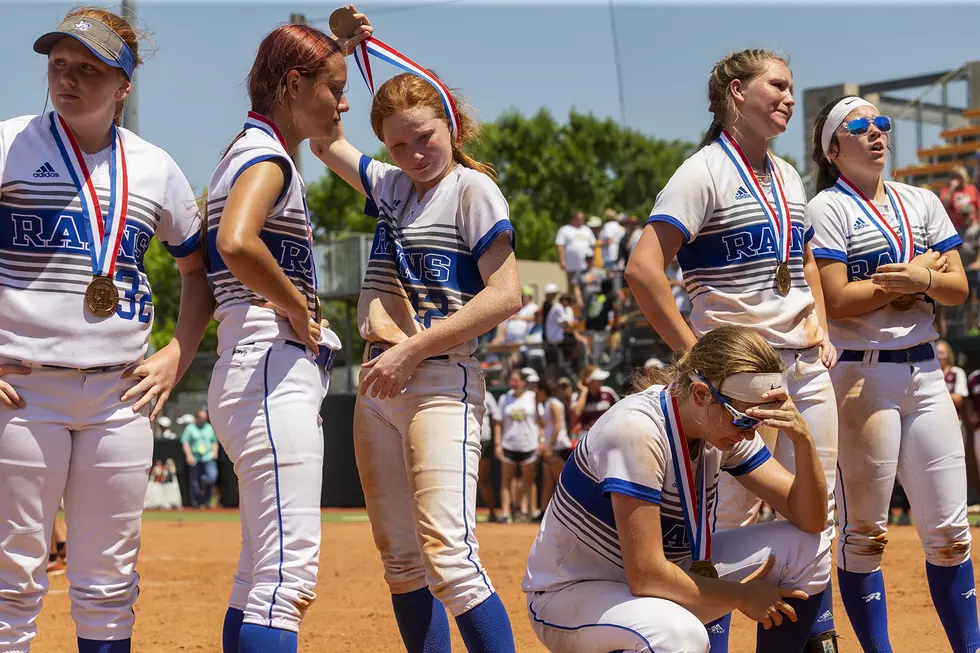 Vernon Outlasts Rains in 11 Innings + Eliminates Ladycats in Semifinals
(© Stephen Spillman, ETSN.fm)
AUSTIN — The Emory Rains Ladycats, which has a roster full of freshmen and sophomores, wasn't supposed to get this far.
And despite their 6-2, 11-inning loss to Vernon in Thursday's Class 4A semifinal at Red & Charline McCombs Field, the future for Rains is awfully bright.
"They felt that they were gonna win the whole time even though we knew (Vernon) had a little bit more experience at this than us by being here last year," said Rains coach Scott Delozier. "My girls had so much grit, and we really felt like we had a really good chance against them."
Rains (33-6) committed six errors Thursday, including two in the top of the 11th inning that aided Vernon's four-run outburst, proving to be the difference.
"That's not characteristic, that's just the nerves of being down here on this big stage," Delozier said of his team's defensive struggles. "For (Vernon) to be here before it helps, it definitely helps. This next year, we'll be a lot calmer."
Rains first baseman Olivia Lusk ripped a solo home run to left field tying the game, 2-2, in the fourth. And neither offense could scratch across another run until the 11th.
Vernon (27-4), which will play Liberty at noon Saturday for the state championship, got the inning started with Jade Guzman's double into the left-center field gap. Shay Williams followed by reaching on an error in the infield.
Jaila McBride then blooped a double into shallow left field, which scored courtesy runner Taylor Reeves. McBride headed toward third base, and got held up in between the second and third. Rains catcher Catrin Hoffman threw to shortstop Leo Terry, who dropped the ball, allowing Williams to come home.
Vernon then added two more runs on an RBI double from Avery Kinney and a run-scoring single by Lauren Hager.
Rains freshman pitcher Chanlee Oakes went the distance, throwing 147 pitches. She allowed six runs (three earned), on eight hits with three strikeouts and three walks.
"I never thought for a second about putting anybody else in there because she's the toughest pitcher around," Delozier said of Oakes. "She went toe-to-toe with (Vernon senior pitcher Jade Guzman) who's a lot older than her and a lot more experienced. I never had any doubts she was gonna give us her all."
Rains had 11 hits on the day, but left 10 runners on base. Lusk was 3-for-4, while Terry, Oakes, and Hoffman each had two hits in the loss.
"They all fought hard and did as best as they could do," Delozier said. "I know it's tough because they probably feel like they're probably one of top two teams in the state. "For them not to be playing Saturday is pretty tough. They had a great year, nobody expected us to be 33-6, we surprised a lot of people."
Hager gave Vernon a 1-0 lead with a sacrifice fly in the top of the first. The Lady Lions added another run in the third on Rains' fourth error in the early going.
Rains cut the lead in half in the bottom of the third on a Vernon error before Lusk's leadoff homer in the fourth tied the game and re-energized a large contingent from Emory.
"The amount of people that turned out for outside pep rallies, signs on the businesses … they shut down the school district today so that everybody could come," Delozier said. "It's a great thing for our community."
Vernon 6, Emory Rains 2 (11 innings)
Class 4A State Semifinal
At Red & Charline McCombs Field, Austin
Vernon           101    000    000    04    —    6      8      2
Rains             001    100    000    00    —    2    11      6
Pitchers and catchers
Vernon: Jade Guzman and Lauren Hager.
Rains: Chanlee Oakes and Catrin Hoffman.
WP — Guzman (20-3).
LP — Oakes (22-6).
Doubles
Vernon: Avery Kinney, Guzman, Jaila McBride.
Rains: Olivia Lusk, Hoffman.
Triples
Home runs
Rains: Lusk (fourth inning, solo).
More From East Texas Sports Network