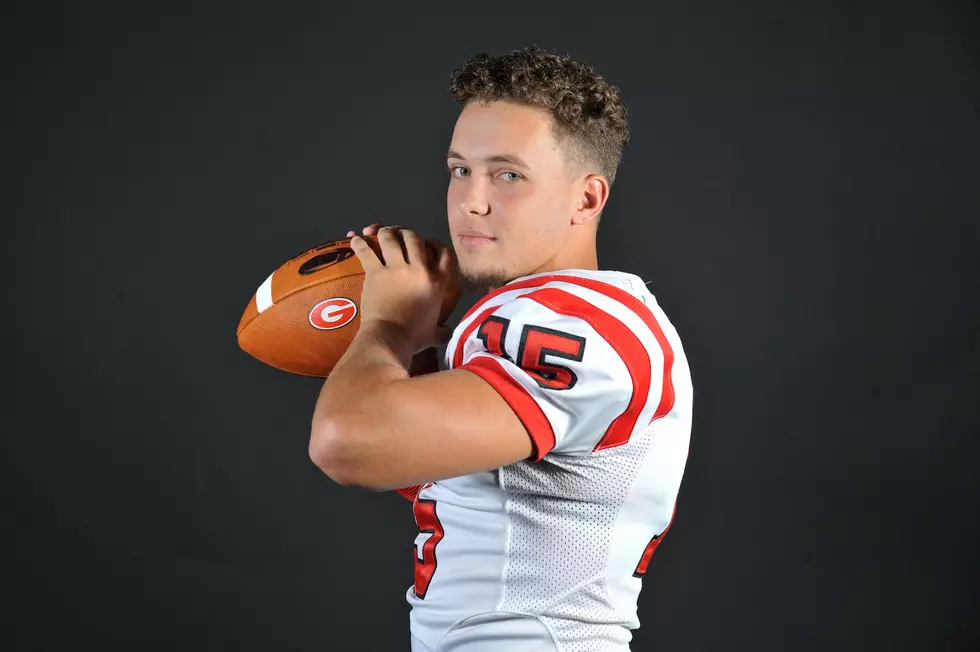 Groveton's Haden Terry the ETSN.fm + Dairy Queen Offensive Player of the Week
Groveton QB Haden Terry. (© Rob Graham, ETSN.fm)
After missing two games because of an injury, Groveton senior quarterback Haden Terry appears to be making up for lost time.
In last week's 65-29 rout of Saratoga West Hardin, Terry put up career numbers to move the Indians to 2-0 in District 12-2A Division I.
Terry completed 19 of 25 attempts for 403 yards and six touchdowns, while adding 47 yards on the ground in his second game back.
For his efforts, Terry is the ETSN.fm/Dairy Queen Offensive Player of the Week. He follows last week's winner, Carthage running back Keaontay Ingram.
In four games, Terry has thrown for 1,044 yards with 12 touchdowns and six interceptions. He is also second on the team in rushing with 218 yards and two touchdowns on 29 carries.
Terry and his Groveton (4-2, 2-0) teammates face West Sabine (1-6, 0-2) at home Friday night. Kickoff is scheduled for 7 p.m.
ETSN.fm/Dairy Queen Offensive Players of the Week
Week 8 (Oct. 19-21): Haden Terry, QB, Groveton
Week 7 (Oct. 12-14): Keaontay Ingram, RB, Carthage
Week 6 (Oct. 5-7): C.J. Horn, QB, Tenaha
Week 5 (Sept. 28-30): Aaron "Poppy" Brown, QB, Gilmer
Week 4 (Sept. 21-23): Judd Miller, QB, Malakoff
Week 3 (Sept. 14-16): Coltin Clack, QB, Texas High
Week 2 (Sept. 7-14): Garrett Moseley, QB, Van
Week 1 (Aug. 31-Sept. 2): Isaiah Haggerty, WR, Tyler Bishop Gorman
More From East Texas Sports Network