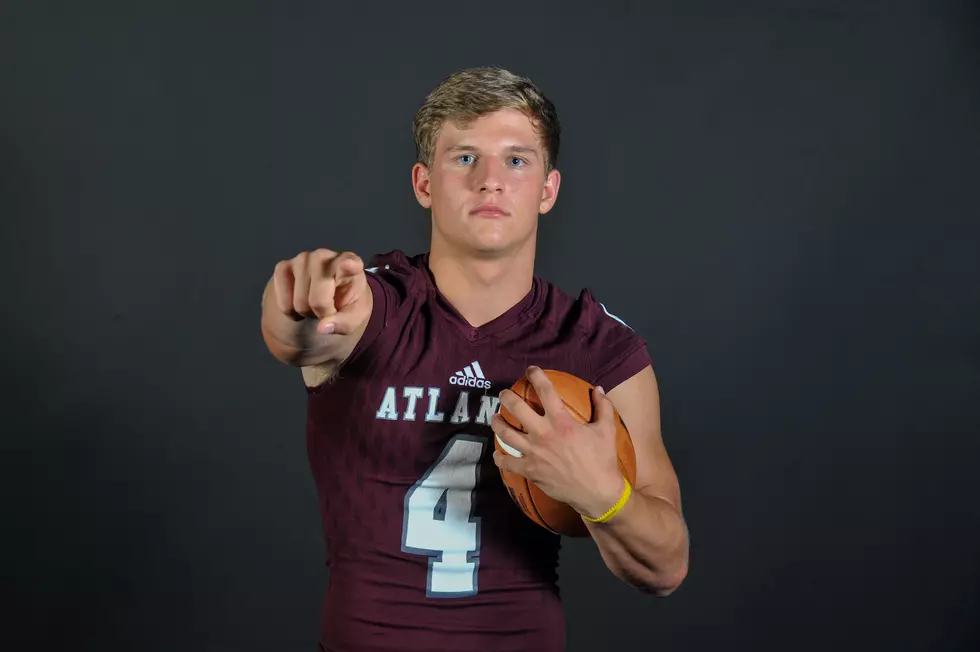 Atlanta's Andrew Samples the ETSN.fm + Dairy Queen Offensive Player of the Week
Atlanta QB Andrew Samples. (© Rob Graham, ETSN.fm)
The Atlanta Rabbits needed a win in their regular-season finale against Spring Hill to ensure themselves a playoff berth. And as it turned out, they needed eight touchdowns to do it.
Fortunately for Atlanta, quarterback Andrew Samples was up to the task.
Samples accounted for all eight touchdowns and posted 479 yards of total offense in the Rabbits' 56-49 win over Spring Hill last Friday night.
For his efforts, Samples is the ETSN.fm/Dairy Queen Offensive Player of the Week. He follows last week's winner, Center quarterback Jayden Hicks.
Samples completed 9 of 17 passes for 315 yards and four touchdowns, and added 164 yards and four more touchdowns on 24 rushing attempts.
The win nailed down the final playoff spot from District 7-4A Division II for Atlanta (5-5), who will begin the playoffs Friday night in Carthage against Jasper (7-2). Kickoff from Bulldog Stadium is scheduled for 7:30 p.m.
ETSN.fm/Dairy Queen Offensive Players of the Week
Week 11 (Nov. 9-11): Andrew Samples, QB, Atlanta
Week 10 (Nov. 2-4): Jayden Hicks, QB, Center
Week 9 (Oct. 26-28): Tyler Gray, QB, Palestine
Week 8 (Oct. 19-21): Haden Terry, QB, Groveton
Week 7 (Oct. 12-14): Keaontay Ingram, RB, Carthage
Week 6 (Oct. 5-7): C.J. Horn, QB, Tenaha
Week 5 (Sept. 28-30): Aaron "Poppy" Brown, QB, Gilmer
Week 4 (Sept. 21-23): Judd Miller, QB, Malakoff
Week 3 (Sept. 14-16): Coltin Clack, QB, Texas High
Week 2 (Sept. 7-14): Garrett Moseley, QB, Van
Week 1 (Aug. 31-Sept. 2): Isaiah Haggerty, WR, Tyler Bishop Gorman
More From East Texas Sports Network