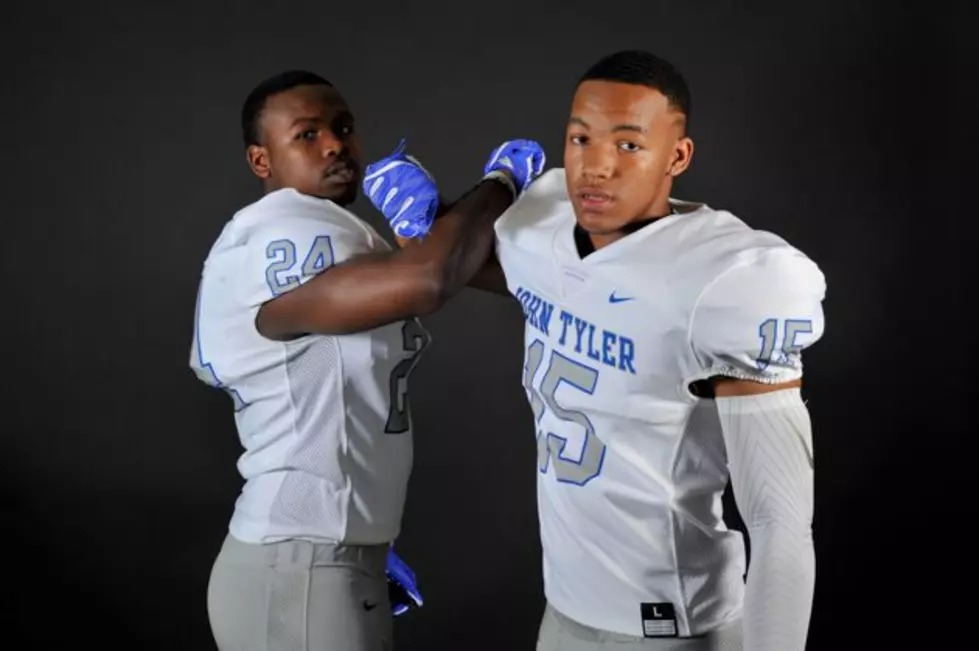 Top 25 Games of 2017: No. 1, Longview at John Tyler
John Tyler's Tabias Marshall (left) and DeKalen Goodson. (© Rob Graham, ETSN.fm)
Longview vs. John Tyler is one of East Texas' oldest and most heated rivalries, and on Oct. 27 in Tyler, it gets renewed for the 91st time.
And just like season, we expect this matchup to ultimately decide the District 11-6A championship.
The battle is ranked No. 1 on ETSN.fm's list of the top 25 regular season games of 2017.
John Tyler earned a 38-24 road win at Longview last year, which ultimately had a big say in each team's playoff positioning.
JT and Longview each tied for first in 11-6A, but because of the Lions' head-to-head win, they earned the district's No. 1 seed in the Division II playoffs and hosted a first-round playoff game against Lufkin. The Lions ultimately escaped with a 50-49 win and advanced to the third round.
Longview was forced to travel south for a bi-district meeting against Beaumont West Brook, which the Lobos lost, 34-33. It was Longview's first loss in the opening round of the playoffs since 2005.
Similar stakes will be at play this year, considering Longview and John Tyler are the two smallest schools in the district and would ultimately be Division II representatives in the playoffs.
Longview has 12 starters returning from last year's 8-3 team. The Lobos graduated their quarterback and top two rushers, but are excited about the prospect of their offensive line and a running game led by junior bruiser Jessie Anderson.
The defense has most of its starters back, including Ke'Andre Mauldin and JC Blakemore up front and Jephaniah Lister in the secondary.
John Tyler lost quarterback Bryson Smith (Houston signee) and receiver Damion Miller, a Texas signee who eventually enrolled at Navarro College. But don't let that fool you.
The Lions are loaded everywhere else with nine starters returning on the offensive side of the ball, including receiver Michael Givens-Washington and running back Cameron Grant.
Defensive end/linebacker DeKalen Goodson (Houston commit) and linebacker Tre Allison (SMU pledge) will anchor what should be another top-notch John Tyler defense.
ETSN.fm's Top 25 Games of 2017
More From East Texas Sports Network