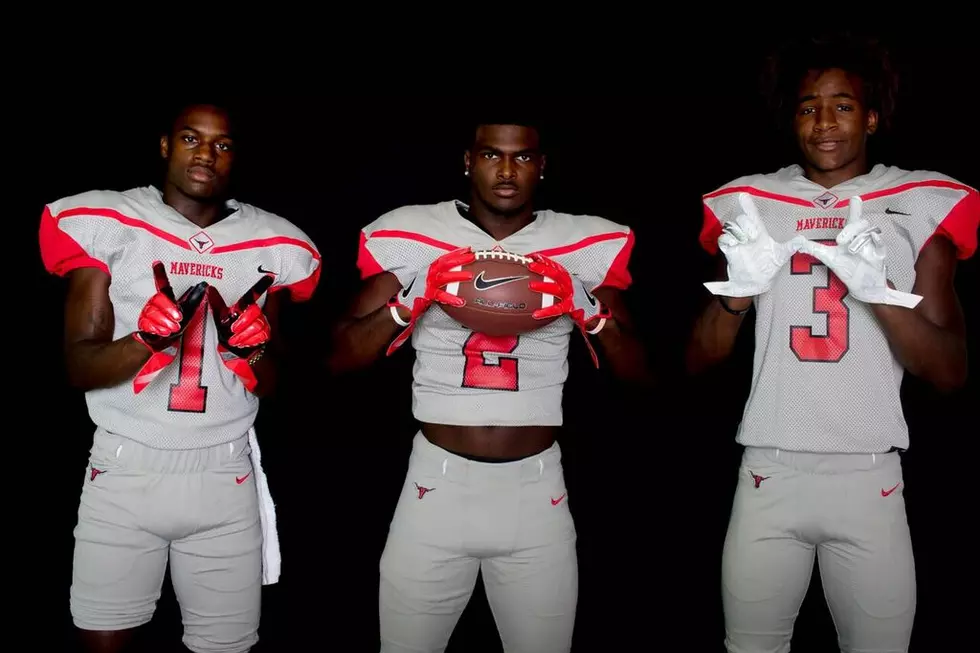 Top 25 Games of 2018: No. 7 Carthage at Marshall
Marshall's (from left) Tahj Washington, De'Kendrick Bender, and Saivon Williams. (© Clint Buckley, ETSN.fm)
The towns of Carthage and Marshall are separated by just 28 miles along Highway 59, yet they haven't met on the football field since 1981.
The much-anticipated renewal of the series makes its return Sept. 14 at Marshall's Maverick Stadium.
It checks in at No. 7 on ETSN.fm list of the top 25 games of 2018.
Carthage and Marshall have scrimmaged each other in recent years, but now the games will count.
The Bulldogs are two-time defending state champions, and will begin the 2018 season with a 26-game winning streak, but will have to replace several key impact players that were lost to graduation.
Carthage will be without running back and University of Texas freshman Keaontay Ingram, 1,000-yard receivers Dewaylon Ingram and Dee Bowens (Sam Houston State), two-way standout Mekhi Colbert, and the standout linebacking trio of Ahmad Brown, Mykel Gates, and Jose DeJulian.
Quarterback Gunner Capps, who passed for almost 3,900 yards and 49 touchdowns in 2017, is back. And so is versatile junior receiver Kelvontay Dixon, the younger brother of Keaontay Ingram, who missed most of his sophomore year with an ankle injury.
The defense will be led by junior defensive linemen Quinton Owens and Desmund Hicks, and cornerback Jacorey Ware, who pulled down a team-high eight interceptions last season.
Marshall, a 6-5 5A Division II bi-district finalist in 2017, should be among the most explosive offenses in all of East Texas with the return of junior quarterback JJ Green and receivers Tahj Washington, De'Kendrick Bender, and Saivon Williams.
The Mavs' defense is anchored by linebacker Brevin Randle and defensive back Champ Mathis.
Marshall begins the year with consecutive games against 6A programs (Tyler Lee and Longview), while Carthage will be coming off games against Jacksonville and Liberty-Eylau.
The Week 3 showdown should tell us an awful lot about Carthage's chances of potentially going for a third straight state title. Marshall, meanwhile, will use the game as the final tuneup before its run through District 9-5A Division II.
ETSN.fm's Top 25 Games of 2018
More From East Texas Sports Network