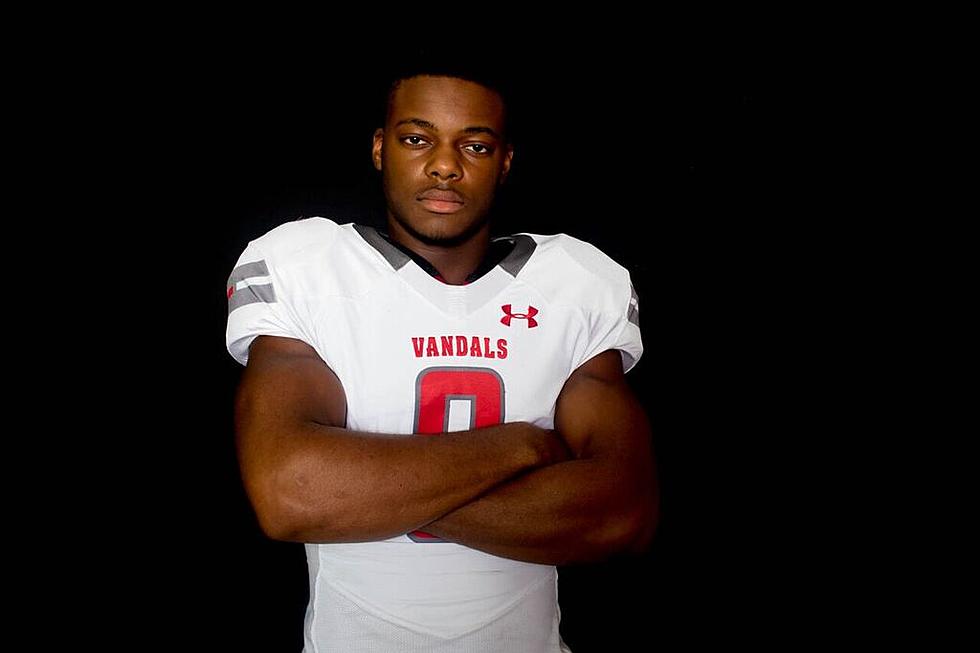 Van's Jayden Jacobs is the ETSN.fm + Dairy Queen Defensive Player of the Week
Van DE Jayden Jacobs. (© Clint Buckley, ETSN.fm)
The rain might have played in Jayden Jacobs' favor this past Friday.
With rain in much of the area, turnovers were a bit more common than usual. The Van defensive lineman forced two -- both fumbles -- while also finishing with 16 tackles, two sacks and a recovered fumble in the Vandals' 31-13 victory against Palestine.
He is the ETSN.fm + Dairy Queen Week 8 Defensive Player of the Week. He follows Carlisle's Walker Adams, who took the award in Week 7.
The Vandals improved to 5-2 and 1-1 in District 10-4A Division I with the victory. They have a home game against Kilgore (3-5, 1-1) at 7:30 p.m. Friday.
2018 ETSN.fm/Dairy Queen Defensive Players of the Week
Week 8 (Oct. 18-20): Jayden Jacobs, DL, Van
Week 7 (Oct. 11-13): Walker Adams, LB, Carlisle
Week 6 (Oct. 4-6): Eliya Garrett-Enis, LB, Emory Rains
Week 5 (Sept. 27-29): Camryn Edney, LB, Pittsburg
Week 4 (Sept. 20-22): Coltan Mills, DE, West Rusk
Week 3 (Sept. 13-15): Justin Edwards, LB, Wills Point
Week 2 (Sept. 6-8): Talon Winings, DB, West Rusk
Week 1 (Aug. 30-Sept. 1): Ty Patterson, LB, Linden-Kildare
More From East Texas Sports Network